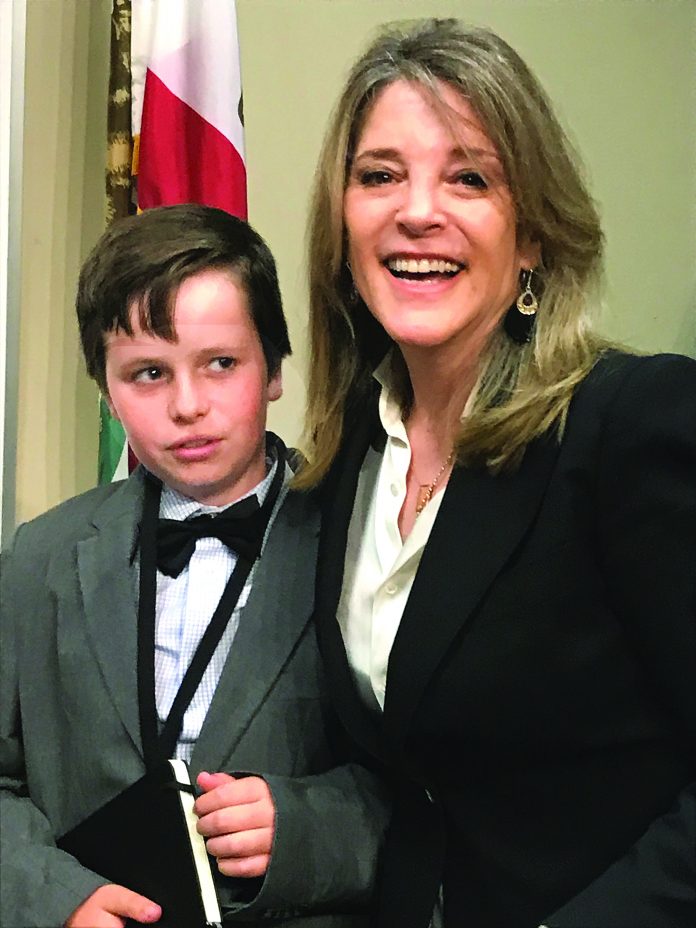 Kid Scoop Media Correspondent, age 10
By Shawn Fairbairn
I am Shawn Fairbairn, a reporter with Kid Scoop Media (KSM) and I am reporting on Marianne Williamson's latest rally. Marianne Williamson is a Democratic candidate2020 for president. When we arrived at Ms. Williamson's rally at Emeritus Program of Santa Monica College, she was outside the main campus building taking pictures with her supporters and then with the press (me). There was also a coordinator who was handing out Marianne Williamson buttons. I would estimate that around 110 supporters were in attendance. The room was standing room only.
When everyone went inside the main campus building, Marianne started her speech. The first thing she talked about was hunger and about Project Angel Food (PAF), a charity service that she founded in 1989 where the people who volunteered there would deliver food to people with life-threatening illnesses. This organization continues to help those in need to this day.
Ms. Williamson discussed a number of important issues in her speech, including universal health care for all, climate change, world peace, gun control, kids suicide control, and balancing out the amount of money each type of business gets from taxpayers. She also highlighted a need to pay reparations for people whose ancestors were slaves and she wanted to either give them the money straight forward or give it to them in hand. She wants to be able to do this within 20 years.
About halfway through the rally, the moderator told me that after the break I could come up and say my name and ask a few questions. When the break was over, the moderator took me up to the front and I introduced myself to everyone in the crowd. After that, I asked Marianne my two questions:
Shawn: "What current world leader most inspires you?"
Marianne: "The Prime Minister of New Zealand…her name is Jacinda Ardern and she has said that her main goal…is to make New Zealand the best place in the world for a child to grow up…One of the reasons I want to be president…[is] because I want this to be the best country in the world for YOU to grow up.
Shawn: "Why did you take a break from writing books to go into politics?"
Marianne: "I don't think of myself as having taken a break from writing. I'm writing a lot right now if you go to my Twitter account or my Facebook or to my Instagram. "
The reason I was at the rally was so I could cover a 2020 presidential candidate's rally for Kid Scoop Media and to experience it in real life at a young age. I am grateful for getting to go to this rally and meet Marianne Williamson. I liked her personality because she was a little sassy but serious when it came to important issues. What mattered most to me was when she talked about kids suicide control. I care about this the most of what she talked about because it affects people close to me in age.
Covering this event was important to me because I had the chance to meet the potential president and I could learn about politics. Also, going made me feel a little more important because I got to express this experience to Culver City. I chose to go to the rally instead of hanging out with my friend because this seemed like a once in a lifetime opportunity. I look forward to the next chance to go somewhere for Kids Scoop Media because I had such a great time reporting on this one!