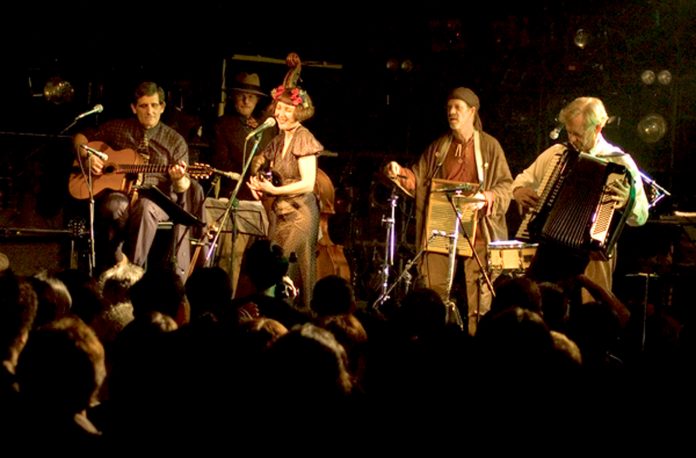 Janet Klein with her band the Parlor Boys (John Reynolds on guitar, banjo, whistling and vocals; Corey Gemme on cornet, clarinet, trombone and melody sax, Randy Woltz on piano, and Marquis Howell on upright bass) will perform forgotten gems from the early 1900s, '20s and '30s with flair, style and a generous amount of fun.
"In about 1998, I found a small group of like-minded musicians," Klein said. "(We) started to play early jazz and depression- era music in public and have recorded 8 CDs since then."
She released her first CD in 1998, "Come Into My Parlor." Klein and the band currently live and perform around Los Angeles and have played in many old music halls and theatres in the U.S. and around the world.
They will make a return engagement Saturday, June 15 from 8 to 10 p.m. at Boulevard Music at 4316 Sepulveda Blvd, Culver City. Tickets are $20. Call 310-398-2583.
"We are celebrating our 20th anniversary as a band and making recordings together," Klein said. "And will have our new 20th anniversary CD, called 'Shanghai Shuffle,' with us at the show. It is a compilation of tunes from our eight CDs our band has made together since 1999, as well as a few new tracks."
Klein said her band "will be debuting a few silent movie-related songs from 1909 to 1917.
"I'm preparing these in part to help kick off a monthly silent movie event starting June 22," she said. "(It's) called the Music Box Cinema at the historic Woman's Club of Hollywood Building on La Brea."
She said she will also introduce "some tunes from early film musicals of the 1930s… such "Jazz Up Your Lingerie" from the 1931 film, "Smiling Lieutenant" (which starred Maurice Chevalier, Miriam Hopkins, and Claudette Colbert).
"We used to play at the Silent Movie Theater on Fairfax and share the bill with Buster Keaton and Harold Lloyd, and the legendary Bob Mitchell on pipe organ, playing the Ahwahnee Hotel in Yosemite, the grand 1911 Palace Theater downtown, the wonderful Old Town Music Hall in El Segundo, playing in dreamy places in Japan..all the best!"
Klein and the Parlor Boys have performed at Boulevard Music for more than 10 years, and at least once each year, she said.
"I think that I was introduced to Kathy and Gary Mandell by musical entertainer, historian, composer, friend and band member, Ian Whitcomb," she recalled. "We have loved playing at Boulevard Music over the years. it's one of our Westside traditions… always a warm and inviting place!"