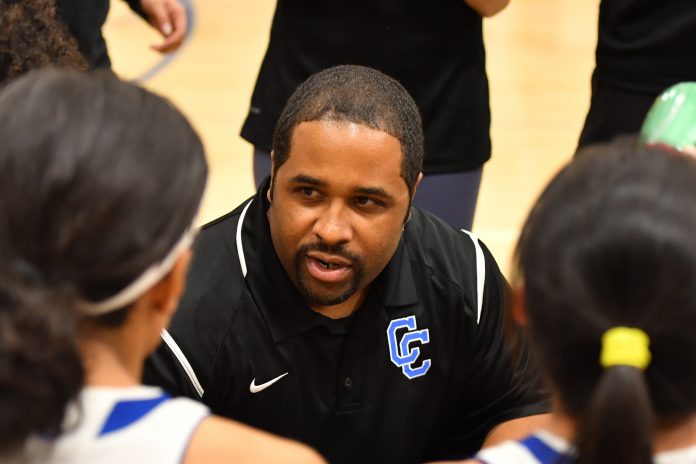 The Culver City High School girls' basketball program started a new league during the pandemic shorten season in 2021, and that league put the Centaurs in unfamiliar territory. Going from the Ocean League to the Bay League this year made them realize they have work to do. 
For the past 10 years, Culver City was the class of the Ocean League, compiling an 88-12 leaguer record over that stretch. Their overall record from 2010-20 was 206-90, which included four 10-0 seasons and three 9-1 seasons. They were the league champions during seven of those seasons, and they won a CIF championship in 2014.
Moving up to the Bay League proved to be a big adjustment, even for the dominant Lady Centaurs. The team was 2-7 in the more competitive Bay League in 2021, but Culver City head coach Julian Anderson is looking forward to the challenge. "It was different," said Anderson in a telephone interview last Tuesday. "We did not have a true offseason and for us, that's our bread and butter. Without an offseason, I do not get the opportunity to get the kids in a position to improve. They started getting better towards the end of the league play, but it was a little too late."
Anderson has coached Culver City girls' basketball for 15 years, 12 of those years as the head coach.  An urge to compete at a high level is natural for Anderson and his staff, which makes him the perfect coach to lead his team into still waters. 
"I like the new league," said Anderson. "The coaches in the league, I have known them for a long time. It's a great league actually."
The schools in the Bay league are Mira Costa, Redondo Union, Peninsula, Palos Verdes and Santa Monica. "In the Bay league all of the schools are invested in their programs and that is what it looks like to me," said Anderson. "Every team has one or two players that can play at the highest level in girls high school basketball."
The girls on the Culver City team are responding to the different level of competition according to Anderson. "They love it. They understand it's a different league. At the end of the day, they have been working extremely hard. They are really motivated right now. Everyone is showing up to the workouts, hitting the weight room, doing the things that will make them better basketball players.
"I tell the girls, let's get better every day. That the summer motto. Let's get better. Let's make a change in who we are. If we stay healthy, we should be able to compete in the Bay League."
After coaching the Lady Centaurs for 15 years, Anderson still enjoys developing young girls into good and sometimes great high school players. "I like coaching the underdog," said Anderson. "These are kids that the private schools are not chasing after, and they turn into really good players. I think watching kids develop over the course of four years is very rewarding. That's the biggest reason I started coaching basketball."
Over the years, Culver City has always had high character student-athletes on the girls' basketball teams. "Some of the kids that come into the program have never thought about going to college to play basketball," said Anderson. "Having them reach their goals are some of my greatest moments as a coach at Culver City."