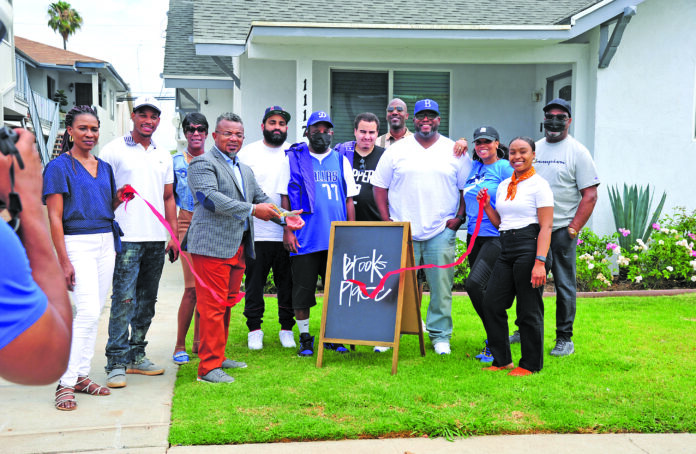 It is called Brooks Place and its founder and operator, Charles Fleming, said he has set up a resource center for disability awareness, education and training.
The new Gardena center, in partnership with Baltimore Ravens' defensive back, Iman Marshall, is located at 1117 W. 164th St. and on July 10 was launched with a grand opening celebration.
"I chose Gardena because it is a central location to everything," Fleming said. "I love the city."
Brooks Place was founded by Fleming, an educator and CEO, with the help of fellow educators, community leaders and many non-disabled activists and supporters, as noted in a press release.
The center operates three divisions: 
Job Training and Placement services

 

A Group Home Facility
Supported Living Services
Brooks Place has gained recognition for the high quality of its services in Youth Leadership Development, Personal Assistance Services, Employment Counseling, and Independent Living Skills training, the press release said.
Fleming's background is in education. He is an adjunct professor at West Los Angeles College, which is part of the Los Angeles Community College District. He taught a class for students with disabilities, and he worked for Barack Obama focused on those with disabilities.
Other educators attending Saturday's grand opening included Lynell Wiggins and Monique Anderson, both administrators at Compton College, and officials from the Los Angeles Unified School District and the Torrance Unified School District.
In his press release, Fleming said he launched Brooks Place after "seeing the need and experiencing the lack of basic independent living skills."
Brooks Place was established by "a group of educators with over 40 years of combined work experience."
At the time of its July 10 opening, the center had two male, adult clients.
"The state will only allow four clients per [center]. We are still looking to fill two of our four beds and all individuals have to come through the Westside Regional Center," Fleming told the GVN.  
He said that Brooks Place "believes in the creation of a fairer and more equitable society for people with disabilities.
"Brooks Place is the clients' home," Fleming said by email. "They stay here 24 hours and leave for activities, work and other events."
His center has two staff members, both with a different skill set. One staffer has a masters in  psychology and handles the clients' needs in education and employment, while the other staffer ensures the center meets state codes.
"We also make sure the families are involved in the clients' life," Fleming said. 
The client's family can visit the center freely and are encouraged to continue with client activities and interaction.
Fleming said that the community-based centers, such as Brooks Place which can only serve four live-in clients at a time, is a departure from the "industrial buildings [of the past]; if someone had a disability, they would be thrown into this type of facility. They used to be owned and run by the government.
"But that wasn't working, so they said 'let's create these community-based centers so clients can be integrated into the community. Brooks Place is such a facility,'" Fleming said.
He said that clients coming to Brooks Place would be from either homes or large (antiquated) facilities which might have closed.
Fleming said the Gardena center is his first assisted-living facility, but has plans to expand in Los Angeles with new facilities.
As far as high-profile athlete Marshall, his role will be that of a mentor.
"I feel so blessed to be here and have the opportunity to help others," Marshall said on Saturday.
Marshall is a graduate of Long Beach Poly high school and USC. He was drafted by the Baltimore Ravens in Round 4 of the 2019 NFL draft. Marshall serves as a backup cornerback and safety for the Ravens and was in town briefly before heading back east to training camp.
Fleming said he hopes to connect with the Los Angeles Rams in the near future to continue developing a strong mentorship connection.
Fleming emphasized that the primary objective of Brooks Place is to empower his clients so they can achieve independence in the workplace and in the community. 
"(We) celebrate the unique qualities of the clients by providing personalized care and exceptional service in a compassionate environment," he said. "(Brooks Place) is a peer-based organization that advocates and provides resources to individuals to improve their lives and make communities fully accessible. [We] provide assisted residential space, campus and community-based services and support to people with intellectual and developmental disabilities."
The training in independent living skills include making purchases and ordering food, catching public transportation, food/meal preparation, bed making, bathing, household chores – doing laundry vacuuming and dusting, personal hygiene, dressing skills and handling/using/counting money.
Fleming said that clients are on their own individual time tables and can stay or leave the program when they desire.
Those interested in learning more about Brooks Place can call 310-351-0221 or send an email to TheBrookGroup@gmail.com.