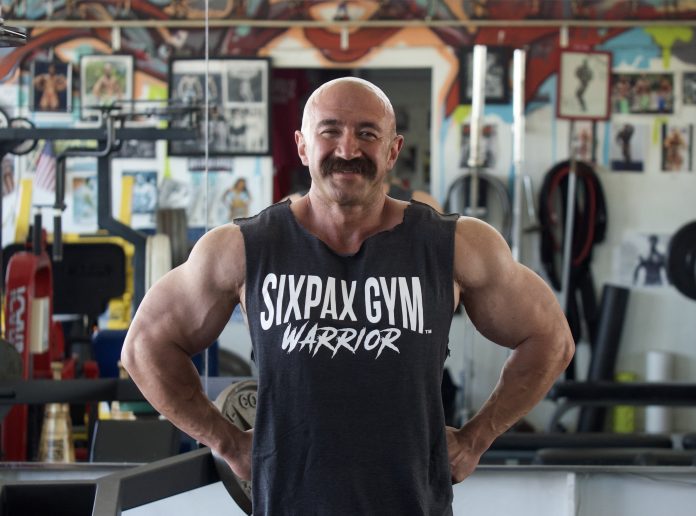 By Paul Green
If you are anywhere near the corner of Sepulveda Boulevard and Culver Boulevard, you can't miss the flurry of activity at the south west side of the intersection.  
It is there that on any given day you'll see members of the Six Pax Gym doing what needs to be done to get their bodies in peak physical shape.  
For those who are serious about maximizing and optimizing their workouts, the gym is a haven. 
Six Pax is the creation of Siavash Fashi, whose life story is the stuff movies are made of. It was while growing up in Iran that a picture of Arnold Schwarzenegger sparked his interest in the sport of bodybuilding.  But because it was considered to be an American sport, it was banned. That didn't stop him from pursuing his dream of eventually getting on stage. 
Fashi's interest in the fitness industry almost didn't happen because at the age of eighteen he was diagnosed with cancer in his right eye, which forced him to travel to Europe to get medical treatment. In order to pay for that treatment, he worked at a local pizza shop. 
Eventually, he did lose his eye but yet he still stayed focused on his goal. By chance, Fashi came across the gym of Dorian Yates, who is one of the all time bodybuilding greats.  His personal and professional goal was to become the number one bodybuilder in the world. As a student of the sport, he learned everything he could to build up his physique.  
Realizing that to pursue his dream he had to head to the land of opportunity, so he made the trek to the United States as a refugee. 
Once he set foot in America, his Iranian origins and physically stature got him immediately put in prison. After a year of countless background checks and questioning by the FBI and CIA, he was granted asylum and released onto the streets of Chicago. 
It was after the first snow fall that he bought a one way ticket to California, where the only work he could get was a security job. He worked 7 days a week for 3 years before being laid off. With no income coming and a $3,000 unemployment check in hand, he opened a gym in Culver City right next door to his present location. Though he had only one barbell and a couple dumbbells, it was his passion, drive and determination that led to what he has established today, which, with a million dollars in revenue the most successful gym in America.
Fashi is the driving force and face of the business, but he is quick to give credit to his motivated and dedicated members who have helped him along the way, especially through the three month lockdown during the pandemic. 
During that excruciating period, his members consistently asked him if he needed anything to reopen and maintain his business. An example of such assistance was one of his members who volunteered to design and build the current awning which is in compliance with the Los Angeles County and CDC regulations which allowed him to reopen again. His 264 members include doctors, lawyers, and electricians etc. who are all ready and willing to pitch in to contribute to what he needs for his business. 
Just as they are willing to give to him, in return, he pays it forward by giving back to the community. For example, it was with the assistance of Greg Goodyear, one of the Centaurs football coaches that he set up a program for Culver City High School to have some its athletes train at his facility.  One such athlete is Johnny Fino, who not only works out there but has also been hired as a trainer.  Fino, who started working there at the end of his junior year, says "his time at the gym has been good experience and working for Siavash has been great."
"He's a really nice guy who treats us like family." Fino said.
Fashi's goal has been to build a foundation by which his members could not only go by but to live by to bring real change in their bodies and lives in general. In addition to an impressive display of photos on the wall of those patrons who have transformed their bodies, there is also a monthly award given to the member who has made significant gains or losses. 
His cliental encompasses all types including those with physical challenges and even a member who was blind. Typically the sessions consist of 30 minutes of high intensity training combined with a nutritional plan that Fashi guarantees will get results. 
In addition to Fashi's plan to expand his gym to other cities, he's also in the final stages of writing a book of which, in addition telling his life's story would serve a template of how to build a successful gym as well as healthy lives. The Six Pax Gym is located at 4301 Sepulveda Blvd.