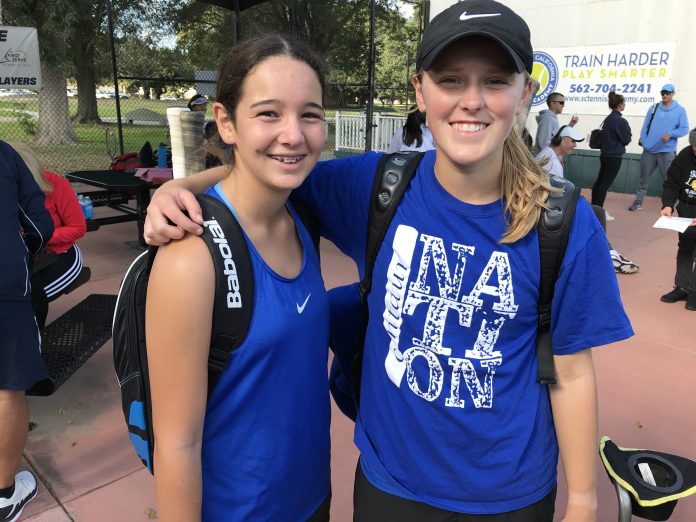 Senior Sierra Chabola and sophomore Evan McDowell remain humble after dominating Ocean League, winning title
While many of the eyes on Culver City High School sports this season have been on the historically high-octane football program, there are other fall sports who's seasons each has their own place in Centaur sports history.
One of those is girl's tennis, where the doubles pair of sophomore Evan McDowell and senior Sierra Chabola dominated the Ocean League, going 25-1 on the season on the way to a league title. To those who follow Culver City sports or have been to a football game at Culver High, the surname Chabola is something you have undoubtedly heard before. Sierra is the granddaughter of Jerry Chabola, who has become the namesake for Culver's football field. While the Chabola namesake is a household one in Culver athletics, the younger Sierra says that namesake actually didn't play a big role in her decision to immerse herself in sports.
"My parents have always told me that we should do whatever we want," Chabola explained. "They put us in sports, but they wanted to let us choose what sports we like and wanted to get into."
For Chabola, this meant getting into three different sports. Her main focus and childhood love is soccer, which she has been playing since she was five years old, but her long time the following lacrosse in part due to an older sister who played led her to try the sport in high school. Tennis, on the other hand, was done more on a whim than anything.
"They had some sign-ups for 8th grade, and I already knew I was going to do soccer and lacrosse, and I figured if I can do three, why not do three? So, I just decided to give tennis a try."
She quickly picked the game up and knew it early when she was placed on the JV team after just a few weeks of summer practice.
"That's when I started realizing 'oh, I have the potential'"
McDowell is also a multi-sport athlete, who also picked tennis on a whim to compliment her baseball pursuits. However, unlike Chabola, McDowell decided to be different than her older sibling.
"I was thinking about my options for sports, which were volleyball, cross country, and tennis," McDowell remembered. "My sister did cross country, so I wanted to add some variety to the sports we played, so I took up tennis. It just looked fun and they advertised it a bit at the school and a few of my friends played on the team too."
She credits her softball experience as a catalyst for her quickly picking up the game of tennis.
"Tennis swings are kind of like one-handed softball swings, so it kind of came naturally," McDowell recalled.
Chabola and McDowell became partners in doubles competition after McDowell's previous partner decided to commit to soccer full time.
"My partners for the last two years have been super amazing; I think I got really lucky with them," McDowell lauded.
Chabola has been dominant throughout her high school career, winning rookie of the year and most improved player awards in her earlier years, while picking up MVP's and All-CIF honors in her time as an upperclassman, including MVP of the tennis team this season. Despite this, she has no intention to pursue sports beyond high school, saying the gamble was too risky.
"I knew going into high school that I didn't want to go to college based on athletics, because it just takes up so much of your time, so I know I want to go for academics," Chabola tells me. "It's never a guarantee if you get recruited, so I was always just focused on doing high school sports for the fun of it. I am going to be doing things academically my whole life, so I guess it was more or a long-term decision, as opposed to a short-term decision based on 'will I even go professional after this?'"
Chabola got a taste of this firsthand during high school, where she developed time management skills to excel in both academics and athletics.
"It was super difficult. I would have two-hour practices, then have to stay up late to do homework. But I knew I wanted to be committed, so I put in the work at practice to get better, and outside of school I would go to the library during my free time to focus on my academics."
McDowell, on the other hand, hopes to earn a scholarship for softball.
"Since there is no pro for softball, my ultimate goal is to go to the Olympics. I am hoping to get some sort of scholarship, probably low Division I."
For her, it doesn't really matter whether it is closer or far from home; she just wants to continue playing the sport that she loves.
"If an out-of-state gives me a scholarship, I'm there."
Another thing that Chabola has seen develop over her high school career is her leadership. It was a role that she took in stride, yet was still surreal to her.
"It was crazy because when I was a freshman, I looked up to all the seniors and thought 'wow, these guys are so good, I kind of want to be like that,' so being that person now to my teammates, it's just crazy."
In tennis, which is her third sport, she had to find a good balance from her team despite having focus on plenty of other things.
"At tennis, it has always been a free space for me, so I was just being myself all the time, but then I had to shift into leading everybody else and showing by example and trying to have them have a good time but also focus enough to try to win."
Soon, that role will fall on McDowell, and she credits Chabola with preparing her to take that helm.
"Sierra was one of the co-captains of the team, so she made that role look so desirable because she did it so well," McDowell said. "So, I am hoping that I can fill that role when I am a senior to try and hype up the team."
While McDowell builds herself up through another year at Culver High School, the senior Chabola has to look forward to a different future. While her athletic career in tennis is all but over, she will never forget the teammates that she had along the way.
"In every single sport, they are like another family to hang on to," Chabola says. "All of my friends are from my sports, and just…I am going to miss that a lot.