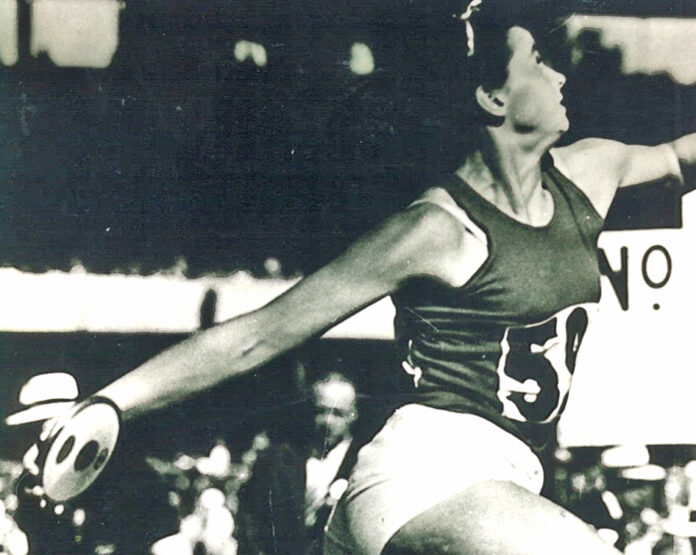 Many of the greatest Olympians from diverse backgrounds and life experiences have called Culver City their home, embracing the theme of the 2020 Tokyo Olympic Games closing ceremonies, "Worlds we share, where individuals from a variety of cultures and backgrounds reach new heights together and connect through sport." 
Embodying that message, former Culver City High School runner Isaiah Jewett and Botswana competitor Nijel Amos helped each other to their feet after they collided in the Tokyo Games 800-meter semifinal, last week.  In a show of Olympic spirit and sportsmanship, Jewett of Team USA and Amos draped arms over each other's shoulders and completed the race together.
"Regardless of how mad you are, you have to be a hero at the end of the day," Jewett said, according to Yahoo! Sports.
Showing good character and your humanity are what heroes do, noted Jewett, the nation's top NCAA 800-meter runner.
Culver City's connection to Olympic heroes is evident throughout the modern Olympic movement.
Five-time Olympic discus thrower Olga Fikotová Connolly — whose romance with an American hammer thrower broke Cold War barrier — raised her athletic family and became highly involved in the Culver City community.  
Facing resistance from the Iron Curtain republic of Czechoslovakia, Connolly ultimately moved to the Heart of Screenland to be with her husband Hal Connolly after each won gold medals for their respective countries in the 1956 Melbourne Games.  
Olga Connolly was selected as the flag bearer for Team USA in the 1972 Munich Summer Olympics.  For many years, she worked for Loyola Marymount University and authored articles on sport for the New York Times.
Melbourne Games Olympian Laszlo Tabori, a world-record holder in the 1500 meters and sought after long-distance running coach, raised his family in Culver City and mentored numerous accomplished runners for several decades.  The Hungarian refugee was the third runner to break the four-minute mile.  Tabori was Honorary Chairperson of the Screenland 5K during the Culver City Centennial.
Soviet Union émigré, Alla Svirsky, who led the LA School of Gymnastics in Culver City for several decades, served as Head Coach of the Women's Rhythmic Gymnastics Team for three Olympics, including the 1984 LA Games.  She coached 15 national champions. 
The City of Culver City welcomed a relatively unknown runner of Oglala-Dakota (Sioux) Indian ancestry for an opportunity to qualify for the 1964 Tokyo Olympics.  Billy Mills thanked Culver City officials after shocking the world with his extraordinary triumph that the Los Angeles Times called as one of the "greatest upsets in Olympic history."
Mills, who qualified to run for the U.S. team in the Tokyo Games by finishing second in Culver City's Western Hemisphere Marathon, won the 10,000 meters in an Olympic-record time to defeat world-record holder Ron Clarke of Australia.  Mills, friend of late Culver City Parks and Recreation Dept. Director Syd Kronenthal, remains the only person from the western hemisphere to have won Olympic 10K gold.
Kronenthal, a pioneer of the modern Olympic movement, championed many local Olympians, mentored Olympic officials, and counselled visiting international Olympic athletes.   
The 50-year-long Director of the Culver City Parks, Recreation and Community Services Dept. was called the father of wheelchair sports for introducing and leading paralympic programs in basketball, track and field, and tennis.  
Kronenthal, who chaired the national AAU long-distance running committee, and William Schroeder of the Helms Athletic Foundation founded the Western Hemisphere Marathon, which qualified Olympic Gold Medalist Billy Mills and was the first race to allow women to compete with men, producing three women's world bests.
Culver City Maintenance Division employee Bobby Cons won the Western Hemisphere Marathon four times and qualified to run the marathon in the 1960 Olympics.
Gold medalist decathlete Rafer Johnson, who carried the torch in the 1984 LA Games, led the Southern California Special Olympics program at its Culver City regional headquarters.  Johnson and Kronenthal worked together on several Olympics-related projects in cooperation with the City of Culver City.
Olympic gold medal gymnasts Peter Vidmar and Tim Daggett of UCLA were coached by Culver City instructors Isamu and Makoto Sakemoto and trained at Culver City's Veterans Auditorium for the 1984 LA Games.
Tai Babilonia and Randy Gardner, who qualified for the 1976 and 1980 Winter Olympics, began their budding ice-skating careers at the Culver City Ice Arena.  They became World Champions in 1979 and were five-time U.S. National champions in Pair Skating.
Olympian Pat McCormick often performed her exhilarating dives before packed crowds at the annual summer Culver City Aquacade.  McCormick was the first athlete to win gold medals in springboard and platform at two Olympic Games (1952 Helsinki, 1956 Melbourne).
Culver City Parks and Recreation lifeguard Wally Wolf won Olympic swimming gold medals in London (1948) and Helsinki, and competed on the USA water polo team in Melbourne and Rome (1960).  Wolf became a successful sports & entertainment attorney and represented Johnny Carson who dominated late show television for years on NBC.  Wolf also represented Olympian gymnast Vidmar.
Swimmer Maya Dirado, daughter of Culver City High School alumnus Ruben Dirado, won two gold medals, a silver and a bronze in the 2016 Rio Games.  
Culver City Swim Club standout Dara Torres won 12 medals in five summer Olympic Games.  Kiki Vandeweghe broke age group records for the Culver City Swim Club, but the Olympics candidate opted for stardom in the NBA. 
Centaur graduates Mickey and Susie Hall watched their son, Ryan, US Olympic Trials winner, compete in Beijing in the 2008 Olympic marathon.  
Misty May-Treanor, who teamed with Kerry Walsh to win beach volleyball Olympic gold medals in 2004, 2008 and 2012, played in the Culver City Parks and Playgrounds while her mom, Barbara May, worked at the Culver City Recreation Division.  May-Treanor was also one of the greatest collegiate volleyball players of all time with Cal State Long Beach.
America's two most accomplished collegiate volleyball coaches enjoyed what Culver City had to offer them.  Longtime UCLA men's coach Al Scates was a Culver City Parks and Recreation Leader at Blanco Park, and Bruin women's coach Andy Banachowski resided across from Lindberg Park in Culver City.  They trained dozens of US Olympic volleyball athletes.
Tom Mills of Culver City supervised more than 1,200 official Olympian-related activities and raised funds for Olympic hopefuls and numerous charities while leading the Southern California Olympians and Paralympians of the US Olympic Committee.  The Culver City High School alumnus also headed a music firm that created and produced the music for the global advertising campaign for the 1984 LA Olympic Games. 
Olympian Isaiah Jewett's mother, Venus, started a track and field program at Culver City Middle School and coached the celebrated Culver City High School girls track team for a decade until 2013. Her daughter, Olympia, a former standout Centaur runner, directs operations for the UCLA Track and Field and Cross Country teams, which perennially send athletes to the Olympic Games.
Rod Dixon of New Zealand, a four-time Olympian, bronze medalist, and New York Marathon winner, directs a running and nutrition education program for children and led clinics for runners of all abilities in the inaugural Screenland 5K during the Culver City Centennial.
The most decorated American woman in Olympic track and field history, Allyson Felix, who is competing in the Tokyo Games, and Shawn Crawford, an Olympic multi-medalist, shared Olympic experiences and offered thoughts on how adults can constructively support children's involvement in athletics at a sports panel held at Turning Point School in Culver City in coordination with the Culver City Centennial and Screenland 5K.
Max Stodal, late volunteer at the Culver City Senior Center, worked as a translator, driver and office manager in the 1984 LA Games.
Culver City High School alumnus Jeff Rona wrote music for the 2008 Beijing Olympics.