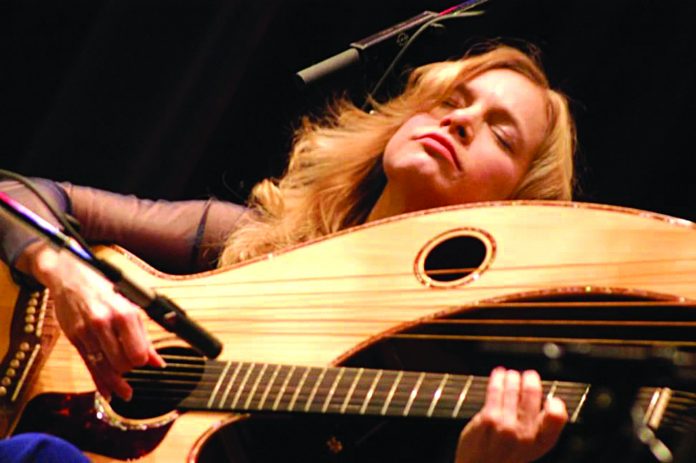 Multi-faceted musician gets
opportunity to share her
joyful tunes at Boulevard Music
By Gary Kohatsu
She is called "one of the world's foremost fingerstyle guitarists and harp-guitarists," and it could be difficult to find any detractors. Muriel Anderson is not your garden-variety talented artist. She is indeed unique.
Take her instrument, for example, it's a cross between a guitar and a harp. The sounds that her harp-guitar produces will not be soon forgotten.
Anderson's "unique approach to the instrument virtually transforms the guitar into a lyrical choir, then a marching band, then a Japanese koto, then a Bluegrass band, one minute launching into a Beatles' tune and the next, a Spanish classic."
Sources say, that Anderson is the first woman to have won the National Finger-style Guitar Championship and has performed/recorded with famed artists, including Chet Atkins, Les Paul, and Victor Wooten.
"Nightlight Daylight" was chosen as one of the top 10 CDs of the decade by Guitar Player Magazine, and her "Heartstrings" recording accompanied the astronauts on the space shuttle Discovery.
She is the host of the renowned Muriel Anderson's All-Star Guitar Night® and founder of the Music For Life Alliance charity.
Anderson will be performing at 8 p.m. Saturday, Jan. 19 at Boulevard Music. Last month, the News caught up with the gifted musician, who took the time to share  her life, music and future plans.
1)    When did you start playing and writing music, and when did you start taking it seriously (playing live, recording, etc)?
Well, I wrote my first song at age five, but it wasn't until I was at DePaul University studying music, and in fact on the expressway driving back to attend classes, that I realized I didn't need all the frilly things like a house and a car that's all one color. I'd also learned from my mother how to live on rice and beans, so I decided at that moment I was a guitarist. I quit my piano tuning apprenticeship, which was my backup plan, and did everything I could toward a career playing the guitar.
2)    Who are your main influences?  
Doc Watson, Pat Metheney, Paul Winters, Chet Atkins, Christopher Parkening, Tommy Emmanuel. My grandfather was my first inspiration as far as playing music professionally. He played sax in John Philip Sousa's band and had his own radio band back when each radio station hired their own band8).
3) Describe your particular style…    
I kind of wish I could. I play from the heart but have many loves. The music might be folk, classical, bluegrass, Americana, popular or international music played on either harp-guitar or nylon-string acoustic guitar.
4) Where are you based? What do you think of the local scene?
Based in Nashville. It's an inspiring place to be as a musician and a great place to record. Many of us play for fun in addition to playing as a living. Last night I went to a party at Keb Mo's house, and the jamming was more fun and amazing than anything I'd seen on stage. Having said that, I travel a great deal, so there are many places that feel like home to me.
6) Do you have any albums/singles available?  Yes, many CD's and DVDs.
"Eclipse" is a Greeting Card with CD, released in 2018. It features tunes played on solo harp-guitar, inspired by seeing the recent Eclipse. "NightLight Daylight" double CD is the one I'm most proud of. It took two years to record and I spared no expense, hiring the best musicians to make it come to life. I'm happy that people are feeling the love that went into it, as it won top honors in a dozen awards and was chosen as one of the top 10 CDs of the decade by Guitar Player Magazine. It is also the first ever to include an interactive fiber-optic lighted CD cover. You can get a free download of a tune, plus see the way the CD lights up on this link: www.murielanderson.com/nightlight
7) Have you played Boulevard Music before?  
Yes, I've known Gary at Boulevard Music for a long time, but my schedule hasn't often allowed me an open night while I'm in the area. I'm glad that this year I was able to work it out to return.
8) What can we expect from your upcoming performance?  
When I get on stage I want the audience to experience the joy that I do from the music. Using a huge variety of techniques to capture the essence of music from many cultures, experiences of life come together and there is a deep inner joy that's different from anything else.
9) What do you have planned going forward, after this show, for 2019?
I'll be in California and Arizona the month of January, until early February, and from there a tour in Tennessee/Georgia/Florida until the end of February. I'll do some recording in early spring and then east coast, back to California briefly in the summer, and I usually play in Europe for three weeks out the year as well. Tour schedule at www.murielanderson.com/tour
In 2019, Muriel will be donating 20 percent of the net from all her USA concerts to the Music for Life Alliance (her nonprofit 501c3 charity). She also plans to do more benefit concerts, funded in part by the Music for Life Alliance, to support music education for kids. http://www.musicforlifealliance.com/
Cost for this show is $20.
Online tickets sales close at 6 p.m. the night of the show.  Any remaining tickets are for sale at Boulevard Music when doors open at 7:30 p.m. unless noted otherwise. Tickets may also be purchased in person at Blvd Music or by phone (310) 398-2583 using a major credit card.
A $1 service charge per ticket is added to online and phone orders. All ticket sales are final. They are non-refundable and non-exchangeable. For online ticket purchases, you will need to provide the ticket barcode for entry. Print your ticket or display the barcode on your phone.
Note all shows start at 8 p.m. and doors open at 7:30 p.m. unless indicated otherwise. People who already have their tickets (purchased them in advance) get in first when doors open at 7:30 p.m. After the people who already have their tickets are admitted any remaining tickets will go on sale.
Taking photos or any other type of recording is not allowed during performances at Boulevard Music.