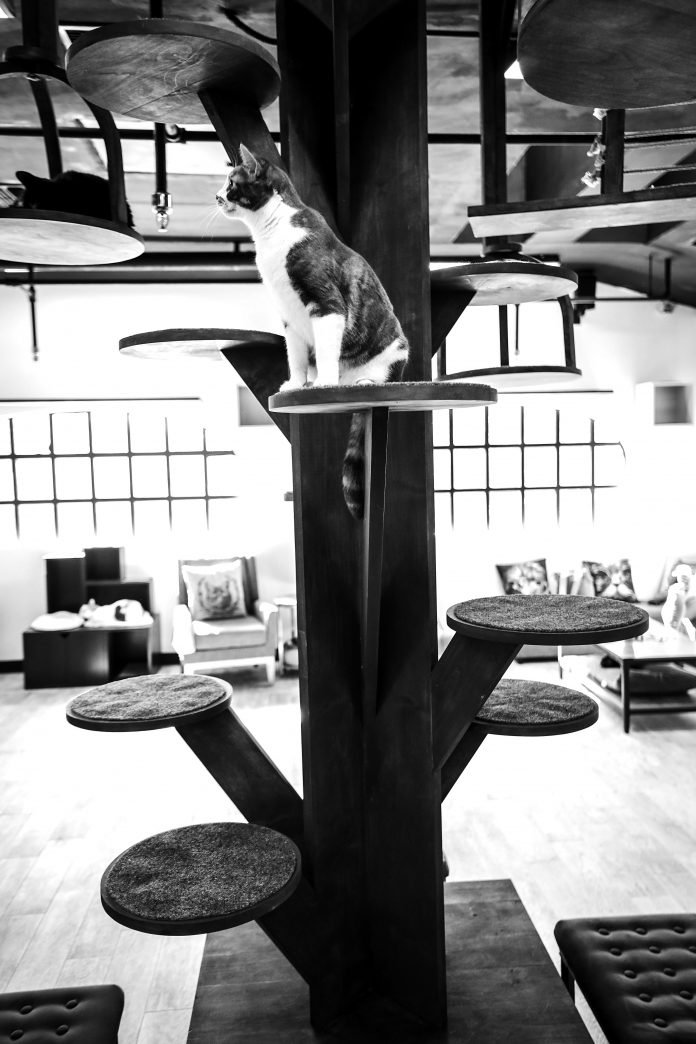 So just what is a cat cafe and where did this idea transpire?
The Oxford English Dictionary calls it a "cafe or establishment where people pay to interact with "cats" housed on the premises."
One of biggest differences here noted Kristi Labrenz, founder of CatCafe Lounge, is that "we are one of the only cat café's that provides vertical space for the cats." Cat cafés are known for not having high spaces where cats can retreat. She said the lounge is intended for the well-being of the cat and for people to enjoy them in a setting they can thrive in and not the other way around.
CatCafe Lounge does this in a clean, comfortable atmosphere with plenty of soft furniture for both people and cats to relax and enjoy each other's company with the goal being to  "socialize and rehabilitate stray cats and adopt more cats" said Labrenz.
Taiwan claims to have opened their first one in 1998. Cat cafes have been popping up in Great Britain since 2014 according to a BBC article dated Sept. 13, 2016.
"We are the first and only nonprofit cat cafe in Southern California and only one of five in the entire U.S."
The founder was inspired during a trip to Japan where there are over 300 cat cafés according to a January 2019 Japanese Times article.
She said that since "cats are private and territorial beings by nature" and the current adoption process causes cats to feel scared and reserved.
A time of transition is offered to the cats coming from shelters so they can be assimilated into the environment that CatCafe provides. Labrenz stated how an animal behaviorist visits weekly to access them.
Labrenz said the mission of CatCafe Lounge is to reduce euthanizations by getting cats into caring homes. By working with organizations like Stray Cat Alliance, "cats are pulled from shelters so they may more easily be adopted." At the very least they receive care, much-needed attention and the chance of a longer life. Potential adoptive families are carefully screened before being selected.
The concept seems to be working because since opening in 2018, 121 cats have been adopted and 155 have been saved from euthanization.
For ninety minutes and a fee of $25, potential adoptees, apartment dwellers not able to have a cat or those whose family members have allergies to pet dander can enjoy a lot of the perks of having a cat without actually having the pet in their home.
Just follow the cat paw prints to the second floor where you'll be sure to find cats resting, playing, sleeping or perched high above in cat furniture.
Visits with the cats in a bright, spacious, modern setting with bean bag chairs, sofas with a multitude of pillows, whimsical pictures of you guessed it -cats. Discounts are offered for groups with four or more.
Parking is no-hassle, as there is a spacious parking lot in the back.
Reservations are highly recommended since space fills up fast and a maximum of 15 people at a time are allowed. Additional information can be found at catcafelounge.com
The CatCafe Lounge is at 1736 S. Sepulveda Blvd., Los Angeles. It is open Wednesday to Monday and closed on Tuesday. Hours are 11 a.m. to 8 p.m.
CORRECTION: Please note that CatCafe Lounge opened in 2018. The original and printed article states that it opened in 2015.