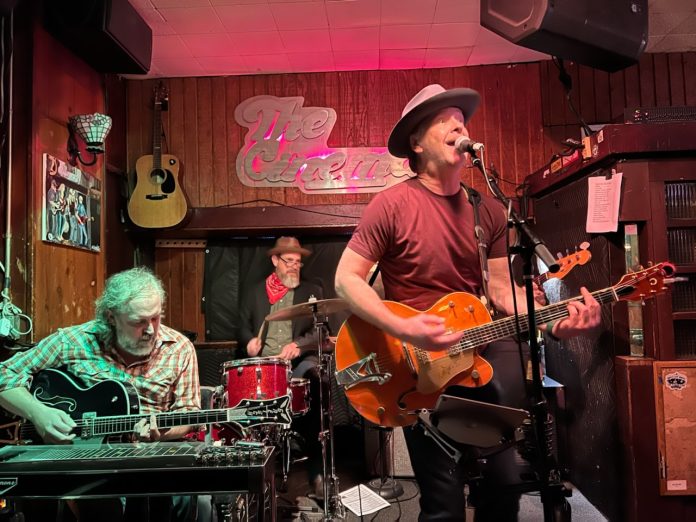 Grant Langston has been playing his brand of Americana for years, and he founded the California Roots Union in 2014, to "promote and support California roots and country music with media outreach and as a production company." Langston is performing at Cinema Bar with Dan Jarisch on Friday, July 22, so he chatted with the News about his career so far.
When did you start singing, writing, playing and performing, and when did it start to get serious?
I'm from Alabama and grew up with a rich musical tradi- tion in a culture that really emphasized making music. I was singing in the church choir at 6, playing trombone in the school band at 9, playing the guitar at 10, and piano at 13. I started my first band at 12 with the kids in my neighborhood. By my mid-teen years, I was playing bass in a touring gospel quartet and in the high school jazz band. While in college at Auburn, I played in a rock band and guitar/bass for the touring Auburn Singers. I suppose I've been hip deep in music my entire life. I was serious about music even then, but at 22 I moved to LA to play music and make that my main focus.
How do you describe your sound/style now?
I think the best genre description is Americana. It's equal parts country, honky-tonk, and roots rock. I see it as much more of a California country style of music, or maybe Texas, than Tennessee country music. I try to write songs that are universal and focused on things that we can all relate to. I feel that much modern country music is about celebrating lifestyle as opposed to human experience. I try to push back against that.
What are your musical career highlights so far?
I've released seven records. I've toured the US and Europe a number of times. I've placed dozens of songs into TV and Film, maybe most notably the HBO series True Blood, which used quite a few of my tunes. I've opened for bands like Asleep at The Wheel and Ben Harper. But I think I'm most proud of the L.A. country music community that I've helped grow and nurture. It's a group of talented, supportive people who have kept this music vibrant in Los Angeles.
Have you released any recorded material?
My last release was in 2019 – Los Angeles Duets. The concept was to pull together 12 singer-songwriters that I really loved, some I knew and some I didn't. Sit down and write a duet with them, and then record it together. The record was produced by Shooter Jennings' long-term bassist and collaborator Ted Russell Kamp. I'm very proud of that record.
I'm hard at work on a new collection of music. I don't have a title yet, but the idea is, "Can you make an album that combines the best of Motown-style R&B and country music?" We'll see how it goes.
Have you performed at the Cinema Bar before?
I think The Cinema Bar should be a historic landmark. It has been ground-zero for Americana music in Los Angeles for a generation. There's something about it. The wood paneling maybe? It sounds great. It feels great. I've played some of the best shows of my life in that room. I've been to wakes for dear friends there. I've been to video shoots there. I think the owner Rod Castillo has done more for music in this town over the past 20 years than just about any venue operator.
What can we expect from the set this time?
My good friend and great artist Dan Janisch starts at 9 p.m. and then we'll take the stage when he's done.
What else do you have going on this year?
I've settled on 2022 being the year I get back in the live performance saddle after the pandemic. I'm going to bring in more and more dates both in Southern California and out in the country. Folks can go to grantlangston.com to learn more.