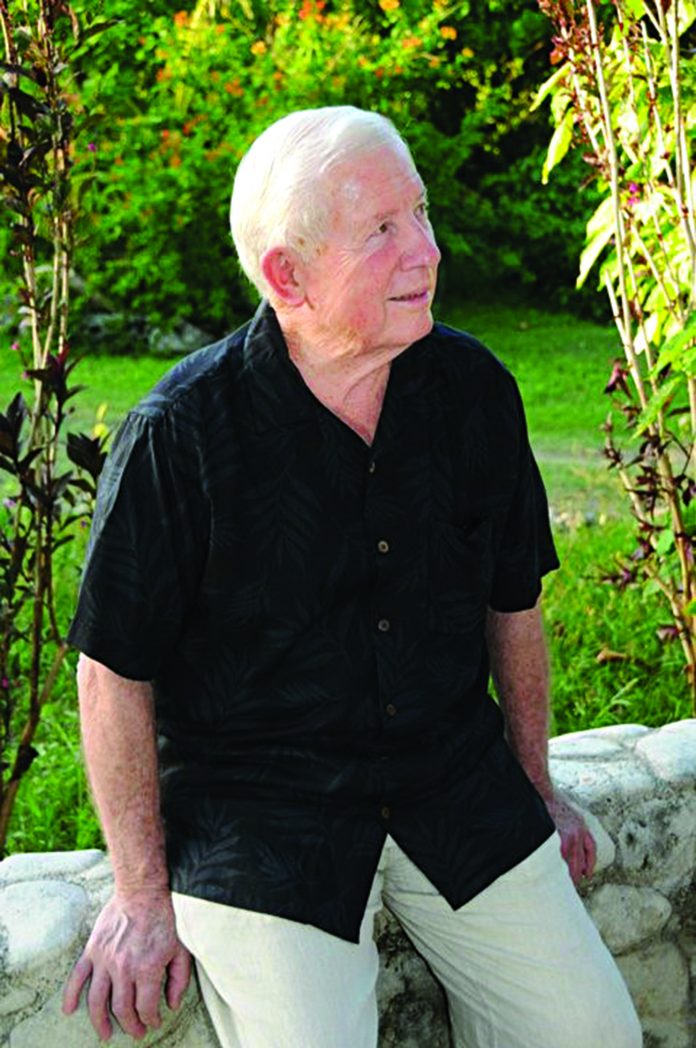 George Sweeny had 'exceptional ingenuity' which was his forte
By Brian Fisher
Former Culver City Fire Department Chief George Sweeny passed away peacefully Dec. 18, 2018. He was 90.
Sweeny was born on July 31, 1928, to Anna Mae and George Sweeny in Eagle Rock, Calif., the third oldest of four children. After graduating from Verdugo Hills High School in 1946, he attended the Loyola University of Los Angeles, where he earned a bachelor of science in Biology. Later, he completed several graduate courses at UCLA and USC.
In 1956, Sweeny joined the Culver City Fire Department. His exceptional ingenuity and problem-solving skills were recognized immediately and put to use consistently. In the mid-1960s, for example, George designed the vehicle that was used by the newly-created ambulance service/rescue squad, which made the department one of the most progressive in California.
On Aug. 29, 1972, Sweeny was promoted to fire chief, a position he held until 1985. As the CCFD fire chief, he oversaw the creation of two-man paramedic teams, an in-house Emergency Medical Technicians program and the relocation and expansion of Fire Station No. 1.
"He was very well liked by all the men who worked with him and for him," said Jim Gilbert, a retired fire captain who joined the CCFD a few years after Sweeny, and was a longtime friend. "He was a straight shooter. If there was something that needed to be done, he made sure whatever job we were doing, we did it correctly. And people had great respect for him because of that."
After retiring from the Fire Department, Sweeny earned his Aircraft Mechanics License before going to work at McDonnell Douglas from 1990 to 2000, where he edited pilot flight manuals. He retired again for good, this time in 2000.
Away from his professional life, Sweeny was a loving and caring family man. He was curious and adventurous and exceptionally skilled in just about any project that required a keen mind and had strong hands and know-how (or the willingness to learn how).
From large projects like expanding his home from one to two stories, building a tree house for his daughters, helping the cub scouts make their Pinewood Derby cars for the big race, or creating a new tile backsplash in the kitchen, he was the do-it-yourself guy long before do-it-yourself became trendy.
But his real joy came from flying.  Sweeny and his close friend, Fred Machado, each built two different types of airplanes from kits and flew them at Camarillo Airport. George's favorite was the World War I-style biplane (named the Boredom Fighter) that he would fly while wearing a white aviator's scarf, leather helmet and goggles, looking the part of pilots who flew long ago.
Not content with just taking to the skies, Sweeny worked tirelessly in his garage (and the two barn-like sheds he erected in the back yard) to build several other impressive projects. Among them were a vintage-looking World War II Willys MB Jeep, a Chris Craft Barrel Back classic speedboat and finally, a 1932 Ford Roadster, which was completed thanks to the help of Paul Vogler. The Roadster was honored with the "Most Different" award at the 2015 George Barris Culver City Car Show.
His creativeness didn't end there. He was an excellent cook, something he often attributed to learning during his fireman days when it was his turn to feed the crew. Among his family's favorite recipes were his tacos, pot roast and cheesecake.  George was also a fan of Glenn Miller and other Big Band-era musicians and he played the music of Scott Joplin on the piano. He also enjoyed many facets of the outdoors, including camping and fishing.
George Sweeny is survived by his wife of 43 years, Nancy, and his eight children and their families; his brother; sister and brother-in-law; and several nieces and nephews.
A memorial service for George will be Aug. 3, 2019, at the Dale Jones Culver City Courtyard in front of Culver City Hall. Details to follow.
Donations in George's honor can be sent to OPICA (Optimistic People in a Caring Atmosphere), the first adult day care center with emphasis on older adults with memory problems in Los Angeles, at 11759 Missouri Ave., Los Angeles 90025.