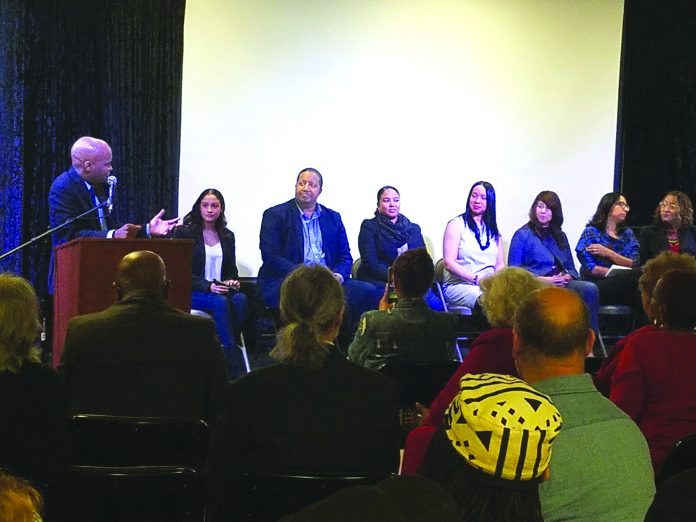 Culver City's own Mayme Clayton Library and Museum served as the setting for a discussion panel on black leadership in honor of Black History Month on Saturday, Feb. 23.
Hosted by Culver City Councilman Daniel Lee, the panel featured seven local black leaders: Culver City High School Associated Student Body President Falon Legaux, Culver City Chamber of Commerce CEO Colin Diaz, Culver City School Board Member Summer McBride, Culver City Education Foundation Executive Director Melanie Mack, Culver City Unified School District Superintendent Leslie Lockhart, California State Assemblymember Sydney Kamlager-Dove, and California State Senator Holly J. Mitchell.
"When it comes to black leadership, we're represented in every area by African-American people," Lee said. "We just want to highlight how the city has changed and how it's very welcoming to African-American people."
More than 150 people turned out for the two-hour event held at the site where Lloyd Clayton, the museum's executive director, said houses the largest private collection of African American art and memorabilia in the United States.
During the panel discussion, much was said about the characteristics and qualities that all good leaders possess.
Quoting Howling Wolf Management Training, LLC founder Victor Lipman, state Sen. Mitchell stressed the importance of having a calm and even temperament when making decisions. She also reminded the audience that in her position, she sees herself as a servant who understands what it means to lead others.
"I learned leadership largely from women of color who weren't elected leaders but were women who valued what leadership was, women who were servant leaders and had a calling to serve people," Mitchell said.
Passion and integrity were what Legaux said made a good leader. She cited the recent motion picture "Hidden Figures" about three black female mathematicians who worked for NASA during the early years of the U.S. space program as her inspiration.
"Someone I really resonated with was Dorothy Vaughn and Katherine Johnson, and Mary Jackson from "Hidden Figures," Legaux said. "Having to face all of those obstacles dealing with segregation at the time, being women during the time and thought of as incapable of doing the things that were considered a man's job really amazed me how they kept at it and fought for what they believed they were capable of. Those women are true leaders."
Kamlager-Dove spoke of the importance of learning to accept failure as the pathway to true leadership.
"Being vulnerable and being not afraid to fail I think are also important characteristics of a leader because when you're not afraid to fail that means you're willing to try new things, you're willing to step out there and if you do fail, those are amazing learning lessons for what you can use when you get back up," Kamlager-Dove said.
After the panel discussion, the floor was opened up to questions by the attendees, many of whom asked about the fate of the library in the wake of an eviction notice the museum received from the office of Los Angeles County Supervisor Mark Ridley Thomas.
All of the panelists, including host Daniel Lee, expressed concern and support for keeping the museum open.
"We've developed a cultural corridor in Culver City which includes the Wende Museum, the Culver City Historical Society, and the Mayme Clayton," Lee said. "This is a central part of it and it's the largest private collection of African American art and memorabilia west of the Mississippi and that's something Culver City can be proud of."