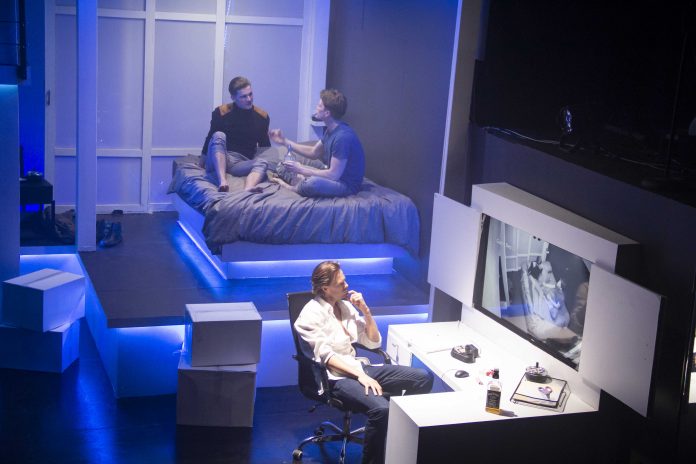 In the world premiere of Famous, a new play written and directed by the incredibly creative Michael Leoni, we are invited into the 1994 world of a media celebrity through the eyes of Hollywood's biggest star, Jason Mast.  Through a hot party that takes place at his Hollywood Hills home the night after his first Oscar nomination, we see Mast filled with all the trappings of celebrity royalty, offering the star and his growing entourage a world fueled by sex, money, and power where image is everything. One need only think of the rising #MeToo movement to realize how Leoni has chosen to put the world in which creating the reasons for that public outcry were born.
From the moment you walk into the new 11:11 performance space on Kings Road in West Hollywood, you will find yourself immersed in scenic designer David Offner's multi-level, three-bedroom home any of us would love to own, no doubt born in the outrageously detailed imagination of Leoni. Add in Ovation Award-nominee Martha Carter's brilliant stage lighting, which colorfully highlights the black and white set as downward, spiraling moods or overwhelming anger explode as the night unfolds at an adrenaline-rushed pace, ultimately revealing one of Jason's darkest secrets. His attempt to control the party's outcome ignites a chain of events that pushes the boundaries of real friendship and reveals the true cost of fame.
Perhaps those of you who have personal experience working in the Los Angeles studio system will recognize much of the testosterone-fueled behavior so prevalent in the days before those perceived as "underlings" could ever hope to speak up about the infamous "casting couch" days of movie making when young attractive men and women. Famous looks at what giving in to those demands really costs a person, and how dulling those memories with drugs and alcohol can turn deadly.
Featured in the cast are Christopher Dietrick as Jason Mast, the emotionally challenged new celebrity who was never ready to step into the media glare which fame offers him, Derick Breezee as Young Jason, bravely taking us into the traumatic events which took his self-worth from him at the hands of his overbearing mother (Rachael Meyers), cigar-smoking manager Paulie (Kenny Johnston), and powerful producer Jack Rossi (Gregory DePetro). I could not help but see Harvey Weinstein every time this despicable character was onstage, although he doesn't resemble him.
Jason's entourage hanging out to bask in his new-found celebrity fame includes his just-out-of-rehab (but still dealing drugs) brother Dylan (J. Michael Trautmann), best friend and fellow actor Ryan Logan (Alexander Daly) and his girlfriend Alyssa Rossi (Megan Davis) who happens to be the boss' spoiled and coke-addicted daughter as well as a fading TV actress, ballsy blonde manager Celeste Whitney (Rosanna De Cania who added a true sense of power to the business suit wardrobe designed by Larae Wilson) who, after an unwelcome pat on the backside turns the tables to create her next "boy toy," struggling screenwriter Brody James (Thomas McNamara) who seems little prepared for what the night has in store for him, Decker Sadowski as his girlfriend and upcoming actress Heather Hayes who knows how the game is played and attempts to guide newbie 16-year old model Caley Miller (Jacqi Vene) away from the exploitation traps she is bound to face as she attempts to move up the media ladder to stardom beyond her billboard on Sunset. Blending in perfectly throughout the show thanks to sound designer Scott Casillas is the music of international artist Conner Youngblood.
With several scenes going on at the same time in each of the rooms, Leoni allows Jason to follow all the action everywhere via hidden closed-circuit cameras from his desk where his drug-fueled anger builds against those being filmed for evidence he hopes to use to end the emotional torment from which he suffers. Leoni's direction brilliantly calls attention to each featured scene per room with mood-appropriate lighting, while actors not lit freeze in place in the other rooms until their scene continues. It's like being a voyeur at a Hollywood Party and learning all the secrets going on behind closed doors before hearing about them from the latest media blogger!
Perhaps the most universal message in Leoni's play is the desire to be able to go back and comfort your younger self as Jason does, offering assurance that everything will get better despite the pain you are going through at that time.  If only we could live out that fantasy of making our lives better today by changing the past.
Famous performances take place on Friday and Saturday at 8 p.m. and 7 p.m. on Sunday. The show runs through Sept. 30. Tickets are $35 to $50. You can purchase tickets online at www.famoustheplay.com. The theater is located at 1107 N. Kings Rd. in West Hollywood. For more information call 323-378-6969