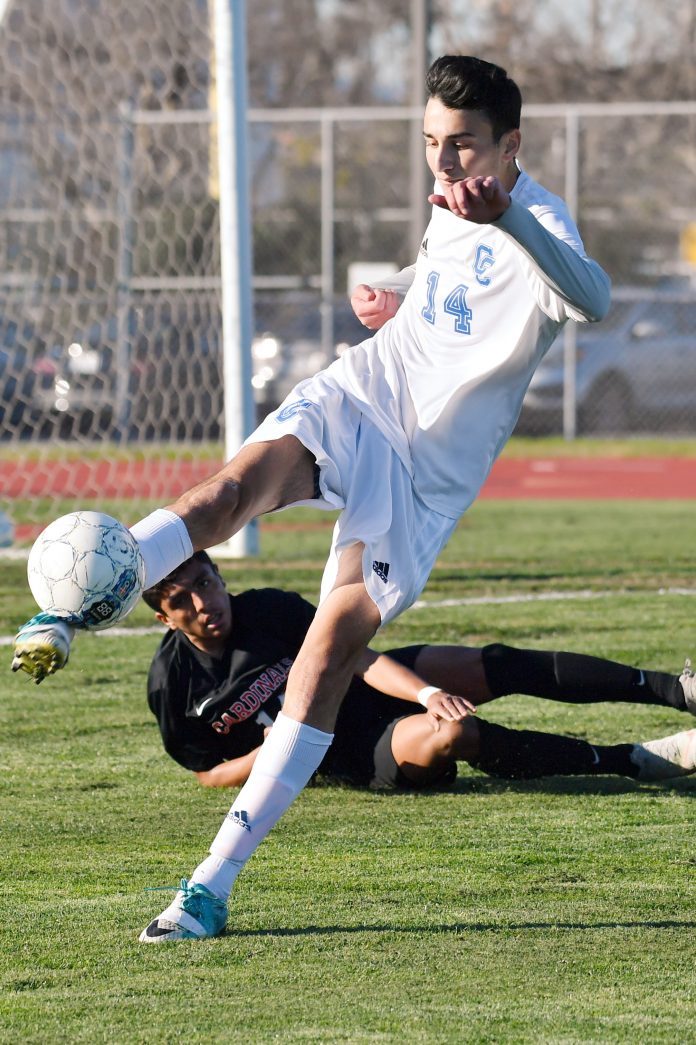 By Steve Finley
The Culver City high school boys and girls soccer teams are battling for a playoff position this week in the Ocean League. It came down to games played last Monday and Wednesday. They won their games on Monday and if they are victorious on Wednesday they will make the CIF playoffs. If both teams lose it's a possibility they will be out of the playoffs.
Both teams have had exciting seasons and they have been very competitive in the Ocean League. At press time the girls' team has an overall record of 12-6-3 and they are 7-2 in the Ocean League. As of last Tuesday, Beverly Hills was also 7-2 in league play and Santa Monica and El Segundo were 6-3.
After the girls' victory over El Segundo last week the coach, Pete Bartlett thinks his team is peaking at the right time. "This was our best performance of the season finally," said Bartlett. "Everybody was working together. We were able to minimize our mistakes.
Bartlett continued to say, "To often this season we have been trying to force things when it was not the right time. We need to keep our composure. We need to keep it simple, play what you see and be patient and pick the right moment.  We got revenge over El Segundo and now we need to get revenge over Beverly Hills."
The boys' team is 8-5-4 overall and 5-2-2 in the Ocean League. Their league record is good enough for second place. First-year varsity assistant coach, Michael Castillo likes the direction of the program. "We are losing some very talented players this year but at the end of the day the future looks bright," said Castillo last week. "I can see where we stand for the next year and the year after that and I am excited."
Several key players will be returning next season and one of them is Connor McDonald. "Connor is a junior and he is still finding his feet at 6'4," said Castillo. "With the effort and work he has put in he is now playing like one of our elite players. He plays with a full heart."
At 6'4 McDonald is tall for a soccer player but he says he takes advantage of his height when he attacks the ball at its highest point. "It's been a long season," said McDonald after their 3-0 loss to first place El Segundo last Friday at Culver City. "I feel like I am not the best player on the team but I always play with my heart and give it my all for the team."
Castillo, who teaches at the Culver City Middle school and has lived in Culver City his whole life, is looking forward to working with soccer kids for six years at the middle school and high school. "Our kids have all the heart in the world," said Castillo.  "Now we just have to develop the talent."
Hopefully the seasons for the girls' and boys' will continue into the CIF playoffs this year, if not the future looks bright for both teams.
The boys' and girls' basketball teams should make the playoffs. They also finished their regular seasons this week. The girls have an overall record of 16-7 and they are 7-1 in league play. They are currently tied for first place with El Segundo. The boys are 15-10 and 5-3 and they are in third place in the Ocean League.