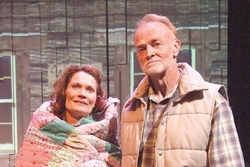 Culver City residents Tim DeZarn and Janine Venable are currently appearing in "The Awful Grace of God," an evening that is composed of six one-act plays. But it's the portion called Surrender that is particularly hitting home with them. That play is about two parents, Dodge and Ellen, who are dealing with the loss of their child.
It's an awful case of art imitating life because in 2007, the couple's son, Travis DeZarn, was killed in a car accident. He was 18, a student at Palisades Charter School, and was driving on Palisades Drive towards Sunset Boulevard, when his car spun out of control and was hit by another vehicle.
Venable said that until this year, she wouldn't have been able to perform a role as harrowing as this one. But after talking at length with her husband about the potential benefits, it was something that they felt they could both do.
Michael Harney, who plays prison correctional officer Sam Healy on the Netflix series "Orange is the New Black," is the writer of "The Awful Grace of God." Harney said that having worked with Tim DeZarn before he bumped into him on a store parking lot and immediately thought that he would be perfect for the role.
DeZarn and Venable had previously worked with griefHaven (griefhaven.org), which specializes in counseling for parents who have lost a child, but both agree that the play has helped them come to terms with the awful events of 10 years ago.
"I really think Michael's play addresses it in a very poetic, loving way," DeZarn said.
"I find it incredibly insightful on his part, having never been through what we've been through," Venable added. "To be able to describe it so well, to create these characters and the dynamic between them."
DeZarn has previously appeared in episodes of Sons of Anarchy, NYPD Blue, Murder One: Diary of a Serial Killer, Deadwood, Weeds, and Grey's Anatomy among many others, plus movies such as Cabin in The Woods, The Texas Chainsaw Massacre: The Beginning, Fight Club, and Spider-Man. Venable has appeared in The Bold and the Beautiful, General Hospital, and The X-Files.
The couple appeared together in a movie, this year's Buckshot which tells the tale of an aging country singer played by DeZarn, and they have found that they love working together.
"I have to say that my husband is the king," Venable said. "He was so good, not just as an actor but he was taking care of everybody. It's been wonderful working with him."
Mark Kemble is directing The Awful Grace of God, and Venable said he's been very understanding with their unique situation. If they were to get emotional in rehearsal, he would guide them through it. Meanwhile, Harney said that, while he didn't have DeZarn and Venable in mind when writing Survivor, casting the couple felt right and he hopes that it aids their healing process.
"It's inspiring for me and the cast, and I think for people that come to see the production," Harney said. "When Tim and Janine came on to do Surrender, they were clean and great – they just wanted to support the production. You want somebody in there that's going to throw themselves into it. They brought so much positivity and life-affirmation, and that's why I thought they'd be great play the parents in The Long Walk Home too."
The Awful Grace of God run until May 28 at The Other Space @ The Actors Company, 916 N. Formosa Ave., Los Angeles. Show times are 8 p.m. on Fridays and Saturdays, 7 p.m. on Sundays. Tickets are $25.