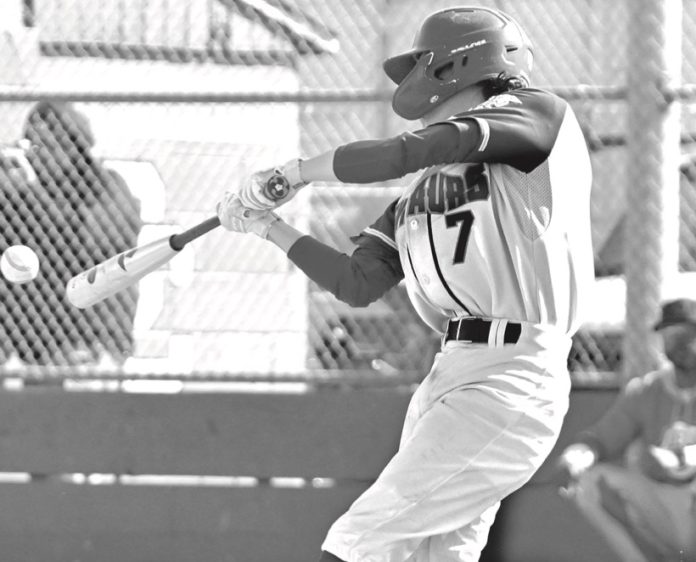 It's time for Culver City High School baseball. The new look Centaurs are currently 3-2 and they are hoping to surprise some people with a new head coach and new star players but one thing remains the same. It's still one of the best looking high baseball stadiums in Southern California.
Head coach Devaughn Wallace replaced long time head coach Rick Prieto last summer and Wallace is hoping to continue the winning tradition establish by Prieto.
Wallace spoke to the media last Tuesday after his team beat Hawthorne 16-3. "That's what we play for. We play to win. Guys are working hard and you can't take anything away from what they are doing regardless of who we play. The other team has to throw strikes and we have to hit strikes."
Wallace, who was a two sport star in baseball and football at Culver City High School in the late 1990's is pleased with the development of his team. "I really like how we are starting to come together. We haven't fully come together yet but you can see the camaraderie picking up and the guys are wanting it just a little bit more so I am happy about that."
According to Wallace the pitching staff is producing but he is still trying to figure out why his team is giving up runs in the first inning. "We get a little excited in the first inning but once we get past those silly mistakes early in the game, we finish strong. We have been working on mental toughness."
One player that is mentally and physically tough is senior, Tommy Peacock. Peacock is playing with an injured left shoulder, but he plays every game. "I had to be a problem solver," said Peacock, who pitches and plays left field.
Last years' team led by two players that are currently playing for Long Beach State was 16-8 overall and 8-2 in the tough Bay league. Wallace knows teams think Culver City is rebuilding but he has a surprise for them. "Once we come in and play our game it's going to be a tough baseball game to win against us."
Centaur boys basketball headed to State Tourney
Good things happen to teams that play hard. That's what happened to Culver City High School's boys' varsity basketball team last week. Although they lost a 68-65 overtime game last Friday to Tesoro in the CIF semifinal game, they still got an invitation to the big dance, the CIF State Playoffs.
Their next game will be on the road Tuesday or Wednesday. Call Culver City high school to find out the exact time, day, and location.
Despite a 17-12 overall record the Centaurs use athleticism and quickness to battle taller opponents. The selection committee realized the Centaurs are a team worthy of State recognition.
Playing in the strong Bay league prepared the Centaurs for the playoffs. "The Bay league is a very competitive league," said assistant coach Ray Singleton in a telephone interview this week. "The league is tough. All of the six teams in the league were very good and all of the teams were very physical. It prepared us. The teams we played in the CIF playoffs are similar to the Bay league teams."
According to Singleton Culver City needs to cut down on their turnovers, box out on the defensive end, make free throws and be more efficient with their halfcourt offense. "If we play our game, we will have a good chance in the State Tournament."
The other Culver City assistant coach, DJ Vincent also praised the Bay league for getting them ready for the playoffs. "The league is strong so it did help us get ready for the playoffs but we also played against some pretty talented teams in the preseason."
Head coach Michael Cooper has missed the last two CIF playoff games due to prior commitments, but he is back, and Vincent says the team is looking forward to the head coach coming back for the beginning of the State Tournament. "We need to lock in and work on the things that got us here and stick to our formation, which is defense. That's coach Cooper's trademark. Every player needs to hold themselves accountable and execute the game plan. If we do that, we will be okay."