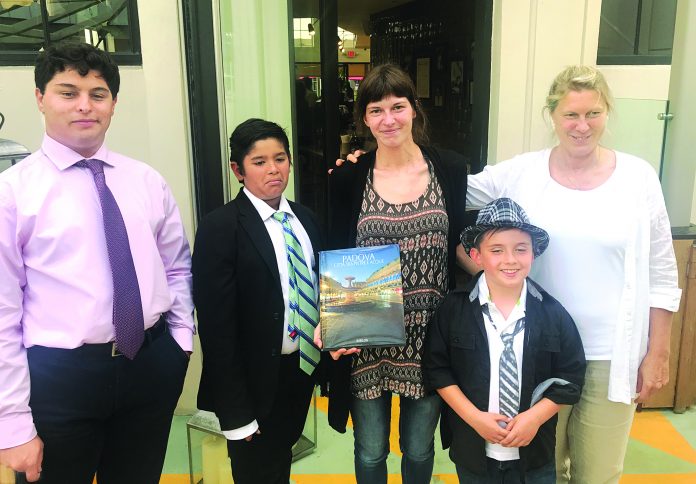 Jeffrey Kraft
Kid Scoop Media Correspondent, Age 8
It takes a special group of beautiful people, to continue a tradition, like the one I experienced at Pasta Sisters. Thankfully, Culver City has a family that takes pride, love and most importantly the recognition to a tradition from their homeland. I see myself in them. I also like to cook… my deep admiration is in how important it is for them to bring and give us the real flavors and tastes of Italy. 
Listening to Chef/Owner Paola and her daughter Giorgia, made me realize that this restaurant is not just about food. It's about pride and pure love! Trying the burrata (cheese) that gets flown in twice a week fresh from Puglia, Italy was delicious. Handmade pasta is made fresh in-house every day. Sauce that takes a special person to come in at 4 AM (I'm sleeping then) to prepare and cook for hours with love. The gnocchi recipe was passed from Chef Paola's Grandmother (Maria Giovanna ). By the way, that was my absolute favorite!!!! Ricotta cheese made in Italy is heaven, I think!!! I'm sure if Darth Vader had a meal at Pasta Sisters he would have been, just a bit nicer. After having an amazing cappuccino I had to taste the chocolate Ricotta pie, sfogliatella napoletano and Tiramisu made and shipped from Italy. SUPER GOOD EMOJI HAPPY FACE SUPER GOOD! I didn't feel bad telling my mother that her gnocchi are more like golf balls, I'll still eat it but Pasta Sisters is perfection!. Walking out of the restaurant from the patio we looked at how happy people were.. the main entrance has a picture of the pasta sisters. My mother and I blew a kiss to them.
One thing I shared with them is that I too cook with my mother every Sunday and every night we share a meal out or at home but always fresh… I'm so very happy to know that Chef Paola 's favorite herb is basil like me. My mother talks of Italy, I want to visit one day. Pasta sisters are here to change everything of what we think of the flavor of Italy. The big influence on pure fresh and best. Molto bene!!! Gracie !!! Pasta sisters and Kids Scoop Media for this amazing experience.
_______