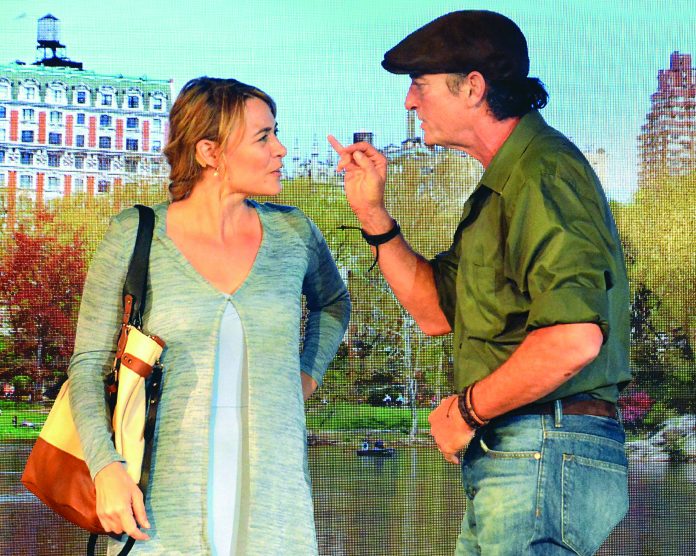 The world premiere of Arrival and Departure, written and directed by Stephen Sachs, was inspired by and pays tribute to Noel Coward's 1945 screenplay Brief Encounter, one of the most romantic movies of all time that centered on an unforgettable love story of two strangers who meet on a train, recognize each other as their soul mate, but decide to end their relationship as each is married to and has a family with someone else.
Sachs' more modern-themed play centers on Sam, a Deaf man (Troy Kotsur, a Deaf-since-birth actor who communicates with American Sign Language) and Emily, a hard-of-hearing woman (Deanne Bray, born Deaf and bilingual in American Sign Language and English) as two married strangers who meet accidentally in a Dunkin' Donuts stand in New York City's 59th Street subway station. As their casual friendship develops into something deeper, each is forced to confront how their simmering relationship could forever change their lives, the lives of those they love, and others they casually meet in the train station during their trysts. As Sachs explains, "A train station is a place of transition, a place people go when they're on their way to someplace else. Arrival and Departure is not only a travel term. It expresses the journey of change that the people in this play are experiencing. What happens when you find your soul mate, but the circumstances of life get in the way?"
The play is performed by Hearing and Deaf actors in a fully integrated, unique blend of open captioning, American Sign Language and spoken English, plus text projections which allow all audience members to enjoy the play in ways that literally "speak" to them. Featured in the cast along with Bray and Kotsur, real-life spouses whose natural passion ignites every scene in which they appear together, are hearing actors Jessica Jade Andres, Adam Burch, Brian Robert Burns, Shon Fuller, Aurelia Myers and Stasha Surdyke.
 Sachs wrote the play as a valentine to Bray and Kotsur, having worked with the two many times in the past, most notable with Deaf West Theatre. The two actors shine together onstage, their deep love easily surfacing as the two strangers fall hopelessly in love with even the slightest glance between them speaks volumes. When the two "speak" to each other in ASL, two actors seated in places on the set (Adam Burch and Stasha Surdyke) speak their dialogue with incredible emotion that will draw you into this tale of two people meant to be together but cannot be. But oh the marvelous moments when they are!
Other storylines interwoven into Emily and Sam's involve several characters who are each attempting to reach out to someone else to love them. While we never meet members of Sam's family, we do meet Emily's husband Doug (Brian Robert Burns), a devout Christian who is thrilled about his wife's soon-to-be baptism into that faith.  Her only request is that he learn ASL, with the strange twist of fate being he shows up for a class taught by none other than Sam! Emily's shy teenage daughter Jule (Aurelia Myers) is carrying on a secret texting relationship with a boy, conversations we follow via projections. But just when they are on the verge of agreeing to meet, his true identity is revealed which plunges Jule into a deep depression which no doubt resembles the reasons why so many teens take their own lives after cruel online posts.
Another true-to-life relationship is going on between Mya (Jessica Jade Andres), the proud Filipina who works in the Dunkin' Donuts stand and Russell (Shon Fuller) the open-hearted African-American cop who does his best to offer her a loving relationship she does not have with her current boyfriend. But like Emily, Mya feels obligated to her partner at home and refuses to accept a date with Russell, who we know is a perfect match for her. When she finally accepts his dinner invitation, you will celebrate with them as they finally bond emotionally.
Between scene breaks, Sachs' brilliant direction brings the ongoing hustle and bustle in the subway and on city streets to life on an open area set designed by Matthew G. Hill, with the actors quickly passing around and through each other, even cleverly representing a subway turnstile at one point, in front of scene-changing video projections by Nick Santiago, lighting designed by Donny Jackson, and location sound effects by Peter Bayne realistically complementing his scenic design. Costumes by Michael Mullen blend in seamlessly with everyday city life.
The World Premiere of Stephen Sachs' Arrival and Departure runs through Sept. 30. Shows are from 8 p.m. on Fridays and Saturdays, 2 p.m. on Sundays and 8 p.m. on Mondays. The show will be dark on Aug. 27 and Sept. 3. The show will be featured at the Fountain Theatre, located at 5060 Fountain Ave in Los Angeles. Secure, on-site parking is available for $5. Show runs about 90 minutes without an intermission. Tickets are on sale for $20-$40. To purchase tickets, call 323-663-1525 or visit www.FountainTheatre.com.
Emily and Sam (Deanne Bray and Troy Kotsur) explore their mutual dependency during a walk in Central Park.
Photo by Ed Krieger