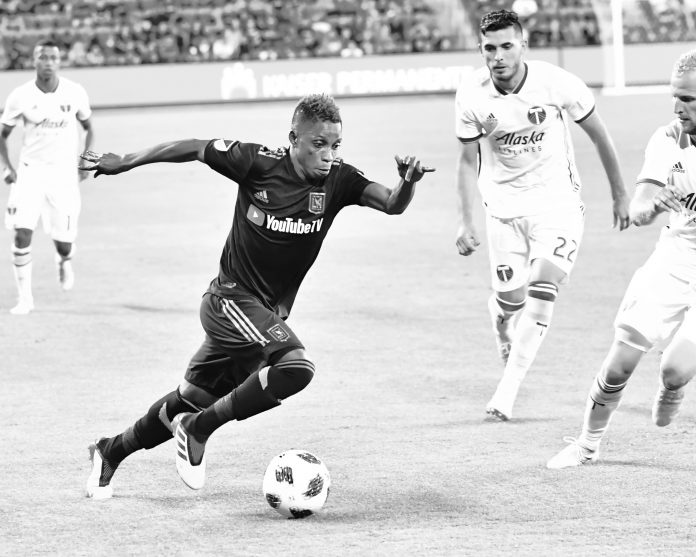 The third-place Los Angeles Football Club is playing good soccer right now but if they want to leap into the great category they need to generate more offense. Although soccer is a game that seems to always be low scoring if you are on the losing end of low scoring games your season can evaporate quickly.
The LAFC plays three home games in a row starting with Saturdays' game against Sporting Kansas City (10-6-6) at 7:30 p.m., they battle 10-9-4 Real Salt Lake on Wednesday, Aug. 15 at 7 p.m. and they play the Colorado Rapids Sunday, Aug. 19 at 7 p.m.  On Friday, Aug. 24 LAFC travels across town to battle the Galaxy at 7:30 p.m.
LAFC is currently 10-6-6 in the Western Conference behind first-place Dallas, 12-4-6, and second place Portland, 10-3-7.  The LAFC has scored 45 goals and their opponents have reached the nets 37 times. On paper that looks pretty good but their last three games they scored one goal against Minnesota, two against the Galaxy and one against New York last
Although low scoring games are common in soccer to stay close to the top of conference play and get a high seeding in the playoffs those one and two goals need to turn into three and four goals most of the time. They scored five goals twice this year and that was at the beginning of the
LAFC players Adama Diomande, nine goals, Carlos Vela, eight goals, Diego Rossi, seven and Latif Blessing with five are doing their jobs getting the ball into the net. Now other players need to step up and give the offense a lift.