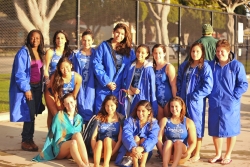 by Vikings, 78-52
By Mike Cohen
Sports Editor
Steve Finley
Sports Correspondent
The Santa Monica High School Vikings blew by the Culver City High School defense and sailed to a 78-52 win on Jan. 11 to keep the Centaurs winless in 2013 and in the Ocean League.
The Centaurs visit Beverly Hills High School, next Wednesday, Jan. 23.
Viking Chris Smith had five layups in the first quarter to pace fast breaking Santa Monica to a 23-14 first quarter lead.  Jason Conner added four layups in the second quarter as the Vikings expanded their lead to 42-21 at halftime.  The Vikings had eight more layups in the third quarter to give Santa Monica a 65-36 bulge.
The Centaurs (4-12 overall, 0-2 in league play) committed 21 turnovers, most of them as a result of too much dribbling and selfish play on offense.
Chris Edwards tallied 25 hustle points with four steals for Culver City.  Cameron Robinson pulled down eight rebounds and had 22 hustle points.  Harrison Yette earned 10 and Wes Dixon had nine.
Morningside topped Culver City in a well-played defensive struggle, 46-40, Jan. 9 in the league opener at Morningside High.
The Centaurs were as cold as the recent nighttime weather, scoring only five points in the second quarter and falling behind 23-15.
Strong defense by Culver City closed the gap, 33-28, after three quarters.
Trailing 41-40 with one minute left in the game, Culver City failed to get key rebounds and Morningside connected on five of six free throws to win the game.
The Centaurs was out rebounded 47 to 32 and the Monarchs scored often enough on missed shots that ended up as rebounds and layups.
Edwards led Culver City with 39 hustle points and eight steals.  Armani Nicolis totaled 27 with seven rebounds and   Dixon had 24 hustle points.
The Centaur girls still have one of the best records in the Ocean League after running past Morningside, 50-17, and beating Santa Monica, 64-46.
The Lady Centaurs are 12-4 and are fighting for a top seed in the CIF playoffs.
Lady Centaurs off to good start
By Wayne Neal
Culver City High School guard Taylor Tanita, who had missed her prior three attempts, knocked down two free throws with six seconds remaining in the game on a technical foul called against the opponent's head coach to give the Centaurs a 46-44 victory over Notre Dame last Tuesday.
Notre Dame forward Stepheny Umeh made a lay-up to tie the game, 44-44, with 10 seconds remaining. After two missed free throws by Tanita, Notre Dame got the ball and called a timeout when Notre Dame coach Gregory Cobb was hit with the technical.
The Centaurs (12-4 overall) led 30-27 at halftime, despite going four for 13 from the free throw line.  They played passively and out of rhythm in the third quarter.
"It's taken us a few quarters to get it together," Culver City head coach Julian Anderson said.
"Hopefully now that league is here, we can wake up."
Culver City topped Morningside and Santa Monica on the road in the first two Ocean League games.
Centaur football star goes to Northern Alabama
By Greg Goodyear
Former Culver City High School cornerback Terrance Hayward signed a Division II scholarship at Northern Alabama University and is now studying at the university in the spring semester as an accounting major.  The 2008 Centaur alumnus has two years left of eligibility after playing a year at Washington St. University.
SLIPPERY WHEN WET: The Culver City High School girls water polo team remains undefeated in the preseason and after the first week of Ocean League play. Front row (from left): Amanda Duval, Ruth Basurto, Kristina Canchola-Miranda, Olivia Valdez. Back row: Ifeoma Wadivia, Kira Hughes, Graciela Galvan, Jenna Pierre, Clio Cereseda, Briel Huerta, Alison Kelly, Samira Viliani and Isabel Moser.
Photo by George Laase