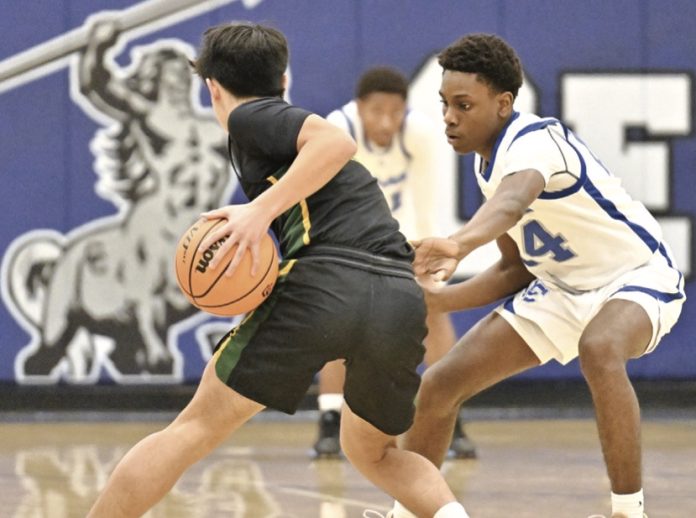 CIF playoffs start next week and the Culver City High School boys' basketball team is hoping to recapture the winning culture that helped them win seven games in a row a few weeks ago. The Centaurs are currently 13-10 overall and 5-4 in the Bay League. Their Bay League record is good enough for third place. They can improve their record to 6-4 if they beat Santa Monica tonight (Thursday) at 7 p.m. at Santa Monica in their last regular season game.
At first glance a 13-10 overall record is not that impressive but in the world of high school basketball it's inspiring. The talent level in America at the high school level is phenomenal. Every neighborhood in the nation has talent especially in basketball. All it takes is five good players with chemistry and you have an above average team and maybe even a great team.
The Centaurs are trying to catch lightning in a bottle and make a run deep into the playoffs after playing in a very good Bay league. "Our team is trying to build something special," said Centaur head coach Michael Cooper, the former Lakers star player. "It's a tough league but I think we are one of the cream of the crop teams in the league.
"What we have to do is to continue to get better and not rely on our laurels and press clippings," continued Cooper. "The mark of a good team is how you respond when you lose and not how you respond when you win. We have to get better on defense, that's our bread and butter. You have to do the little things like boxing out to win big games."
Like playoffs in any sport, it's all about match ups and who comes ready to play that night. When playoffs arrive the mental part of the game is almost as important as the physical aspect of the game. "We have to come ready to play," said 6'3 junior forward Achebe Thompson. "Everybody has to be ready, rested and ready to go. It's all about our demeanor and our attitude."
If the Centaurs expect to go far in the playoffs the two best athletes in the school will have to be at their best. The Singleton brothers, Braylon and Myles, who are also star football players along with guard Brycen Matthews will need to put pressure on the other team with their speed and quickness and control the tempo of the game. "We need to play good team basketball and get away from me and my and worry about what we need to do when coach Cooper puts the game plan together," said one assistant coach Ray Singleton, the father of the Singleton brothers. "We need to execute and know our assignments. That's all we have to do, and we will be fine."
Coaching two talented sons can be challenging but Ray seems to understand the difference between being a father and a coach. "The dad in me is proud but the coach in me is always going to be critical. I will tell them I need more of them. I need them to hustle more. A part of me wants to get on them but I also realize I need the other coaches to work more directly with them but overall it's a blessing."