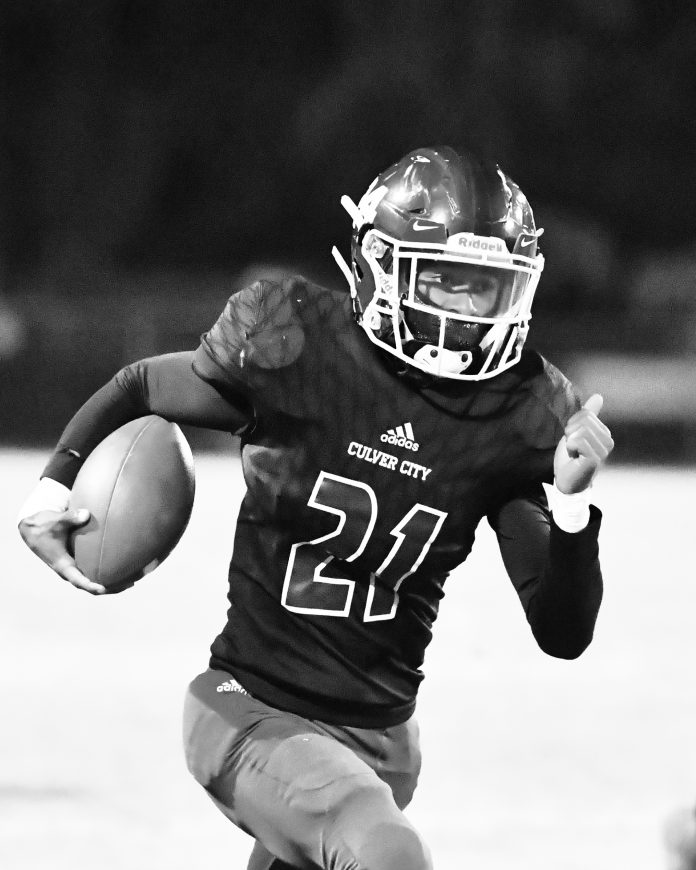 Centaurs meet Santa Barbara on road to CIF Title
The Centaurs blew out Beverly Hills last Friday night and set a new single-game scoring record in a 70-6 shellacking.
In fact, the reason why Beverly Hills got 6 points was that the Normans had a special needs student, and Culver City allowed him to score a touchdown. This act of kindness gave the Beverly Hills team and fans something to cheer about.
Last Sunday the CIF determined the pairings for Division 7 and 8-2 Culver City was ranked 4th behind No. 1 seed, 10-0, Northview, Champion of the Valle Vista League; No. 2 seed, Valencia of Placentia, League Champ in the Empire League, 9-1; and San Jacinto, who finished second in the Mountain Pass League at 9-1.
If Culver City is fortunate enough to win their first playoff game against Santa Barbara, they will be on the road the following week to play either Millikan of Long Beach or Pacifica of Garden Grove.
The Cents drew the Santa Barbara Dons, who have to make the 100-plus mile drive to Culver City.
The Dons are very similar to the Centaurs in that they run a no-huddle spread and like to throw the ball a majority of the time. Their running game does not appear to be as strong as Culver City's, but they do have a tall and large offensive line like the Cents.
Their offensive line is led by two 6'4" tackles: Chase Kamin (275) and Fabian DeLeon (285). They also have a left guard, Bobby Estrada, who is 6' 290. These behemoths have been the main protectors for their two top-notch quarterbacks.
According to sources, Senior QB and 3-year starter Frank Gamberdella broke his clavicle two games ago and is out for the year. Fortunately for the Dons, their other quarterback is a young and talented sophomore, Deacon Hill, 6'3" 225.
Hill's favorite receivers are Dakota Hill, Moki Nacario, Phil Luce, and Jake Knecht. Their ground game is manned by sophomore Justin Perez, 5'11" 185, who is not a breakaway back but has some size.
The Dons like to execute a complex but effective passing scheme utilizing a 90-10 pass-to-run ratio. They like to call their plays after the defense is set, so they can take advantage of the alignment. The Dons appear to be extremely patient and want the defense to tip its coverage before they call the play.
Quarterback Hill is not as fast or elusive as Gambardella, but he does have some mobility.
Their major strength is in their defensive line and especially their defensive ends. Santa Barbara likes to run three different defensive fronts, a 3-4, 5-2 and 4-3. They rotate their coverage in the defensive backfield and usually play zone, but since they blitz a lot, they will also play man to man. They like to gamble on defense often by their stunts and their blitzing linebackers, but sometimes this puts them in harms way.
The Centaurs must take advantage of this and utilize their outstanding screen game to overcome Don's blitzes.
One of the keys to victory for the Cents will be for them to be a more physical team and control the line of scrimmage so that they will be able to run the football. Culver must be able to take advantage of the Don's secondary with their superior wide receiving crew. CC will have to be disciplined and focused and take care of their assignments so they will be ready for all three of Don's defensive fronts. The Cents also must play error-free football and keep the penalties to a minimum.
Coach Wright emphasized to the team that they must play together as a group, have each other's backs, and completely dominate the line of scrimmage. They also must use their speed advantage to gain control of the game and everybody needs to step up in each playoff game and be as physical and relentless to the ball as they were against Lawndale and Palos Verdes.
Fortunately, since the Cents had three blowout victories in a row, the first team offense and defense were able to have significant resting time while the second and third teams played a lot of minutes. The first team is therefore well rested with minimal injuries and should be ready to give it their all each game in the playoffs.