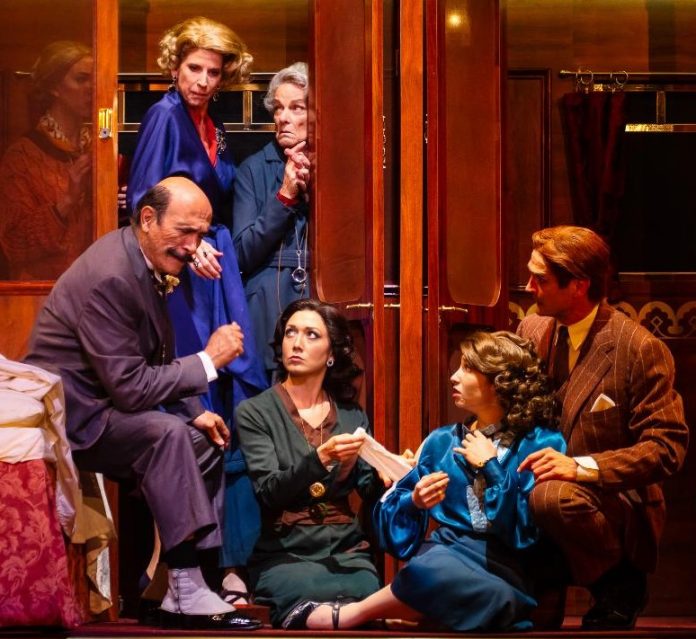 The fantastic McCoy Rigby Entertainment West Coast premiere of AGATHA CHRISTIE'S MURDER ON THE ORIENT EXPRESS, adapted for the stage by Ken Ludwig and directed with great flare by Sheldon Epps at the La Mirada Theatre for the Performing Arts, is so well done even non-mystery fans will be drawn into the story thanks to the expert writing, direction, cast, and an incredibly inventive two-car train set designed by Stephen Gifford which moves back-and-forth across the stage to focus your attention on the appropriate location of each scene. Technical credits are top notch from Shon LeBlanc's period-perfect costumes to Jared A Sayeg's lighting and Josh Bessom's sound design.
Romantic, dramatic and sumptuous, this first-ever stage adaptation of Agatha Christie's suspenseful masterpiece comes to life in this stylish production, opening with a fog-enshrouded scene in which young Daisy Armstrong (Hope Noel Bradley) is murdered. As that scene fades into darkness, we are taken inside an Istanbul train station where an unusual assortment of travelers are waiting to board the Orient Express back to France. Listen to their words carefully as clues are given immediately by each one, tying all of them together.
And as soon as the train fabulously departs, a murder occurs and it becomes apparent there is a train full of suspects and an alibi for each one. It's the perfect mystery for the dapper Belgian retired detective Hercule Poirot (Tony Amendola) to solve since he is also a passenger. It's fun to follow along in an attempt to solve the murder before he does, especially for me as I had never seen or read the story before.
Kudos to all the actors who brilliantly portray characters from all around the world to perfection. At the station, Poirot greets his friend Monsieur Bouc (Time Winters) from the company operating the Orient Express train who shares his first-class cabin with Poirot. As Michel the Conductor/Head Waiter, Brad Culver does his best to care for the needs of all the passengers, including Julia Aks is Greta Ohlsson, a weepy and nervous Swedish woman accompanying Russian Princess Dragomiroff (Anne Gee Byrd); Hector McQueen (Will Block), the efficient assistant to handsome Samuel Ratchett, portrayed by Matthew Floyd Miller who then transforms into the very Scottish Colonel Arbuthnot after Ratchett is murdered; the Midwestern diva Helen Hubbard (Christine Dunford) who provides constant interruption to the investigation; Countess Andrenyi (Zarah Mahler), a young and dark-haired beauty who attempts to conceal her true identity by dropping grease on her passport and smudging the name label on her luggage; and Mary Debenham (Rachel Seiferth) a calm, cool and unruffled lady who Poirot suspects of murder after overhearing a secret and intimate conversation she has with Colonel Arbuthnot on the train. Everyone is hiding something, making each a suspect. So who did it? I'm not telling!
"Murder On The Orient Express" runs through Nov. 11 at the La Mirada Theatre for the Performing Arts, located on 14900 La Mirada Blvd. in La Mirada. Tickets range from $20 – $84 and are available on La Mirada Theatre's website with the performance schedule at www.lamiradatheatre.com or by calling the La Mirada Theatre Box Office at (562) 944-9801 or (714) 994-6310. Free onsite parking.
Hercule Poirot questions passengers about a MURDER ON THE ORIENT EXPRESS.
Back Row: Julia Aks, Christine Dunford, and Anne Gee Byrd.
Front Row: Tony Amendola, Zarah Mahler, Rachel Seiferth, Matthew Floyd Miller
PHOTO CREDIT: Jason Niedle