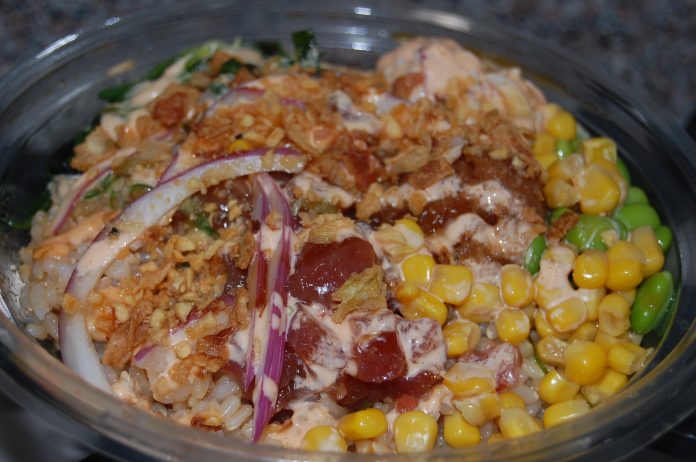 There's a wonderful "Build-A-Bear" feeling to going into a great poke restaurant. The fact that you can start with a bowl filled with rice (white or brown) and then pick your ingredients, sauces and toppings, gradually building your bowl into something personalized and delicious, is a real joy.
At the same time, it's nice to have a bit of help and advice from the experts. Thankfully, the people at Nishi Poke & Sushi offer both. You can go in cold and completely build your own bowl (three sizes to pick from), or you can choose one of the bowls from the menu and adapt it as you see fit.
That's what we did on a Monday afternoon. We had to go in quickly – unfortunately there was some work being done on a sewerage line outside the front door, but we were assured that it was very temporary. The doors apparently had a good deal on then because, once inside, it wasn't an issue anyway.
We opted for the Koa Bowl: Hawaiian salmon, Hawaiian tuna, spicy tuna, ahi tuna, crabmeat, sesame oil, danger sauce, spicy ponzu sauce. You read that correctly – three different types of tuna, alongside the salmon and other ingredients.
We started with a base of brown rice rather than white – the sticky whole grains sounded much more attractive than the white. The rice did its job and binded everything else together. The scoops of fish sat on top of that, with the salmon the star of the show. Fresh, oily and full of flavor, it is (in our opinion) the best fish for sushi anyway and it's magnificent here.
The crab is moist and not at all bland, and the tuna contrasts beautifully. We choose to have a bunch of vegetables on top of the fish, including sweet red onion, edamame, corn and seaweed salad. The latter is an essential ingredient for any poke bowl. Tangy and fragrant, seaweed salad is also delicious on its own and is an underrated food.
Finally, we topped the whole thing with fried onion and garlic, their house sauce and spicy mayonnaise. Again, that was all with the server's advice.
Each bite was magical, and evidence that each one of us can create great things with a little bit of expert help.Nishi Poke & Sushi is located at 4263 Overland Ave, Culver City 90230. Call 310-837-5001.