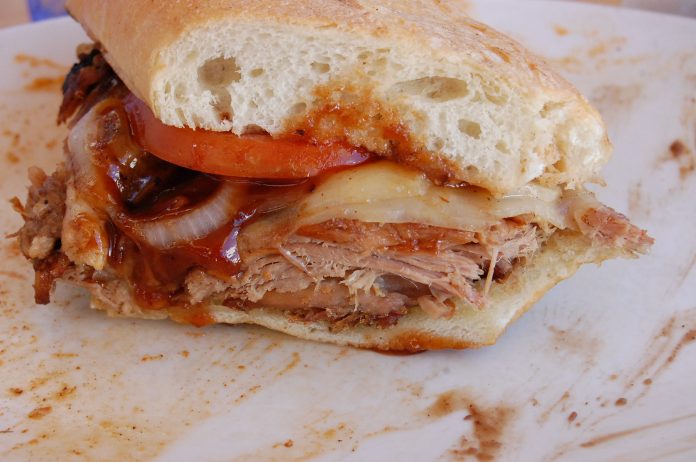 This writer once visited Cuba on vacation. As a Brit, the restrictions that for years have stopped US citizens traveling to that country didn't apply – to be honest, it wasn't even a consideration. It was a fascinating trip – we learned that there was a China Town in Havana but that most of the city's Chinese population left years ago. So you're served Chinese food by Cuban people, some of whom are wearing traditional Chinese clothes. It's a strange experience, for sure.
Despite searching far and wide, our dining experience in Cuba wasn't great. Most likely, that's down to bad luck and a lack of familiarity with the country. The food served at Versailles, right on the border of Los Angeles and Culver City on Venice Boulevard, is superb.
It's also a very welcoming place to walk into (we went with our family). The interior is warm and friendly right away – the staff full of smiles and eager to help. We chose to sit in the patio area on a warm Sunday afternoon, and that was a great decision. The hanging lights and flower boxes help create a wonderful atmosphere.
Our young son, enamored with the basket of Cuban bread on the table, chose to have a sandwich because he wanted more. He went with the Pan Con Lechon sandwich – shredded roast pork on that awesome Cuban bread, with grilled onions and cheese. Of course, we had a bite and it truly was a decadent, delicious treat. The pork is juicy and seasoned perfectly, while a big slab of tomato ties is all together as the different juices soak into the bread.
Our wife, who's vegan, chose the Beyond Meat Picadillo – a meatless version of a Cuban classic. The Beyond Meat is simmered in sofrito, a traditional Cuban tomato sauce, and the sauce is certainly tasty enough to make up for the lack of flavor in the fake meat. The dish comes with steamed white rice and plantain, although our wife replaced the plantain with a green salad.
We chose the white fish entree, a huge slab of fish which is again simmered in sofrito (there was the option of garlic butter, but the sofrito just sounded better). The fish is perfectly cooked and the sauce compliments it perfectly. No wonder it's such a Cuban favorite.
The dish is again served with rice, plantain and beans. The reduced beans are rich and creamy, while the plantain is caramelized beautifully – sweet and starchy at the same time.
Our son also tried a Cuban pineapple soda, called Jupina. We can't credit the restaurant with the flavor but it's certainly intensely sweet.
Everything we tried was great, and we highly recommend a visit.
Versailles Comida Cubana is located at 10319 Venice Blvd., Los Angeles. Call 310-558-3168 or visit versaillescubanfood.com.