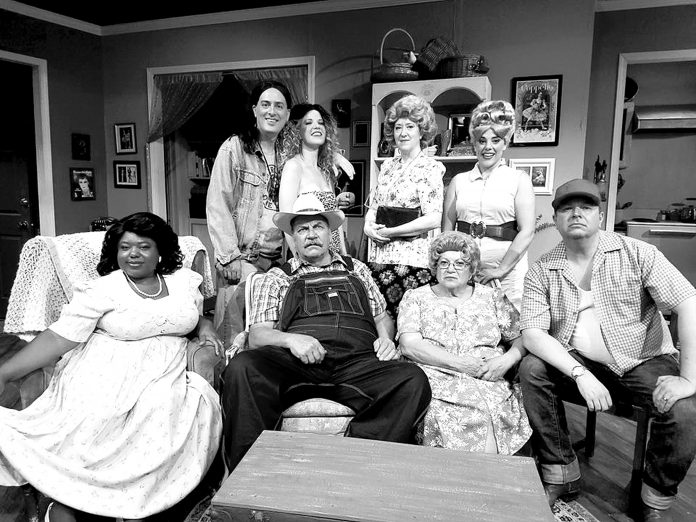 Del Shores was born and raised in Winters, Texas, a small rural town similar to where many of his early plays are set.  His second play DADDY'S DYIN' WHO'S GOT THE WILL? debuted in Los Angeles 1987 at Theatre/Theater, running twenty-two months to critical acclaim. Shores then adapted his comedy into the screenplay for the 1990 film, as well as being the feature's executive producer.  His career as an award-winning American film director and producer, television writer and producer, playwright and actor has continued non-stop with worldwide fans flocking to his see his creations.
After their success presenting Shore's fourth play Sordid Lives in 2014, Kentwood Players is ready to offer audiences laughs galore this summer with "Daddy's Dyin' Who's Got The Will?" at the Westchester Playhouse. The comedy is directed by Kirk Larson, produced by Alison Boole and Elizabeth Summers, and features Samantha Barrios, Kip Hogan, Cherinda Kincherlow, Daniel Kruger, Dave Parke, Janet Lee Rodriguez, Michele Selin and Michael Thorpe in the cast.
Set in a small Texas town, this comedy stages the reunion of a family gathered to await the imminent death of their patriarch, Buford Turnover, who has recently suffered a physically as well as mentally disabling stroke. Told by Buford's mother-in-law Loyce ('Mama Wheelis' to her grandchildren) that their father is dying, his four adult children arrive at the family's homestead to spend time with their father during his last days. Winner of the LA Weekly Theater Awards for Best Production and Best Playwriting, "Daddy's Dyin' Who's Got The Will?"  is not so much the story of the father's impending death or the drafting of his will, but of a rebirth of the spirit of the family unit, no matter how different the siblings really are.
The mixed bag of personalities includes eldest sister Lurlene, a minister's wife who rarely visits the rest of the family; Sara Lee, the spinsterish middle sister who cares for her father with the help of her grandmother; Orville, the greedy, abusive brother, and his wife, Marlene; and the youngest sibling Evalita, the six-times married aspiring country singer, who brings her hippie boyfriend Harmony along with her. While the four siblings have always wanted their father's love, it seems that now they'll settle for his money!
"Daddy's Dyin' Who's Got The Will?" performances take place from July 13 through Aug. 18 on Fridays and Saturdays at 8 p.m. and Sundays at 2 p.m. at the Westchester Playhouse, located at 8301 Hindry Ave., Westchester.
Reserved seat tickets are $22 with a $2 discount for seniors and students. To purchase tickets, including group ticket sales for 10 or more, call 310- 645-5156 during box office hours, Wednesday through Saturday from 4 to 7 p.m. Due to a large number of calls received, note all voicemail messages will be answered in the order they are received to confirm your ticket purchase. You may also buy tickets online at www.kentwoodplayers.org, where you can find more information about the community theater group and its upcoming productions and auditions. You can also find Kentwood Players information on Facebook, Twitter, and Instagram.
To meet the "Daddy's Dyin' Who's Got The Will?" production team and learn more about Kentwood Players and what goes on at the all-volunteer Westchester Playhouse, the public is invited to attend their membership meetings, which are free and held on the third Wednesday of each month at 7:30 p.m. at the Westchester Playhouse, located two blocks west of the San Diego Freeway and two blocks north of Manchester at 8301 Hindry Ave., Westchester.