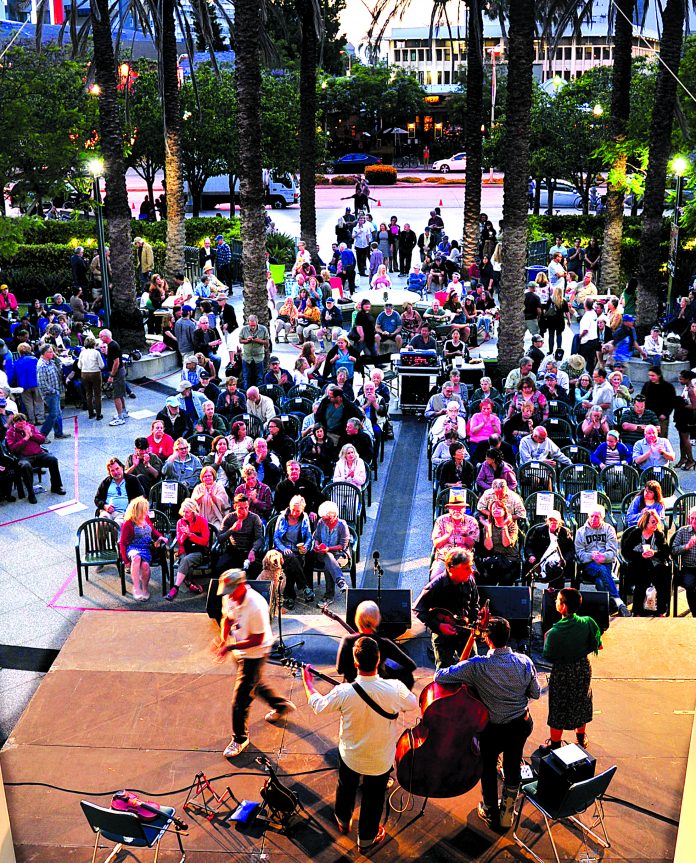 By Meredith Powers
Summer is here, and Thursday, July 12 marks the start of the Boulevard Music Summer Festival, a six-week series that transforms downtown Culver City into a different musical experience every week.
The festival's set includes a variety of musical talent, from international beats to classic favorites. Thursday's opening performance at Dale Jones City Hall Courtyard kicks off with pulsing Latin rhythms from Kátia Moraes and Brazilian Hearts. Moraes exhibits passionate Brazilian vocals, along with high-energy choro and samba music. The first week's show also includes Latin-inspired percussion rhythms by the Conganas, a percussion band that replicates the sounds of full Latin orchestra with salsa, cumbia, cha-cha, bolero and Latin jazz.
Families and festival-goers can picnic and relax to the tune of different artists at 7 p.m. each Thursday through Aug. 16. Other lineups include classic rock, blues and country blends from the Carl Verheyen Band, rhythm and blues from Brenda Lee Eager, Americana-country from Tony Furtado with instrumentalist Luke Price, and classic rock from Venice and the Pine Mountain Logs. The final week incorporates Beatles tribute band, 4 Lads from Liverpool.
The festival is curated and produced by Boulevard Music's Gary Mandell, who has run the festival since 2001.
"I've been teaching music over 50 years and I've done a lot of recording work and worked as a studio player, so if I've got to pick a group, you've got to believe the musicians are going to be good, that's for sure," Mandell said.
Carl Verhayen, who grew up in nearby Pasadena, said he loves playing in the Boulevard Music Summer Festival because it's a festival where he can perform around family and friends.
"We get to go on the road all the time, and sometimes we have these amazing shows that I just wish all my friends could have seen," he said. "It's great to play in your hometown on a bigger stage where all your friends can come and see what you've been telling them, what you've been talking about."