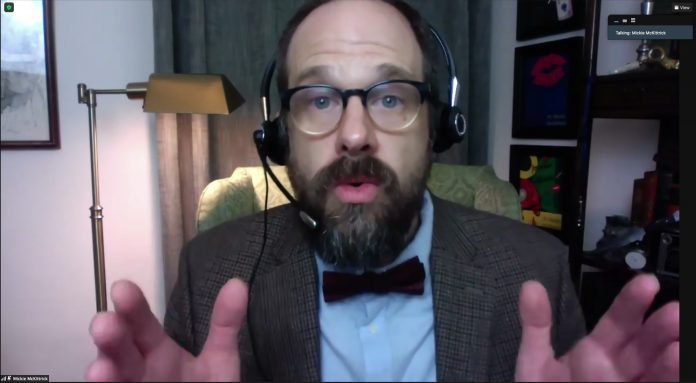 For those of us mystery fans longing to be entertained while figuring out who-done-it, please tune in to the World Premiere of CITIZEN DETECTIVE, written and directed by Chelsea Marcantel, which is running online at the Geffen Stayhouse through Feb. 7, 2021.  In this virtual show based on an unsolved 1920s Hollywood murder, audience members become the detectives in a case that mixes theater, mystery, and collaborative code-breaking. Guided by best-selling true crime author Mickie McKittrick (Mike Ostroski), the home audience appears and interacts onscreen together to uncover the evidence and follow the clues, altering the course of the show every night. 
'Citizen Detective takes place via the Zoom video conferencing platform and each performance is limited to a maximum of 24 participants. In a unique twist, each participant takes a brief, pre-show personality survey quiz prior to their performance, which will determine the best fit for the smaller detective squad to which they will be assigned depending upon the type of sleuth each thinks they are and what special talents they possess in problem-solving. Sometimes the entire audience works together, or the smaller squads meet in individual breakout rooms for a more intimate examination of evidence and clues, enhanced with crime scene illustrations by Rick Geary.
The sleuthing begins about an unsolved murder of a Hollywood Playboy in the 1920s after the small squads meet individually to examine the known facts about his life and as well as one of the many suspects (among them the Valet, The Obsessed Ingenue, Her Stage Door Mother, Actress Mabel Norman, and more seedy studio types) who may have taken his life. The smaller squads then meet back together to share their findings, which ultimately leads the entire audience to make choices which determine the show's surprising conclusion.  
Did my audience solve the murder and pick the correct suspect?  I'll never tell, except to admit it was a lot of fun interacting with my smaller group to analyze the initial clues we had been given, and then compile the evidence to present back to the rest of the audience and our instructor, Mickie McKittrick, who took much joy in complimenting us for our excellent gathering of the known facts. Ostroski's enthusiasm in the role is contagious and will draw you into the fun of trying to figure out and report back to him to solve the case that has stumped law enforcement for almost 100 years. It's a lot of fun to work together with other audience members you can see and speak with to get the job done!
And there is one entertaining audience/cast member (Paloma Nozicka as Andrea Piedra) who seems to fancy herself as the best amateur sleuth around. Her constant interruptions and challenges to McKittrick's seminar format and knowledge of crime-solving add in not only more clues but the chance for audience members to get over their own shyness and speak up when inspiration hits, within the show's format, of course. The resulting experience of being part of a winning team working so well together adds a much-needed boost of positive human interaction so needed in our isolated world right now.
'Citizen Detective' continues through Sunday, Feb. 7, 2021 on Tuesday-Sunday evenings (dark Mondays) with weekend matinees, with a running time of 85 minutes without an intermission. Tickets are currently priced at $65 per household, available by phone at 310-208-2028 or online at www.geffenplayhouse.org where the exact performance time schedule by date is available.