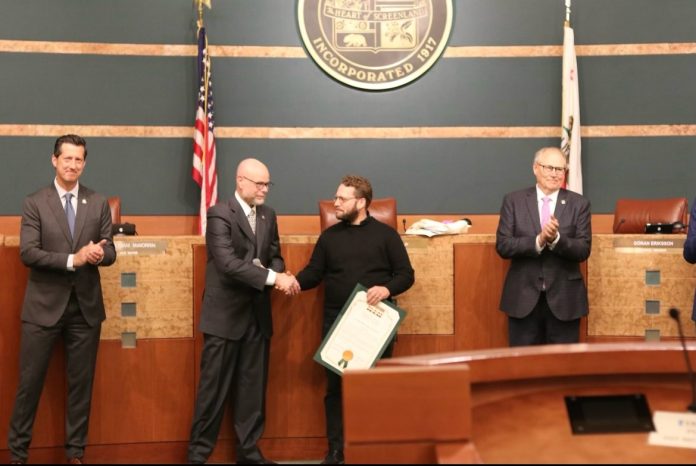 At the City Council meeting on the evening of Monday, April 24, Culver-Palms YMCA volunteer James Smith received a commendation for his "extensive work with teens for over 16 years at the Y, the past 11 as a volunteer."
The presentation item on the agenda read, "Presentation Of A Commendation To James Smith for his dedication to Culver City youth as the lead advisor and co-program director for the Culver Palms Family Ymca Youth and Governor Program."
YMCA executive director Lori Siegel said that, "James has been the Lead Volunteer Advisor for the Youth & Government program for the Model Legislation and Court program, well known as CPY, and he has also been the lead for Camp Whittle Camp Staff which is also volunteer led."
Siegel told the News that Smith has changed the lives of many teenagers in the Culver City community.
"He is deeply committed to the program, beloved and always available to our teens," she said. "He is dedicated to inclusivity and empowerment and never stops showing up. James simply exemplifies everything that makes our community loving and strong and has been deeply committed to creating a positive environment where teens can develop a close connection with each other as well as with their local government. The teens have a deep sense of pride walking into the Culver City Council Chambers every Thursday night proudly wearing their purple 'CPY' sweatshirts. His work with the Youth and Government program has led him to being a counselor at Culver City High School, where he will continue to nurture, support and empower our youth."
Smith's grandmother and Culver City's Artist Laureate for Poetry from 2015-2019, Dr. Janet Hoult, read a poem to lead off the presentation.
"Dan O'Brien whose children have participated in programs led by James, presented his commendation," Siegel said. "Over 60 teens, parents, and Y advisors attended James recognition in the Council Chambers and then celebrated his commendation outside in the courtyard."
Cakes and other sweet treats were enjoyed by those celebrating Smith's achievement.