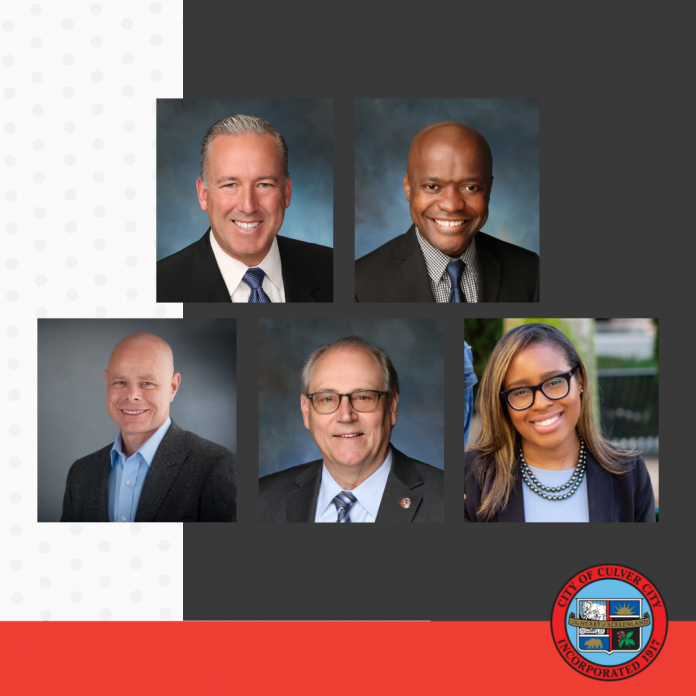 The results of the Nov. 3 general election were officially certified by the city of Culver City at Monday's meeting, officially swearing in two new members in Albert Vera and Yasmine Imani-McMorrin to replace those whose term limits expired and continuing the mayoral rotation. Alex Fisch was nominated to serve as mayor, with Daniel Lee subsequently nominated as vice mayor. No dissent was given for either choice.
In addition to Vera and Imani-McMorrin, councilmember Göran Eriksson — who relinquished his position as mayor at the meeting — also retook his oaths after winning his reelection for city council.
The meeting began on a different note, as the city opened the night with a series of commendations for Culver City residents who helped provide food and other services to those in need. In particular, the efforts of FeedCulver and Grace Diner were celebrated and recognized for their efforts in helping those who are food insecure in the city.
FeedCulver is a grassroots organization that came together as the result of collaboration between several organizations — including the Exchange Club of Culver City Charitable Foundation, Culver City Chamber of Commerce, the City of Culver City and the Downtown Business Association. 
FeedCulver then partnered with several restaurants around the city, including Akasha, Pasta Sisters, Meet in Paris, Sake House, and Harajuku Taproom, among others to provide the food in order to help keep these local businesses afloat. Councilmember Thomas Small lauded FeedCulver as a model of cooperation between public and private sectors to do good for the community. 
Grace Diner has been provided food for the underprivileged for years under the care of director Lisa Skelley at Grace Lutheran Church. The weekly event has been empowered by donations from the community, and has continued strong even through COVID-19 restrictions.
Among those to receive commendations were Thomas Small — whose tenure as councilmember ended at this meeting — and incoming councilmember Albert Vera, who has been well known for his food donation efforts and other contributions to the city long before COVID-19 was a fixture in daily life.
After the State of the City address was played, a series of congratulations was given to councilmembers, both departing and incoming. Assemblywoman Sydney Kamlager-Dove sent in a recorded message to play congratulating the councilmembers for their accomplishments and contributions to the council.
"We are living in unprecedented times where leadership matters," Kamlager-Dove said in her remarks.
Lee followed Kamlager-Dove's message with a message of thanks of his own, mainly focused on the departing councilmembers with which he worked. Lee recognized the importance of Thomas Small's tenure as that of the first Asian-American to serve.
"Representation matters for kids growing up," Lee pointed out.
Lee commended Meghan Sahli-Wells for breaking the mold, doing things outside of tradition because they were the right thing to do. He continued with the hopes that Imani-McMorrin's election was not the end, and that female council members would become more of a norm in the future.
Fisch also made some farewell remarks for the two councilmembers, noting that they did some amazing work in two years through "productive disagreements." He also recognized the tangible results that came from those disagreements in the form of many millions cut from the city's deficit over their time together on the council.
Eriksson then made his remarks, remembering his time on various Ad Hoc Subcommittees with Smart and Sahli-Wells.
"The public doesn't see those things, but you really see how a person can get things done on those," Eriksson explained.
Like Fisch, Eriksson too acknowledged the disagreements that had come between them in the past.
"We didn't always agree, but we moved forward," Eriksson said.
Finally, it was Small and Sahli-Wells turn to give their final remarks as members of the Culver City council.
Small looked back on some of the many things that he made progress on over the years, but noted some other interesting ideas that he hopes to push for once his term expired.
In particular, he noted the vast number of architects and artists in the city that seem to go unrecognized, noting that Peter Sellars — one of the most prominent opera directors in the world who received a MacArthur fellowship at 16 — lives "down the street" from Sahli-Wells.
"We've collaborated with some, but there is a lot more to do with that," Small remarked.
Sahli-Wells remarks were similarly full of thanks, showing her appreciation for the time the community gave her.
"This has been some of the most gratifying work I have ever done, second only to being a mom," Sahli-Wells said.
Plaques that were mailed to the departing councilmembers by the city were displayed as city manager John Nachbar bid his farewell to Small and Sahli-Wells. He thanked the two of them, and said that their work would be evident "for decades to come."
At 9:21 p.m. Sahli-Wells and Small stepped down from their positions as councilmembers, and Vera and McMorrin were sworn in promptly after. By 9:31 p.m., the new councilmembers had officially taken their place for this term.
The deliberation, or lack thereof, over who would serve as mayor and vice mayor was expected. Eriksson nominated Fisch to serve as mayor, which was met with no dissent, and Vera quickly nominated Lee, which also met no dissent, officially making the new mayor and vice mayor of the city.
Fisch made some remarks following his nomination. He echoed a plea to ward off "COVID fatigue" for a little while longer as the vaccine gets closer each day.
He also reiterated his appreciation for FeedCulver and similar programs made to help those with food insecurity.
Finally, he praised voters, and noted the passage of Measure RE and the failing of Measure B, noting that RE received more votes than any one councilmember on the ballot this year.