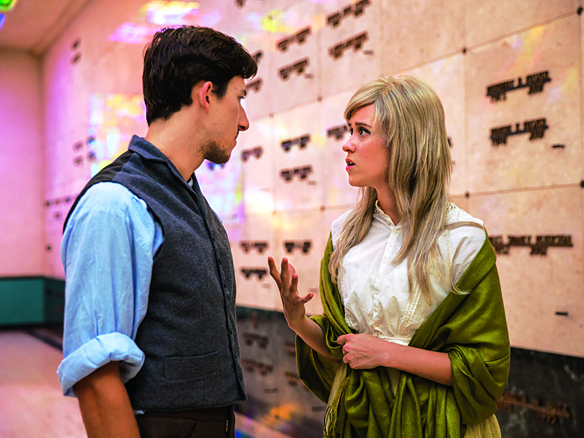 Review for CC NEWS/THE STAGE PAGE on Oct. 18, 2018
The mission of Unbound Productions is to re-imagine timeless stories for new audiences by creating immersive, theatrical adaptations of literature. To accomplish that goal, Executive Director Jonathan Josephson and Artistic Director Paul Millet, are presenting the company's 10th annual "WICKED LIT" immersive theatre event for the 9th consecutive year at Mountain View Mausoleum in Altadena.
This annual Halloween-themed site-specific experience has played to capacity during the last five years, drawing over 14,000 patrons, making this recipient of multiple Ovation Award for technical design excellence one of the top L.A. theatre productions each Fall.
When you arrive and check-in, note the color of the dot on your program as the audience is divided into two groups by those colors when welcomed to the site by two energetic and knowledgeable Irish curators (Meghan Lewis as Siobhan O'Leary, Head Curator and Aaron McGee as Eoghan Hogan, Assistant Curator) who not only guide you through the two plays but also provide insights about the space, histories of "Wicked Lit," and offer a few fun surprises as you journey through the spooky nighttime environment where souls have long been laid to rest – and may just rise up to greet you! All audience members will see both plays, and I am sharing my reviews of each in the order I saw them.
The first play this year is the world premiere of "Teig O'Kane and the Corpse" by Kerry Kazmierowicztrimm, adapted from the short story by Ernest Rhys, translated by Dr. Douglas Hyde, and expertly directed by Paul Millet. We first meet Teig O'Kane (Flynn Platt), a brazen young Irishman who refuses to commit to adulthood when his girlfriend Mary (Kelley Pierre) reveals she is carrying his child. When he rebuffs her, Mary runs off down one of the long mausoleum hallways, at which point Teig is pulled into a wonderfully re-created graveyard where he finds himself magically bound to an animated corpse, brilliantly portrayed with the perfect combination of horror and humor by Kevin Dulude. Both men need to move on to the next level of their existence, and it is their journey together that makes this play an enticing and very up-close experience for the audience. Adding to the spookiness are Tina Van Berckelaer as a half-Banshee rising from her grave and Bridgette Campbell as Linda/The Widow. The only thing I would ask is that seating be added at some point during this play as standing for the entire time was a bit challenging.
A new production of "The Chimes: A Goblin Story" by Jonathan Josephson, adapted from the novella of the same name and directed by Darin Anthony, tells the story of a conflicted father and the goblins that bring him to the brink of death and back again after he banishes his daughter for disrespecting his edict. While I definitely appreciated being able to sit during the entire play and the skill with which the actors presented their characters, especially Christopher Wallinger and Lamont Webb as the two goblins, Toby Veck (Richard Large), the story seemed very familiar, in the same vein as "A Christmas Carol" in which Scrooge is visited by ghosts who convince him to live his life in a more humanitarian way and "It's a Wonderful Life" in which angel-in-training Clarence visits George Bailey to show him how different life would turn out if he takes his own life. So no surprise ending here. Filling out the cast are Hope Lauren as willful daughter Meg Veck and Daniel Dorr as Richard Wells, a struggling writer who is the object of her affections much to the chagrin of her father.
Unlike previous incarnations, this year the entire performance and meeting place lobby is indoors, so no need to dress for the colder weather outdoors, although I can guarantee a few chills up and down your spine during the plays. This walking show, during which patrons must be able to comfortably walk a minimum of 1,000 steps and climb stairs, contains mature themes, theatrical violence, and is recommended for audiences younger than 13 years old. The running time is approximately 85 minutes for both plays without an intermission, with two performance check-in times each night at 7:30 p.m. and 9 p.m. The production runs until Nov. 10. Be sure to arrive a bit early to enjoy an interactive "museum" exhibit featuring past Wicked Lit costumes, puppets, and photo opportunities.
For complete pricing, scheduling details,and to purchase tickets before the entire run sells out, visit wickedlit.org.