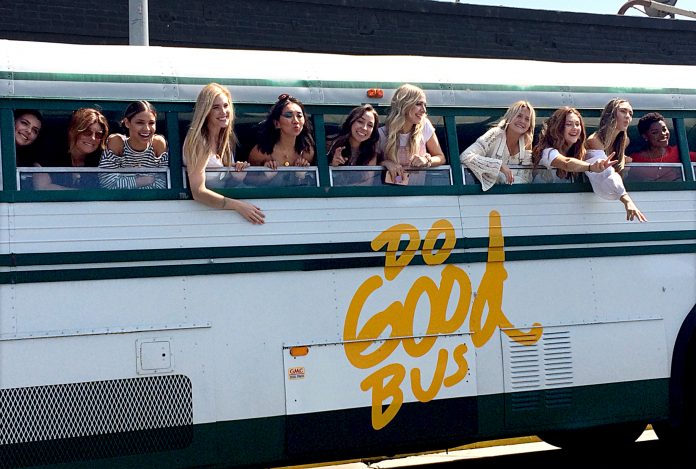 Looking for something to do that is low cost, where you can meet new people, have fun and feel good about yourself at the same time? How does a day of adventure and a bit of mystery sound? You won't have to drive, look for parking or worry about where to get lunch while taking part in something selfless.
The Do Good Bus's primary objective is to spread awareness of those in need throughout Los Angeles. Its organizers also generate donations and aim to cultivate a sense of community.
In 2010, founder Rebecca Reeder wanted to celebrate her birthday while making a positive social impact and the idea took off from there. She said in an L.A. Times article dated 2014, that "we are really trying to build community and have strangers be in a place where they can meet on another when they otherwise wouldn't."
Since then, more than 5,000 participants have taken the ride and 42 cites have been visited.
Dogeared Inc. is the organization of which they are partnered and is a certified B corporation, which means they have earned a third-party standard that meets social sustainability and environmental performance standards.
A few of the projects Do Good Bus have undertaken include visiting L.A. Locke High School to help students with an essay contest, making stops on New Year's Eve to spread joy by handing out flowers to strangers and visiting an assisted living facility.
To steer clear of any preconceived ideas about the causes being supported, the community rides are kept a secret – although minimal hints may be given.
The trips can be focused on the environment, serving the homeless, helping kids or animals, building things and more.
The destination is a mystery as to whom you'll be serving. Families, clubs or groups looking for a way to spend time together and companies hoping to create bonding and team-building among their employees can ride together and make a difference as a group.
One testimonial had this to say: "What better way to celebrate than to participate in a Do Good Bus experience! Celebrating our daughter's graduation with family and friends while providing a community service was a win-win for all!"
Check out the website http://dogoodbus.com/ or call 310-913-3387 for the October ride, as well as other monthly rides and information. The cost to participate is $25, which covers the cost of the bus rental and a meal.