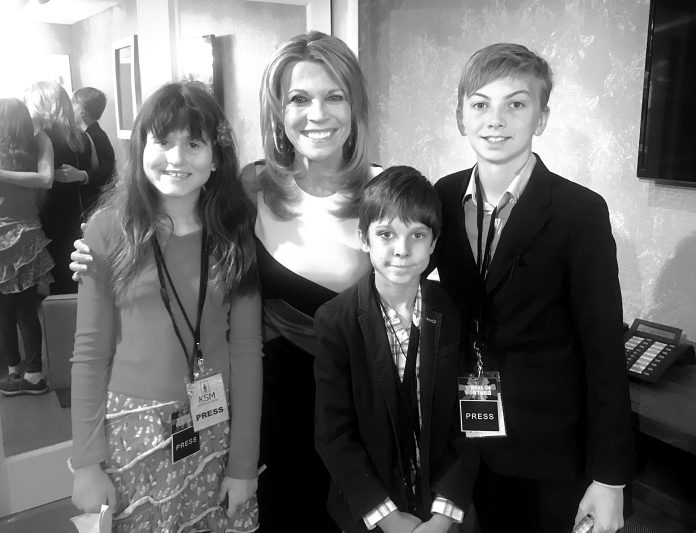 By Henry Jamrok, age 8
I was asked by Kids Scoop Media to write a report on the famous television show, 'Wheel of Fortune.'  On Feb. 23, the Kid Scoop Media reporters arrived at Sony Studios here in Culver City. We were greeted by Erica and Kyle of Wheel of Fortune's publicity department. They walked us through the 'Wheel of Fortune' Hall of Fame, where we saw tons of pictures and memorabilia from the show's 35-year history.
After that, Erica and Kyle took us to the studio where they tape the show. We explored the whole room. The show's theme for that week was College Week Spring Break so all the contestants were college students and the set was decorated with beach stuff. I was able to examine the puzzle board and to be honest, it was smaller than I expected it to be! In the corner of each letterbox, there is a small button and I am 99% sure that is what Ms. Vanna White is pushing to reveal the letter. I also tried spinning the Wheel, but I could barely get it to move ten inches! It was really heavy!
Later when I watched them tape the show, one cool thing that I noticed was that there was a camera on a track hanging directly over the Wheel. When I got the chance to meet the very nice director, Mr. Robert Ennis, he explained and showed me how it all works and how many cameras that it takes to shoot an episode. When they set up for the Bonus Round, that camera moved along a track to point directly over the smaller "Bonus Round Wheel". This isn't something that I think about when watching TV because then I am concentrating on the game and not on how they film it. Now that I've seen how they film it when I watch Wheel of Fortune on TV, it looks different to me.
Right above where the audience sits is Jim Thornton's Booth. Jim Thornton has been the Announcer for Wheel of Fortune since 2011. Mr. Thornton's Booth was slightly bigger than a coat closet. There was a window in the front so he could see the game and all the inside walls were covered in black foam padding. This was to keep his voice from echoing. Mr. Thornton was really nice and joked with us. He even talked to one of the reporters in Spanish!
Next, we were able to interview Pat Sajak and Vanna White. Pat Sajak was friendly and joked a lot. He was so nice, he offered us a bottle of water when we sat in his dressing room to do the interview. We were also in Vanna White's dressing room and she was really kind and easy to talk to. I know everyone who watches Wheel of Fortune is probably wondering if Ms. White prefers touching the letterboxes or turning the boxes around to reveal the letters like she used to do.
She told me that she prefers to touch the video screens because it saves hours of work!  Back in the letter-turning days, when they needed to set up a new puzzle, a person had to slot each letter in by hand which caused there to be a big wait between each puzzle! Now a computer does that work for them. After that, I asked Ms. White what was her favorite part of her job. She said, "I really like making people happy."
Wheel of Fortune does make a lot of people happy. I talked to Kyle, who works in the publicity department at Wheel of Fortune. When Kyle was a baby, his mom won a lot of money when she was a contestant on Wheel of Fortune. She used that money to help pay for the house that he grew up in! After that, it was one of his dream jobs to work on Wheel of Fortune and now he does! I was also able to interview the winning contestant from the episode that we saw taped. Years ago, his great uncle had won on Wheel of Fortune which convinced him to try to be on the show too. He has practiced every day for the past 10 years!! It sure paid off because he won a ton of money (and it sure seemed like an actual ton!) in the game we watched. Even if you or your family never actually get to be on the show, it still can make you happy. I think it's a fun show to watch. I hope you do too.