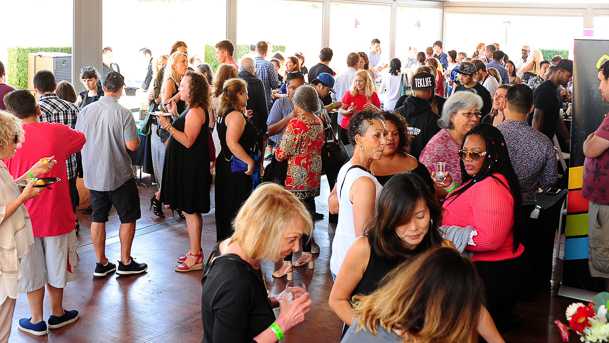 By Christian May-Suzuki
Come to experience the fun in giving back while kicking back at the Los Angeles Westside Food and Wine Summer Festival on Saturday, July 21 from 2 to 6 p.m. and Sunday, July 22 from 1 to 5 p.m. at West Los Angeles College. The festival will feature over 50 unique vendors serving different dishes and drinks over the two days.
Among these vendors will be several Culver City faces, including Café Vida and Wildcraft, and will feature celebrity chef Susan Feniger. Feniger is owner and chef at Border Grill and has appeared on a variety of food-related TV shows. Most notably, she competed on Top Chef Masters and co-starred in a Food Network show called "Too-Hot Tamales".
This event is an extension of the Culver City Centennial Westside Food & Wine Festival that was held last year in celebration of the Culver City's 100th birthday. Organizer Todd Elliot went to the city council with the idea, and he himself gathered all the vendors.
The event was such a success that Elliot decided to make it an annual event and rebrand it to represent a larger area. He started getting sponsors as well, and this event's group is highlighted by recognizable names in Culver City Toyota and Culver City Honda.
This isn't Elliot's first rodeo, as he has built a reputation as an effective event organizer for over 25 years. Elliot has done work both organizing his own events and working on other major ones. He planned and booked the entertainment for the 2006 Texas Longhorn BCS Championship Party and the 2007 Illinois Fighting Illini Rose Bowl Party.
A portion of the sales from this festival will go to Culver Palms Meals on Wheels, a charity that, according to their website, aspires to "provide nutritious meals at an affordable price to persons who are confined to their homes because of illness, accident, convalescence or age." Charity volunteers bring senior citizens living "from LAX to Pico Boulevard" who can't go to the store themselves a hot meal to eat daily.
The festival will be held on a roof with a solar panel overhang that will provide shade, allowing people to enjoy the scenic views of Culver City without worrying about getting uncomfortably hot out in the sun. There are also plans in place to move the event to a covered parking lot should the rooftop be rained out.
On top of the food and views, live entertainment will be provided as well. The first day will feature a Variety band that does covers, pop, and swing; and the second day will be met with a Beach Boys/Surf tribute band.
Entrance fee is $75 to $190. General admission parking is $10, but VIP tickets have parking included in their price. West LA College has provided their south parking structure for the event, which is accessible from Overland Avenue.
For more information, visit the event's ticket site by searching "Los Angeles Westside Food and Wine Festival" on Eventbrite.com