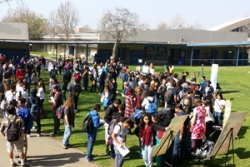 Culver City High school students joined representatives from more than two dozen of the city's nonprofit organizations for the Culver City Unified School District's second nonprofit Volunteer Service Day at the high school on Feb. 6.
The service day provides a venue for local students to learn about many of the city's nonprofit organizations as well as a possible nexus for the various volunteer groups to network with each other on potential future endeavors.
"I hope this really opened the students' eyes to the different opportunities that they may not be aware of," said Culver City Councilman Jim Clarke, who helped organize the event along with Antioch University Director of External Affairs Sierra Smith.
"We are grateful for our partnership with Councilman Jim Clarke for his vision and leadership for this event. Jim works very closely with our [Associated Student Body] students and Associated Student Body Director Dr.  [Carlos]  Valverde   in planning this great event that highlights the many great causes within our community," said CCUSD Superintendent David LaRose. "Additionally, the event provides a meaningful opportunity for our students to make a more personal connection with services organizations rather than simply finding a place where they can complete their service learning hours."
LaRose noted that the school board's student representative Roy Gonzales spoke highly of the event at the board's Feb. 10 meeting.
Clarke said the service day provides another benefit. "These kinds of events provide an opportunity for nonprofits, businesses and government to collaborate on projects of common interest," he said. "I spoke with just about all of the nonprofits afterward and they seemed very pleased.
Getting the nonprofits interested in branching out on common goals and future events can also bode well for Clarke, who has taken a leading role in organizing the city's centennial for 2017.
"We want to involve all businesses, neighborhood groups, schools, civic organizations, anyone who has an idea and wants to contribute [in the centennial celebration]," the councilman said in a previous interview.
All Culver City High School students are required to complete a total of 60 hours of service learning by the end of their senior year. Students who take part in the service day can earn community service credits.
Student leaders Mia Mavromichalis and Natalia Saucedo and Adrienne Madrid of the student affairs staff worked with Clarke and Smith on the event.
"The more that we can get these organizations and more public- private partnerships working together, the stronger our community will be," Clarke added.