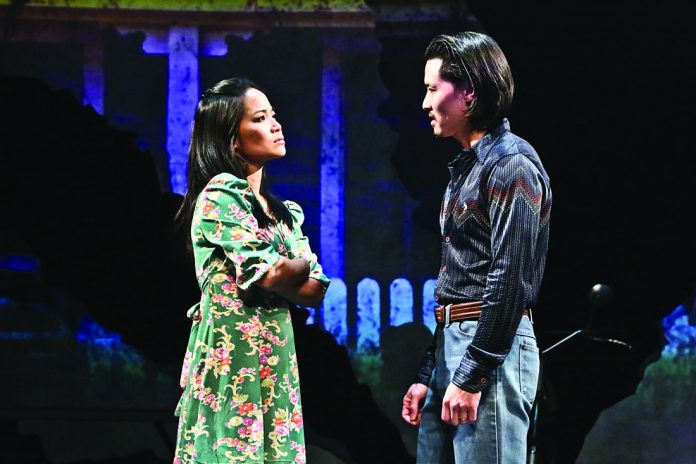 Over its remarkable 53-year history, East West Players has become the longest-running professional theater of color and the largest producing organization of Asian American artistic work. Their 2018-2019 season, entitled Culture Shock, explores what it means to be an immigrant in this country and an American abroad.
To that end, the first play of the season, flawlessly directed by Jennifer Chang, is the Los Angeles premiere of VIETGONE. The play is written by Qui Nguyen, inspired by how his parents met and fell in love in a refugee camp, weaving in personal history with a powerful narrative about immigration, war, and forced relocation.
Just as the topic of illegal immigration is in the news now, "Vietgone" addresses just how difficult it was for so many refugees at the end of the Vietnam War when so many were forced to leave their country and family members behind while fleeing for their lives with just the clothes on their backs. It's a modern take on a classic boy-meets-girl story with refugees Quang (charismatic Paul Yen) and Tong (sensual Sylvia Kwan) hooking up and falling in love in a Vietnamese relocation camp in Arkansas, much to the delight of her meddling mother (Jane Lui) who also fears for the safety of her adult son left behind.
Bold and fearless, "Vietgone" takes audiences on a hilariously ride across 1970s America with a hot soundtrack by composer/music director Shammy Dee that serves up hip-hop, sass, and revolution. I must admit, many elements of the buddy-ride-across-America to self-discovery movie Easy Rider seem to have been the inspiration for the play since a good part of it takes place with Quang and his best buddy Nhan (Scott Ly) leaving Arkansas on a motorcycle ride to California where Quang hopes to be able to find a way to get back to his wife and two children left behind in Vietnam.
Their cross-country journey includes meeting several interesting characters along the way, each portrayed with great style by Jane Lui and Albert Park. Park also brilliantly portrays Bobby, a blonde American soldier at the camp who falls for Tong. Especially entertaining is the on-the-road run-in with hippie protesters during which Lui portrays a wild and free-spirited American girl with Park as her Hippie Dude.
Scenes jump back-and-forth in time, often between tender moments in the camp and adventures on the road, as well as background stories of how each of the main characters lived their lives before, during and after the Vietnam War.  Many of their stories touched my heart as I remember the atmosphere of America during the early 70s amid anti-War protests, the arrival of many Vietnamese refugees to our shores, while many young Americans were charting new ways to be alive and free.

Jennifer Chang's fast-paced direction allows the humor in every situation to shine through while never lessening the brutal conditions faced by the Vietnamese refugees. And kudos for her casting five incredibly talented actors/singers, all of whom make enough quick character and costume changes (designed by Stephanie A. Nguyen) to set your mind reeling. Adding to the perfect atmosphere during every single moment of the play is the astonishingly colorful scenic and projection design by Kaitlyn Pietras and Jason H. Thompson, with their artistry becoming a real star of the show as well.

All performances of VIETGONE take place at the David Henry Hwang Theater at the Union Center of the Arts at 120 Judge John Aiso Street, Los Angeles through Sunday, Nov. 18. Regular performances run through Sunday, Nov. 18, with 8 p.m. shows from Thursday to Saturday, and 2 p.m. matinee shows on Saturday and Sunday. Tickets may be purchased online at eastwestplayers.org or by calling 213-625-7000, making sure to mention any wheelchair/accessible seating needs. Student, senior, and group discounts are available. General Admission ticket prices range from $40 to $60.

And for the holidays, Disney's THE LITTLE MERMAID family-friendly musical is being presented by Kentwood Players from Nov. 9 through Dec. 15 at the Westchester Playhouse, 8301 Hindry Ave., LA. Call 310-645-5156.