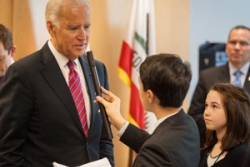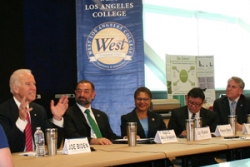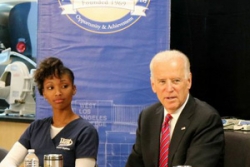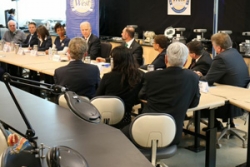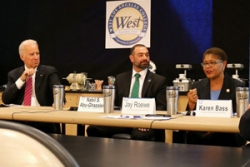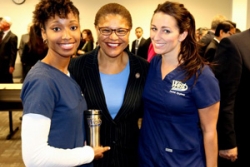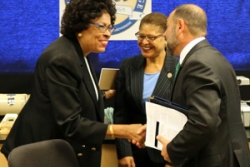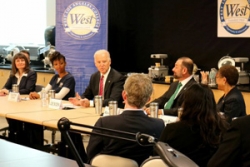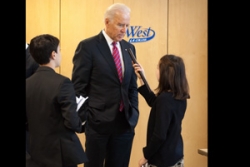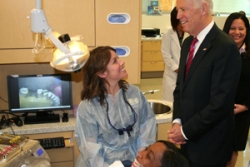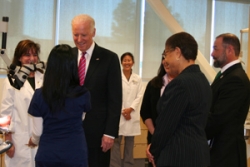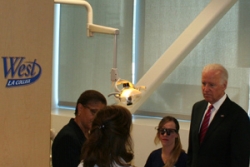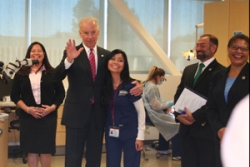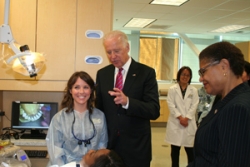 On Jan. 23 Vice President Joe Biden visited West L.A. College to highlight the administration's proposal to make the first two years of community college free.
The vice president's visit coincided with the news that West L.A. has been chosen by the state chancellor's office to take part in a pilot initiative to offer a bachelor's degree at selected community colleges in a specific academic field; West L.A. is one of only 15 community colleges chosen of out 34 applicants.
During his visit, Vice President Biden was shown the dental hygiene lab within the college. A four-year degree in dental hygiene is one of the new degrees that West L.A. is going to be able to offer under the proposed program.
While Biden did not discuss the specifics of the administration's community college initiative, he did emphasize that having the first two years tuition free would allow many students to spend funds that might have gone toward college fees on childcare, food and housing. He also stated that in this year's fed- eral budget the administration has proposed a $3,000 childcare-tax credit and to allow students to use Pell Grants to help pay for transportation and housing.
During the roundtable discussion West Los Angeles College President Dr. Nabil Abu-Ghazaleh stated that due to the manner in which community college fees in California are structured, paying for two-year college courses is often not the biggest financial hardship for many students.
"Our challenge is not tuition- our challenge is the cost of living in California, the challenge of having to work and go to college part-time, which is the greatest contributor to non completion [of a degree]," he told Vice President Biden.
The Vice President also expounded on the point that America's next generation of work- ers had to be prepared for the new jobs created, and how the people already in the workforce are updating their knowledge to fit new advances. To support this point he cited the average age of community college students, 25-29 years of age. "However," he said, "any country that out-educates us, out-competes us."
Culver City Mayor Meghan Sahli-Wells, Rep. Karen Bass (D- Culver City), college administrators and dental hygiene students, were all pres- ent at the roundtable and were told by the Vice President that they are in a very good position to take advantage of the first two years of the free tuition proposal because of the high level of quality instruction at West L.A.
"The school has to have a high graduation rate and a high placement rate, because we are not going to waste taxpayer money on a school that is not viewed as having the quality of being able to place these stu- dents,'" he asserted. Biden also said he was "truly impressed" with the students and their professors. "I've invited many of them to come to the White House," the vice-president added.
When asked about the claim that there isn't enough money to fund more educational programs, Vice President Biden pointed to how much money the country could make if tax-breaks for the rich weren't in place.
"You know, none of us would be here today without someone helping us to get our education," Vice President Biden said. "It's my dream to make sure every kid can get the education I got."