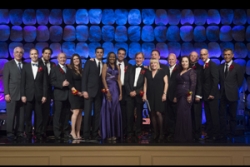 The Culver City-City Council recognized Beverly Hills/Greater Los Angeles Association of REALTORS® outgoing President Debora Bright-Laney with a commendation at the association's 112th Installation Gala last week.
The commendation recognized Bright-Laney for being the first African-American to serve as President in the Association's 103 year history, and thanked her for her service and commitment to the community.
BH/GLAAR Officers and Directors installed at the event were: 2015 President Diane Manns, Coldwell Banker; 2015 President-Elect, Aaron Leider, Keller Williams-Brentwood; 2015 Treasurer, John Winther, Coldwell Banker; and new directors Catherine daGama, Keller Williams-Brentwood; Steven Drust, Nelson Shelton & Associates; Peter Hernandez, Teles Properties; and Daniel Signani, Engel & Volkers Beverly Hills.
The Gala also recognized the 2014 annual award honorees: Crystal DaCosta of DaCosta Livin', the 2014 REALTOR® of the Year; Mindy Regan of Buyers Protection Group, the 2014 Affiliate of the Year; Robin Greenberg of Berkshire Hathaway, winner of the William May Garland Award; and Marilyn Watson of Rodeo Realty, 2014 Lifetime Achievement Award winner.
The 8,100-member Beverly Hills/Greater Los Angeles Association of REALTORS® serves the cities of Beverly Hills, Culver City, Los Angeles, Santa Monica, and West Hollywood. Headquartered in Los Angeles, the organization was established in 1996.