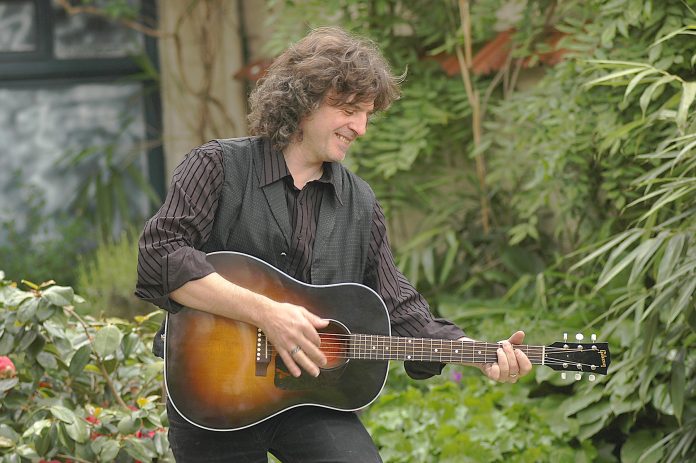 Music fans in search of a unique guitar sound that blends a range of musical traditions, such as blues, Spanish and Middle Eastern stylings, can look no further than the tunes of Claude Bourbon. The well-traveled artist performed on Saturday, April 6. at Boulevard Music in Culver City.
For the thousands of people in the UK, and across Europe and the U.S., Bourbon's virtuoso performances bring back audiences again and again to hear his unique sound.
As one astute reviewer said, "Claude (now based in the U.K.) moves from classical openings, across a whole continent of cultural roots, from the Balearic's to the Balkans, and then across to the Mississippi Delta, and shoehorned into all that is music that would not have been out of place in the courts of Emperors and Kings."
The News paused recently to speak with this guitar master, about his upcoming performance at Boulevard Music, and beyond.
"I started off learning classical guitar in Fribourg, Switzerland in the '70s," Bourbon says. "Did that for a few years until I joined a Belgian touring band in 1985. I was playing electric in the band and we toured Europe extensively."
His band days led him through France, with some interesting experiences along the way.
"During my time with the band we were based in the South of France in a region name "La Camargue" in the Rhone river delta," Bourbon said. "It's a part of France where the gypsies from all over Europe gather every spring to celebrate Santa Sarah: The Gypsie's Saint.
There I got involved with playing, jamming with the Gypsies, some of them went on to form the famous band "The Gypsy Kings," and I discovered people like Paco de Lucia, Manitas de Plata…Gypsy music is my first influence."
Currently, he calls the United Kingdom his home, but with a wink and grin, confesses not to know the music scene there.
"I'm based in the North of England, in a county called Cumbria," Bourbon says. "Don't know much about the music scene here. It's very rural. So the main music comes from the sheep….and the pheasants…!"
He spotlights his most recent release, however brief, and guides those interested to his website.
"My brand new album 'Cold River' has been recorded in England and in Muscle Shoals, Ala.," he says. "(Its) available with some of my previous on my website:  www.claudebourbon.org.
This will be Bourbon's first engagement at Boulevard Music.
"I've played quite a few times in the L.A area…Pasadena, Altadena, etc., but It's my first time (at Boulevard Music).
He was sly about what his audience can expect at his Boulevard Music gig on Saturday.
"Expect the unexpected," he says with a chuckle. "…a mixture of songs and instrumentals with a Blues, Spanish and classical taste."
As far as Bourbon is concerned, his Culver City appearance will kick off a busy season.
" What's planned after this show?….that's the first of 50 shows I have in the U.S. and Canada in the next three months, in 16 different States."