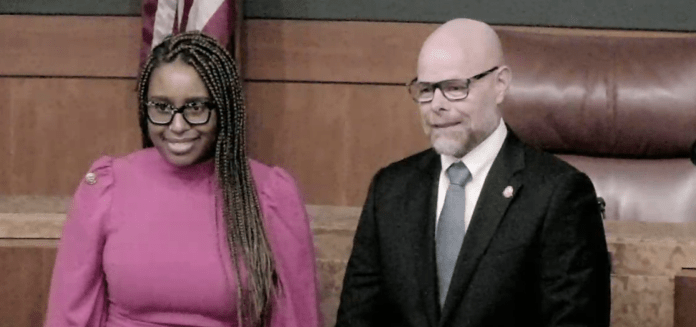 McMorrin voted vice mayor as new council takes shape
At the City Council meeting on the evening of Monday, Dec. 12, outgoing Mayor Dr. Daniel Lee and outgoing Council Member Alex Fisch said their goodbyes while new Council Members Freddy Puza and Dan O'Brien were sworn in.
The first act by the new sitting council was to unanimously vote former Vice Mayor Albert Vera as the city's new Mayor. The second was to unanimously vote Yasmine-Imani McMorrin the new Vice Mayor.
McMorrin becomes the first black female Vice Mayor in the city's history, an historic achievement on a night of firsts. Puza is also the first openly LGBTQ+ Culver City Council Member.
As the new members were sworn in, it was also confirmed at the meeting that measure BL, to update the business license tax, passed with 60.9 percent of the vote. 
Measure VY, to lower the voting age to 16, failed by an astounding (and ironic) 16 votes (8,293 to 8,309). The City Clerk's office told the CCN that, despite the incredibly slim margin, it doesn't warrant a recount. The council unanimously voted to certify the results of the election.
While there was drama later in the meeting, the farewells offered to Lee and Fisch were generally extremely warm. McMorrin said, "I want to thank you both for your leadership. I'm proud of us as a body. It's so much easier to maintain the status quo and harder to make changes."
Even Council Member Göran Eriksson, who had plenty of disagreements with both men, was generous with his words. "You put in the effort," he said. "I for one appreciated that. I wish we'd had more 5-0 [votes] because they're the ones that survive. But in closed sessions, we'd often have productive discussions and find common ground."
The night was about the new Council Members though, both of whom seemed proud and excited to take their oaths and sit at the dais.
Their hard work, of course, starts now.