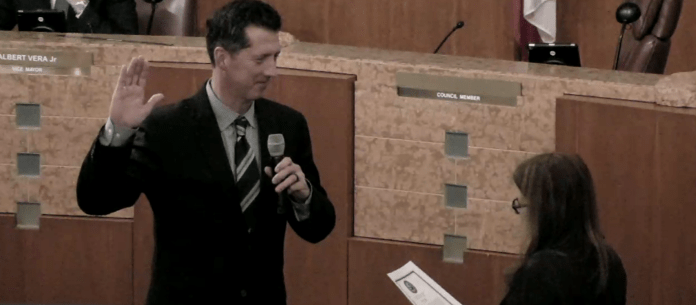 Outgoing council passed increase hours earlier
The newly seated City Council wasted no time courting controversy towards the end of the council meeting on Monday evening.
At a special City Council meeting a week earlier, the previous sitting council had voted in favor of a minimum wage of $25 for covered healthcare workers. The vote had gone 3-1, with the one "nay" vote coming from Council Member Göran Eriksson. Then-Vice Mayor Albert Vera abstained. Eriksson said that it wasn't the City's place to weigh in on labor issues.
However, then-Mayor Daniel Lee, then-Council Member Alex Fisch, and Yasmine-Imani McMorrin agreed that it's always the right time to do the right thing.
At the start of this week's meeting, prior to the seating of the new Council Members and the votes for the new Mayor and Vice Mayor, the outgoing council voted in favor of adopting that ordinance. This time, the vote went 4-1 with Vera voting "nay" but, somewhat surprisingly, Eriksson switching his vote to "yay." This, it would turn out, was a tactic.
The healthcare workers in attendance, praying for a positive result as they struggle to cope with the cost of living while working on the frontlines through a pandemic, didn't know that and they enthusiastically celebrated the result of the vote, believing it to be over.
It wasn't. Later, when new Council Members Freddy Puza and Dan O'Brien were sworn in and seated, Eriksson raised a motion to reconsider the item. He could do this, at the same meeting, because he had voted "yay" originally, hence his tactic.
"On a procedural technique it appears Council Member Eriksson voted the way he did to call back the item after the Council majority shifted," Vice Mayor McMorrin told the CCN the next day.
It's unknown how many of the healthcare workers had left by that point and were celebrating their improved quality of life, in the dark about the events that had since transpired.
Regardless, even his colleagues seemed surprised and shaken by Eriksson's move but the vote went as he planned. He, Mayor Vera and Council Member O'Brien voted in favor of striking the item. Vice Mayor McMorrin and Council Member Puza voted against. The healthcare workers don't get the minimum wage.
Supporters of Eriksson will say, "that's politics." Critics will say that he, along with O'Brien and Vera, took money out of the hands of healthcare workers during a pandemic.
The CCN reached out to Eriksson for comment but, at the time of going to press, had received no reply.