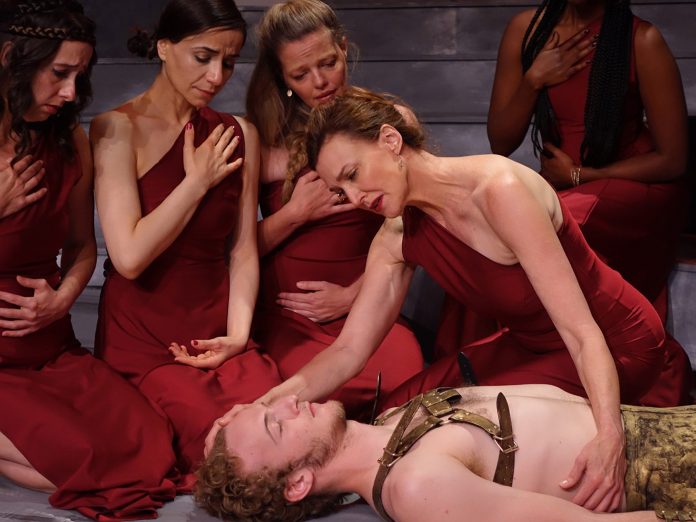 Los Angeles being the movie town it is, news that an Academy Award-winning actor is taking to the stage travels fast. Such is the case for the new production of Shakespeare's HENRY IV, featuring Tom Hanks in his Los Angeles stage debut as the large and comical Sir John Falstaff. Presented by The Shakespeare Center of Los Angeles (SCLA) outdoors in The Japanese Garden on the West Los Angeles VA Campus through July 1, the production is staged by Tony Award-winning director Daniel Sullivan who keeps the action moving at a quick pace without any breaks between scenes, and also features Harry Groener as Northumberland, Hamish Linklater as Prince Hal, Joe Morton as King Henry IV, and Tony winner Rondi Reed as Mistress Quickly, along with a talented 14-member supporting cast.
Every single performer is to be commended for their skill in bringing insightful line interpretations which assist in story clarity throughout.
If you have always thought that Shakespeare's histories are difficult to endure, given the insurmountably difficult text and lengthy running time, let me assure you that if you arrive early enough to have time to read the program notes then this magnificent visual presentation will be easy to follow.
And even though it runs 3 hours with one short intermission between Parts I and II, the opening night audience was riveted the entire time given the high caliber of acting, directing, stage setting (designed by Ralph Funicello and built entirely by veterans), and focused lighting design by Trevor Norton.
Special kudos must be given to designer Holly Poe Durbin for her understated yet totally regal or street-wise, color-coordinated costumes which always signaled who was following whom when opposing forces appeared together, leading to the battle of Shrewsbury during which King Henry IV and his court prevail over the Percy Family of rebels, in spite of his rascally son Prince Hal and his ragtag followers at the Eastcheap Tavern. Of these constant merrymakers, Falstaff is the most notable and it is during the many tavern scenes that Hanks shines, his extraordinary comic talents adding lofty humor to this rotund, often drunk and much-loved character.
Outdoor performances of Henry IV run Tuesdays – Sundays at 8 pm through July 1 at The Japanese Garden, located on the West Los Angeles VA Campus, 229 Patton Avenue Los Angeles, CA 90049 (near Golf Course; for GPS load address and ZIP CODE). The grounds are open at 6:30 pm for pre-show picnics. Alcohol is not permitted. Tickets and Information: www.shakespearecenter.org
The World Premiere production of LYSISTRADA UNBOUND by Not Man Apart at the Odyssey Theatre through August 4 presents a very modern, movement-centered dramatic version of the anti-war classic Greek comedy by Aristophanes, written by acclaimed playwright Eduardo Machado and brilliantly directed and choreographed by NMA artistic director emeritus John Farmanesh-Bocca.
In the play, Lysistrata is overwhelmed by grief after losing her father, brother and husband in the wars. When she is finally delivered the body of her only son, she refuses to bury him. Her protests transform her into the most celebrated anti-war activist of the ancient world as she persuades the Athenian women to withhold sex until the men stop making war as a way to promote democracy.
Her plea to change the way in which young men are being raised in order to change society certainly rings true to this day.
Farmanesh-Bocca says he and Machado were inspired by American anti-war activist Cindy Sheehan, whose son, U.S. Army Specialist Casey Sheehan, was killed by enemy action during the Iraq War, and who received national and international media attention in August 2005 for her extended anti-war protest at a makeshift camp outside President George W. Bush's Texas ranch. He brought this concept to Machado, and together they crafted a visually stunning production with an incredibly agile ensemble of athletic performers, led by two-time Emmy-nominated and SAG Award-winning actress Brenda Strong in the title role.
The ensemble features Jo Bateman, Jason Caceres, Laura Covelli, Vito D'Ambrosio, Apollo Dukakis, Laura Emanuel, Sierra Fisk, Aaron Hendry, Steven Jasso, Casey Maione, Sydney A. Mason, Dash Pepin, Briana Price, Jones Welsh and Cynthia Yelle.
Scenic design by Mark Guirguis suggests a gathering spot in front of a columned staircase, colorfully lit by Bosco Flanagan to reflect moods jumping between sensuous lovemaking to blood-thirsty warfare. Costume designers Denise Blasor and Josh La Cour are to be commended for creating lovely, form-fitting, blood-toned sheaths for the women which accentuate their curves to the men's battlefield uniforms, all of which allow athletic movement and tumbling without fear of wardrobe malfunction.
Performances of Lysistrada Unbound take place on Fridays and Saturdays at 8 pm and Sundays at 2 pm through Aug. 4. Tickets range from $30 to $35. The Odyssey Theatre is located at 2055 S. Sepulveda Blvd., West Los Angeles, 90025. For reservations and information, call (310) 477-2055 or go to OdysseyTheatre.com. This production contains adult language and situations, making it not recommended for young children.