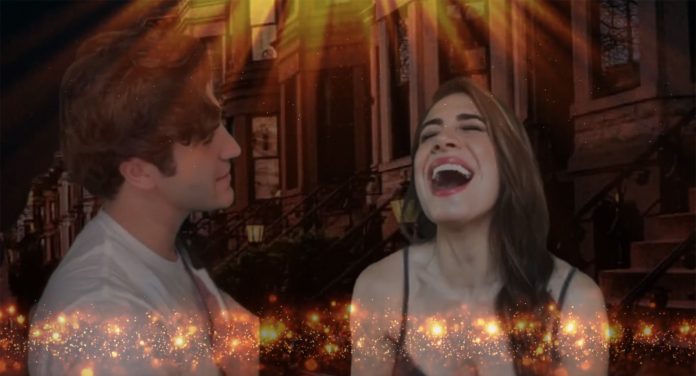 Determined to continue bringing meaningful theatre to its patrons during the pandemic, International City Theatre is virtually presenting THE LAST FIVE YEARS – an intimate, emotionally powerful musical by Tony Award-winning composer and lyricist Jason Robert Brown which captures some of the most heartbreaking and universally felt moments of modern romance, ingeniously deconstructing a five-year love affair from meeting to break-up and from break-up to meeting. Just how is that possible, you ask?  
Jamie, a young up-and-coming novelist, falls in love with Cathy, a struggling actress looking to get more out of life than her friends. The couple's story is told almost entirely through song, using an intercutting timeline device: Jamie's songs start as they first get to know each other and move forward to the end of their marriage, while Cathy's songs begin as the marriage dissolves, moving backwards in time to the beginning of their love. Halfway through they meet in the middle remembering their wedding day, perhaps one of the happiest times, if not the most challenging, in their five years together.
The intertwining-time plot device could be confusing at first unless you realize the premise from the beginning. But it should be clear from the first song since we are being told their love and life together does not survive as the sincere and overly needy Cathy (Gabriela Carrillo) begins the play lamenting "I'm Still Hurting" as she recounts how Jamie left her for another woman. But even as we are told how their story ends, a youthful and hopeful Jamie (John Battagliese) then enters and sings the praises of the "Shiksa Goddess" he's just met after dropping her off at the end of their first date. He is ready to give it all up, especially his parents approval, just to be with Cathy for the rest of his life.
So of course, the story of how it all begins on such a positive note (but ends in such a heartbreaking way) plays out from both sides, his and hers, from the upbeat start to the torn apart end at the same time. At first, I must admit that I found it difficult to believe Jamie would break Cathy's heart since he is so head-over-heels in love with her from the moment they meet. But by the end, it's easy to see why Jamie chose to rush into things with a woman he barely knew, while Cathy has become overly possessive as her insecurities about her own self-worth cloud her heart and mind. 
Director Jamie Torcellini and Musical Director Graham Sobelman are to be congratulated along with the two talented stars of 'The Last Five Years' for bringing such an intense story so vividly to life. The magic behind that success also goes to the technical and visual wizardry team of Costume Designer Kim DeShazo, Sound Designer Dave Mickey, Props by Patty Briles, and especially Video Editor and Stage Manager Jessie Vacchiano, all of whom brilliantly bring so many locations to life, from the front steps of Cathy's brownstone to trains passing through in opposite directions at Grand Central, from Jamie's struggles to write in his tiny apartment to his joy meeting fans of his first novel at a book-signing event, from a romantic boat ride together in Central Park to Cathy's lonely room on a lake in Ohio. Scenes flow smoothly as if watching a big screen movie with both actors merged into each location seamlessly to create the reality of each really being there.
International City Theatre is streaming 'The Last Five Years' on demand through June 20 on Thursdays, Fridays, Saturdays and Sundays at www.InternationalCityTheatre.org. Tickets are priced at $35 per household, available at the same site. See it with someone you love, no matter where you might be in your own five-year timeline!