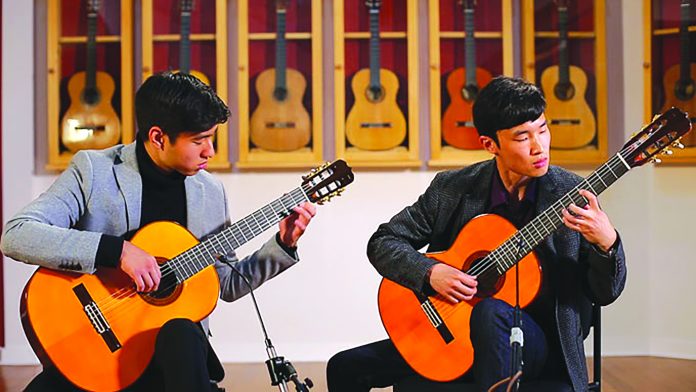 What a difference a year makes. Especially in 2021, as the country rebounds from 15 months of social distancing and sporadic business openings.
The MidDay at Grace concert series might soon see a return to live musical performances. Mary Lou Basaraba, director of music ministry at Grace Lutheran Church in Culver City, is hopeful of a return to in-church concerts by early fall, if not before.
But until then, the virtual concerts that Basaraba and Grace Church have presented with splendor, and shall we say grace since the spring of 2020, will continue this month.
The Park Brothers, Alex and Wesley, are two familiar Culver City musicians, as both have attended CCUSD schools. They come with instant chemistry and a beautiful sound for listeners to enjoy in the June 17 MidDay at Grace concert.
Basaraba was full of praise for the young musicians.
"(They are) brilliant young classical guitarists who grew up in Culver City and are both graduates of Pepperdine, as protegees of the brilliant guitarist Christopher Parkening," she said.
Indeed, Parkening has played an instrumental role in the careers of both men. 
"We first started performing around 2014. I was a senior at Pepperdine University and Wesley (three years younger) just started as a freshman there," Park said. "We decided to play duets together for our guitar ensemble class, and with the encouragement and support from our teacher, Christopher Parkening, we took it seriously and looked for performance opportunities outside of campus."
Park notes that he takes special pride in the guitars he and his younger brother Wesley perform with.
"The guitars that we'll both play at the concert are guitars built by the same maker, Jose Ramirez," he said. "They were even built around the same era. Mine was built in 1965 and Wesley's was built in 1966. I feel that both of our musical skills complement each other when we play guitar duets together."
Being brothers, Alex Park said, gives their duet performances a special quality because they know each other intuitively, even as musicians.
"Our musical styles are ultimately the same which makes collaborating very natural," he said. "When we work on duets, our ultimate goal is to have our music sound like it's one entity, as opposed to two completely different guitar sounds. To achieve this, we work on matching our sound, tone colors and balance."
Performing together for many years creates a synchronicity that is reflected in their music, Park added.
"Great groups need time to bond and grow together, whether it's any form of a musical band or group, or even a sports team," he said. "I feel that we're becoming a stronger group as we perform and practice together."
Both brothers are on the faculty staff at their alma mater, Pepperdine University. As they juggle their 2021 performance schedules, they have the opportunity to teach and mentor young guitarists alongside their mentor, Parkening.
GRACE PERFORMANCE
Alex Park said that he and his brother will present a variety of pieces on June 17 from 16th century Renaissance music to modern, recently composed pieces.
"The program also has a good amount of Spanish music, which is natural since the guitar is a Spanish instrument, and music from there sounds the best on the guitar," he said. "It's also interesting to note that most of the pieces we will be playing are transcriptions, which means the pieces were not originally written for the guitar."
The Renaissance piece they will perform was originally written for the lute, and the Spanish pieces are originally folk songs and orchestral works, he explained.
Park said that the only musical pieces that are originally written for the guitar are by a 19th century Spanish guitar composer, Francisco Tarrega, and by the American composer, Andrew York, who Alex Park "had the privilege of studying with."
As the country reopens this month, both brothers are also securing their performance schedules.
"As of now, we have a couple concerts in the near future, including one in Knoxville, Tenn. and another near Austin, Texas," Alex Park said. "Other concerts are still in the works to get booked, some of which have been cancelled because of the pandemic. 
Wesley Park is focusing on his work at Pepperdine University where he will teach a new course to all of the music majors, according to his brother.
Meanwhile, Alex Park said he has been productive during the lock pandemic lockdown.
"I have been working on adding new music to the classical guitar repertoire by doing my own transcriptions and by reaching out to great composers and commissioning them to write original music for the classical guitar," Park said. 
A few months ago, he reached out to Chris Thomas, a Hollywood award-winning film composer who he has known for years and worked with in the past.
"He [Thomas] came up with the great idea to write a piece for guitar and string orchestra," Park said. "I realized it's difficult for composers to write music for the guitar as I have attempted to commission composers in the past. But he sent me a complete first draft a couple weeks ago and it is exactly what I was hoping for it to be. 
"We look forward to completing it and having it performed once it's ready and hopefully by then, concerts will be allowed in full capacity," Alex Park said. 
BENEFICIARY GRACE DINER
Since the concert series was launched in December 2018, along with Three 'Opera at Grace' programs, Basaraba said that the 1,000-plus attendees have raised more than $8,000 for a wide variety of local non-profit organizations.
Donations from this month's concert will benefit the Grace Diner Food Ministry (a tax exempt, 501(c) (3), a nonprofit organization EIN# 46-5058093) on the campus of the church as the designated charity to receive donations.
Donations can be made at https://gracediner.org.
"This is an extraordinary ministry that has served more than 35,000 sit-down meals to the homeless and needy for the past 10 years under the direction of Lisa Skelley and a dedicated team of volunteers," Basaraba said in an interview last year. "(During the pandemic shutdowns), Grace Diner has shifted from a weekly sit down dinner to a tri-weekly bagged meal service.
"(As for the virtual concert), you can (listen) anytime to join us or as it fits your schedule! Such a disappointment to not see (everyone) in person," Basaraba said. 
"This promises to be a beautiful program and you will be part of a virtual audience for today's MidDAY concert," she added.