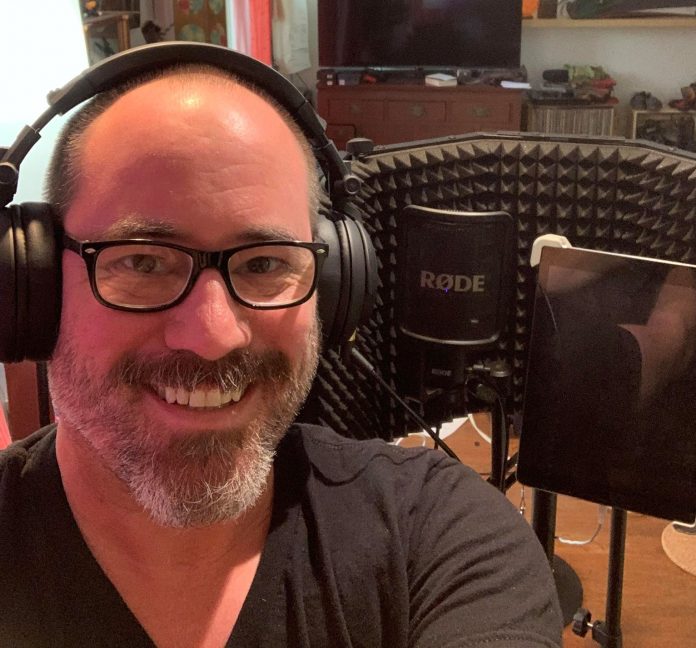 With stay-at-home advisories in place, Antaeus Theatre Company is offering us the chance to celebrate the culture and history of the diverse neighborhoods of Los Angeles from the safety of our own homes by presenting The Zip Code Plays: Los Angeles, a series of six original audio plays, each set in a different L.A. zip code. Hosted by two-time Audiofile Award-winner Ramón de Ocampo and featuring original music by Ellen Mandel and audio by audio producer, sound designer and foley artist Jeff Gardner, the six plays, each featuring a cast of acclaimed Antaeus actors, are artistically as well as geographically diverse, with each written by a member of the Antaeus Playwrights Lab in a different genre or style.  
According to co-artistic directors Bill Brochtrup and Kitty Swink, Antaeus was looking for a way to create a full, rich experience that maintains the urgency and intimacy of theater. "Like the theater we produce, audio podcasts are very up close and personal," they explain. "This is an exciting opportunity for Angelenos to explore their own city. Plus, anyone can listen at any time, from anywhere at www.antaeus.org."  
Bernard K. Addison, Lloyd Roberson II and Marlow Wyatt star in Speakeasy, written by Khari Wyatt and directed by Bernadette Speakes. In 1956, Leon Ivy returns home to South Central Los Angeles (zip code 90011) with a finished novel, a publisher and big plans for his future. But times have changed along Central Avenue, and Leon's wife, Bird, and her new business partner, Daddy August, have enacted secret plans of their own. What are the costs of leaving home and what is the price of fighting for what you believe in?
Meanwhile, strange things are going on at the Los Angeles Civic Center in downtown L.A. (90012), where a magical encounter with a celestial comet awakens a pair of downtown statues and a neighboring denizen of the La Brea Tar Pits. Historical accusations, social justice and food truck cuisine lead to a fantasia of repentance, acceptance and grace in Clara and Serra and The Talking Bear, a supernatural serio-comedy inspired by true events; written by Angela J. Davis, directed by Steven Robman and starring Tony Amendola, Luis Kelly-Duarte and Abby Marks.
Fresh from participating in street protests for the very first time, 80-year old Westwood (90024) resident Eleanor Pender McAdams seems an unlikely subject for an FBI investigation. All Information Herein Is Classified, written by Deb Hiett, directed by Carolyn Ratteray and starring Dawn Didawick, Bo Foxworth and Catia Ojeda, is an "official" compilation of recordings and interviews that reveals the complexities of standing up for something bigger than yourself in the modern world.
The ruins of an abandoned WWII Nazi compound in Pacific Palisades (90272), known today as the "Murphy Ranch," are the inspiration for Annexing the Palisades, written by Alex Goldberg and directed by Ann Noble. Set in 1939, this chilling tale based on a little-known piece of L.A. history stars Nike Doukas, Harry Groener, and Adrian LaTourelle as talented craftsman Joseph Kurtz who arrives at the palatial Murphy Ranch ready to carve an ornate balustrade for the estate's magnificent staircase. But the job soon turns out to be much more complicated than he anticipated.
Mina never should have eaten that piece of fruit overhanging from a tree in her Santa Monica (90403) neighbor's garden. Now she's on trial before the Flora and Fauna Committee, defending the Pluckers from the Harvesters in this satirical look at the haves and have-nots. Plucker is written by Nayna Agrawal, directed by Jonathan Muñoz-Proulx, and stars Veralyn Jones, Kavi Ramachandran Ladnier and Marcelo Tubert.
Finally, Gigi Bermingham and Jon Chaffin play a nearly blind former music teacher and the volunteer who has arrived at an auto junkyard in Sun Valley (91352) to help her locate a part for her 1998 Subaru Impreza WRX. As Billy attempts to help Martha in her quest to take one last drive, coincidence, empathy and music make for a very special afternoon. Salvage is written by Steve Serpas and directed by Julia Fletcher.
All six 'The Zip Code Plays: Los Angeles' are offered free of charge at www.antaeus.org.  And be sure to read the online program notes about each location's very interesting history.