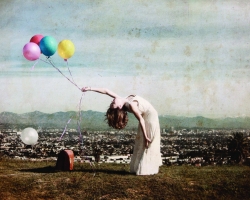 A Culver City High School sophomore earned a gold medal from the Scholastic Art & Writing Awards for a photograph she submitted titled The Yellow.
Isabel Bennett took the photograph on top of a hill near Jefferson Boulevard in Culver City on an October day. Uncertain what to title the photo, a friend suggested the name, which stuck. Bennett told her friend, "I'm not going to win anyway, so it doesn't really matter." In fact, she was not even going to enter the contest, but after the constant urging of one of her teachers, art director Kristine Hatanaka, Bennett finally relented and submitted her photograph.
The Scholastic Art & Writing Awards founded in 1923, is the largest source of scholarship funds for teen artists and writers. Each year, students in grades 7–12 across the nation and in American schools abroad submit more than 165,000 works of art and writing to be evaluated by visual and literary arts professionals, educators and scholars.
Despite such odds, Bennett won – first at the regional level, earning a gold key award in Pasadena. She later received a call that she had won gold nationally and that her work would be displayed in New York City, N.Y.
"I was shocked," she confessed.
Although the exhibition was being held during finals, Bennett and her parents went to the gallery and saw her work displayed. She was later honored on stage at Carnegie Hall.
Bennett explained that she has no formal training in photography, the only preparation being a class she took in grade school. Her mother taught her how to use Photoshop software and now she offers her skills to others who want help with their photos. She is also involved in the Academy of Visual Arts Program at CCHS and is interested in a career in the arts – photography, graphic design or interior design. She describes her style as a "blending the old and the new."
The Yellow will be on tour and will make its way to Lineage Dance in Pasadena, where it will be exhibited from May 6 to June 3.