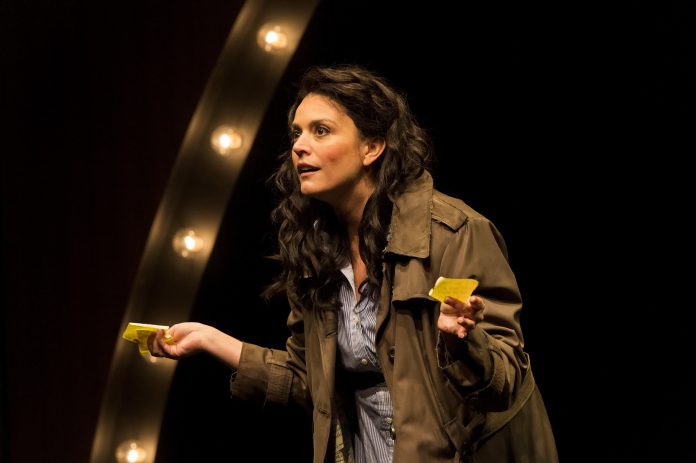 Jane Wagner's inventive one-woman show THE SEARCH FOR SIGNS OF INTELLIGENT LIFE IN THE UNIVERSE originally earned Lily Tomlin a Tony Award® for Best Actress in a Play in 1986. Presented in association with The Shed, directed by Leigh Silverman and produced in association with Lorne Michaels and Bill Damaschke, this satire of contemporary American culture now roars back to life in 2022 at Center Theatre Group / Mark Taper Forum thanks to Emmy®-nominated actress Cecily Strong brilliantly interweaving the seemingly disparate lives of a punk-rock rebel, a socialite, a feminist, and a deceptively insightful observer, among many others. And Strong certainly earns her last name every single moment during her 90-minute tour-de-force performance!
Strong first appears from out of total darkness in a flash of light, taking control of the stage by introducing us to trenchcoat-clad Trudy, whose ongoing search for intelligent life is guided by aliens attempting to figure out what makes humans 'human." Shares playwright Wagner, "I have long been fascinated by the mystical implications of quantum theory. In truth, my dream was to get the audience to experience the universality of the deep interconnectedness of all living things – with Trudy as the guide… I wanted us to flash on just that thought – that we're all connected." And by the time Strong took her final bow, that connection was evident as the entire audience jumped out of their seats applauding together after reaching that exact conclusion, realizing our part in creating the art of live theatre.
Perhaps best known for her ten seasons on Saturday Night Live during which she has played a multitude of characters in skits every week, Strong shines as she morphs from person to person, often in the blink of an eye, with her physicality, voice and attitude making it easy to tell which of the many intertwining characters she was presenting at any given moment. Without any hand props, each of the items described is accompanied by perfectly-timed sound effects by Jeff Gardner, adding depth to their imagined reality. Wagner's updated 2022 script includes current newsworthy topics from Roe v. Wade and in vitro "turkey baster" babies to bouts of depression, great joy, doubt, and even thoughts of suicide. But with Strong's incredible talent for making even the darkest of topics seem insightful without being overly confrontational, as the characters develop and interact with each other it's easy to see bits and pieces of ourselves in just about every one of them. Truly we are the world.
THE SEARCH FOR SIGNS OF INTELLIGENT LIFE IN THE UNIVERSE tickets start at $35, available through CenterTheatreGroup.org, Audience Services at (213) 628-2772 or in person at the Center Theatre Group Box Offices (at the Ahmanson Theatre) at The Music Center, 135 N. Grand Avenue in Downtown L.A. 90012, where the Mark Taper Forum is also located. Performances run Tuesday through Friday at 8 p.m., Saturday at 2:30 p.m. and 8 p.m., and Sunday at 1 p.m. and 6:30 p.m. through Oct. 23, 2022. Face masks are required to be worn indoors.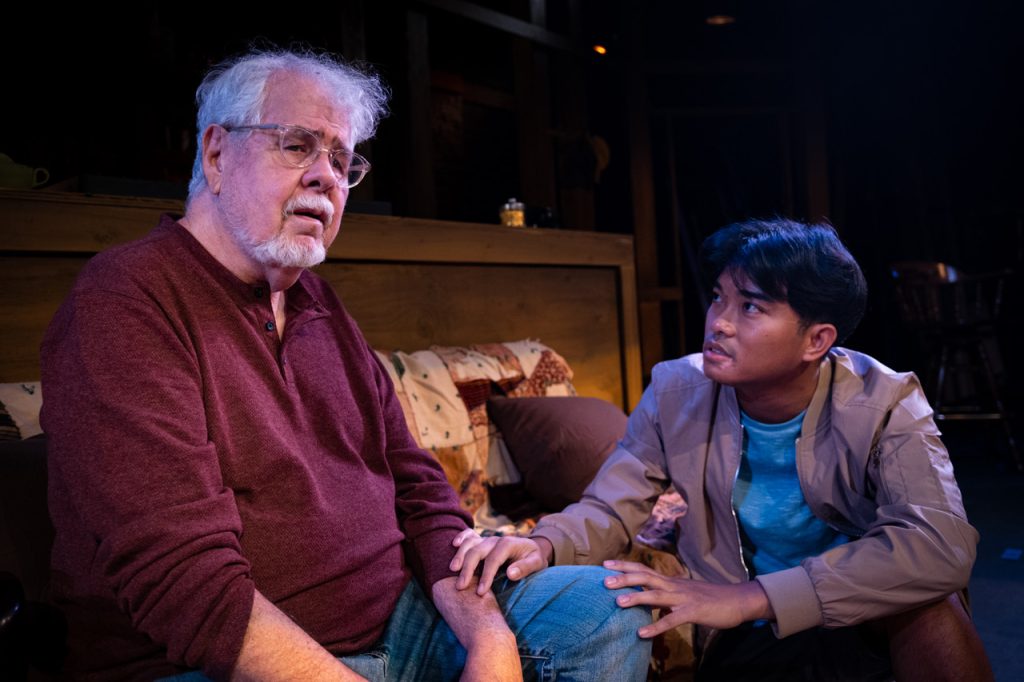 Obie Award-winning playwright Samuel D. Hunter navigates the complex terrain of gay conversion therapy in A GREAT WILDERNESS, presented by the always insightfully challenging Rogue Machine in the intimate Matrix Theatre, skillfully directed by Elina de Santos. The play centers around Walt who has devoted his life to "curing" gay teenage boys at his retreat in the Idaho wilderness. But as he is reaching the end of his counseling days, Daniel (his final "boy") arrives and presents challenges requiring the assistance of others, causing Walt's previously unwavering moral compass to no longer point in just one direction. 
In program notes, director de Santos shares, "Sam Hunter's A GREAT WILDERNESS contemplates happiness and the choices made to achieve more than survival. Each character questions his/her existence. Is it enough to live within the confines of one's upbringing? What do we do with feelings that are not tolerated or understood by the institutions that inform our beliefs? Who can one be, when faced with rejection from those who have made sense of life?"
But is abandoning your soul worth the price of trying to please others rather than accepting your own true nature? Such is the question asked in this thought-provoking play directed with emotional depth by de Santos who allows us to see the many sides fighting each other from within each character. The talented cast features John Perrin Flynn (Rogue Machine's founding Artistic Director as Walt) and Jeffrey Delfin (as Daniel) who share similar emotional challenges they have faced as they get to know each other during their first 24 hours together, the non-linear timeframe of the two-act play. Tech credits greatly increase the reality of Walt's rural retreat, led by Scenic Designer Bruce Goodrich.
When Tim (Tony Pasqualini) and Abby (Rachel Sorsa) show up to assist Walt in packing up to move into an assisted living facility due to his increasing dementia, Walt rebels and the ramifications of their confrontation echo into the remote Idaho wilderness where Walt has lived for 30 years – and where Daniel has disappeared after going for a walk into the woods to clear his head. Ranger Janet (Tania Verafield) arrives to assist, realizing a search and rescue team needs to be called in as quickly as possible since lightening has set off a forest fire where she suspects Daniel might be. But it is when Daniel's mother Eunice (the always brilliant Jacquelin Lorraine Schofield) arrives and begins to question which path is best for Daniel to take that the real meat of the play is revealed, especially when she finally decides it's best for her son to make his own decision, as heartbreaking as it is for her.
Produced by Guillermo Cienfuegos, Co-Artistic Director at Rogue Machine, the Los Angeles premiere of A GREAT WILDERNESS runs Fridays, Saturdays, and Mondays at 8 p.m.; Sundays at 3 p.m. through Oct. 31 (No performance October 10), presented by Rogue Machine in residence at the Matrix Theatre, 7657 Melrose Ave, Los Angeles 90046. The Difficult Conversation Series featuring the director, cast and guest speakers takes place after Sunday matinees. Street parking only; read signs carefully. Tickets are $45 general admission ($35 seniors, $25 students with ID) with designated Pay-What-You-Can performances during the run. Visit http://www.roguemachinetheatre.net for more information, schedule and reservations, or call (855) 585-5185. Face masks are required to be worn indoors.