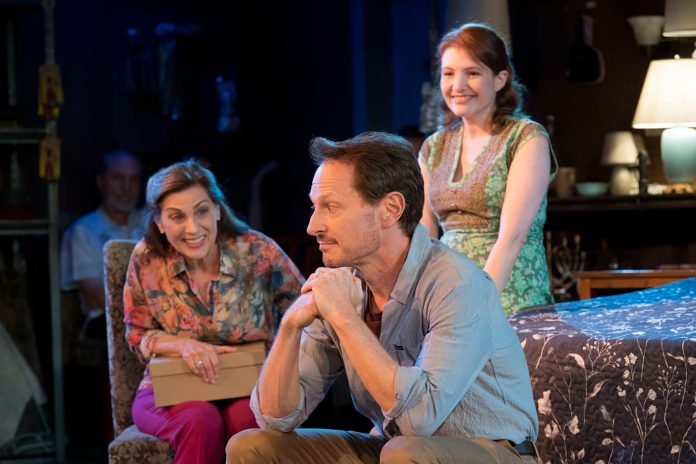 The multi-award-winning Fountain Theatre is presenting the Los Angeles premiere of IF I FORGET by Steven Levenson, the Tony Award-winning book writer of Dear Evan Hanson, directed by Tony Award-winning actor Jason Alexander. This deeply personal play about history, responsibility, and what we're willing to sacrifice for a new beginning will resonate with those of Jewish descent who will no doubt feel as overwhelmingly connected to this story as I was, so overcome with emotion I could barely speak to anyone as I walked out after experiencing the almost 3-hour production. That authenticity is no doubt due to playwright Levenson drawing from conversations with his own family that explore the lasting impact of the Holocaust on a Jewish family at the beginning of the 21st century. Set in the years following the dissolution of the Oslo Peace Accords between Israel and Palestine, IF I FORGET is a funny, sometimes sad, but always powerful tale about a family and a culture at odds with itself.
No doubt you often ask yourself what are we to believe when history is being discussed, and who do we believe is telling us the truth? You see, history is a funny thing – an abstraction for those of us who did not live through it ourselves. But the Holocaust is such a universal flashpoint for the modern world of Judaism that it is difficult to not always remember how deeply it changed our families as well as world history. But not everyone in the world, or even within your own family, may be on the same page.
At the center of IF I FORGET is Leo Marks as Michael Fischer, a professor of Jewish studies up for tenure at a prestigious New York university. Michael and his wife Ellen, played by Síle Bermingham, are in Washington D.C. for a family reunion to celebrate his recently widowed father's 75th birthday. There we also meet Michael's sisters Holly (Valerie Perri) and Sharon (Samantha Klein); Holly's husband, Howard (Jerry Weil), and her son, Joey (Jacob Zelonky); with the recently widowed family patriarch Lou Fischer played by Matt Gottlieb. Mesmerizing dancer Caribay Franke portrays Abby Fischer, the emotionally disturbed daughter of Michael and Ellen, choreographed by Allison Bibicoff to focus the audience's attention on her movement rather than the rest of the cast re-arranging the set pieces during each scene change. The entire ensemble is brilliantly directed with heartfelt emotional understanding by Alexander.
With each family member committed to their own version of family history, the siblings clash over everything from Michael's controversial book about the Holocaust to whether they should sell the family business. Thanks to the extraordinary talents of the entire cast, each of the characters is brought fully to life physically, emotionally, and intellectually as secrets are revealed which explode the entire family dynamic on several occasions. Kudos must also be given to The Fountain's technical team, each of whom contributes so much to the overall magnificence of the production: scenic designer Sarah Krainin; lighting designer Donny Jackson, sound designer Cricket S. Myers, costume designer A Jeffrey Schoenberg and prop master Katelyn M. Lopez.
IF I FORGET runs through Sept. 10 on Friday/Saturday at 8 p.m.; Sundays at 2 p.m., and Mondays at 8 p.m. (dark Saturday, Aug. 13; Sunday, Aug. 14; Monday, Sept. 5). Tickets range from $25-$45; Pay-What-You-Want seating is available every Monday night. For reservations and information, call (323) 663-1525 or go to FountainTheatre.com. The Fountain Theatre is located at 5060 Fountain Ave. (at Normandie) in Los Angeles. Secure, on-site parking is available for $5. Proof of vaccination and the wearing of masks while indoors required.
Sweet Talk Productions is presenting REMEMBERING THE FUTURE, an existential comedy by Peter Lefcourt which asks what would your 18-year-old self say to your 58-year-old self if it had the opportunity? How would that person judge the life you are living? And would you want to change the path your younger self had taken? These questions hang over Lefcourt's world premiere comedy that deals with love, life, and the tinted prism of memory that is both thought-provoking and entertaining.
The premise will ring true for everyone as no doubt we all think about choices we made in the past and what might happen, knowing what we know now, if we could go back and change something to create a more satisfying life? But how could we know if changing anything would really make our life better? After all, nostalgia creates a world through rose-colored glasses which can hide the harsh reality of life. Perhaps the answer is that life would be different but possibly even more challenging by following the idea of just "doing what feels good" when you are 18 years old.
The play is narrated with humor and spunk by David Jahn who steps into the roles of several different characters, most often an opinionated bartender or waiter who breaks the 4th wall to speak directly with the audience, even polling them on certain plot points. The other two sets of talented actors represent the same couple, Greg and Melissa, beginning when the older pair (Michael Corbett and Tarina Pouncy) meet for dinner after not seeing each other for nearly 40 years and reminiscence about their past, both the happy and sad. While sharing their memories, the younger set (Andrew Neaves and Fatima El-Bashir) act out their joy of first love and the reason for their heartbreaking split. But there's a lot of water under the bridge with both sets having unresolved feelings about the past and their future. Is it really too late to change direction at either age? Can they? Should they? Would you?
Technical credits are solid, including gray-tone, multi-level scenic design by Ulyana Chava-McDonald, lighting design by Gavan Wyrick, sound design by Alysha Bermudez, costume design by Mylette Nora, and projection design by Nick Santiago which creates the backdrop for every episodic adventure. Assistant stage manager Grayson Kennedy was frequently seen onstage and often addressed by name by the bartender. I found this to be a very nice, personal touch of gratitude and recognition of all the hard work which goes on behind the scenes to keep the show running smoothly.
REMEMBERING THE FUTURE is produced by Racquel Lehrman, Theatre Planners, and brilliantly directed by Terri Hanauer at The Odyssey Theatre, located at 2055 S. Sepulveda Blvd. in Los Angeles, 90025. Continues on Friday/Saturday at 8 p.m. and Sunday at 2 p.m. through Aug. 21. Admission is $25 and tickets are available online at OnStage411.com/Future or by phone at (310) 477-2055, ext. 2.  Proof of covid vaccination is required for admittance and masks must always be worn indoors. Valet parking is available.