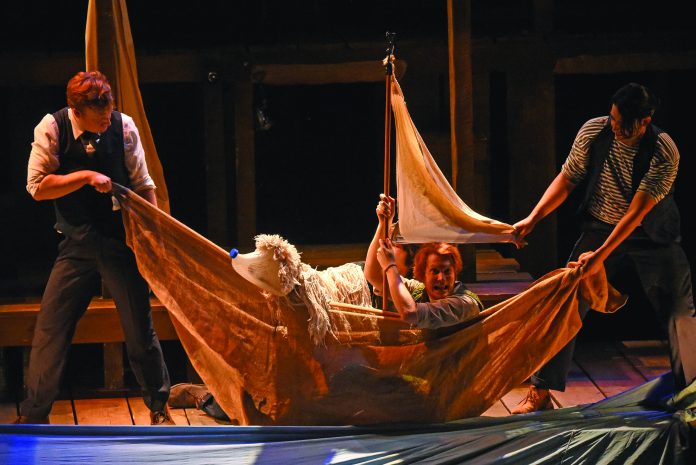 Theatrical magic has taken over the Bram Goldsmith Theater at The Wallis in Beverly Hills thanks to PigPen Theatre Co.'s "The Old Man and The Old Moon," a fantastical song-filled fable for all ages. Directed by Stuart Carden and PigPen Theatre Co. and featuring a spirited indie-folk score performed live by the seven-member PigPen ensemble, this one-of-a-kind theatrical experience is the touching tale of a man charged with the task of keeping the moon shining brightly. But after a mysterious disappearance sends him on an epic adventure over land, sea, and sky, he is ultimately reminded, as are we, of the unwavering power of love.
The show's high-energy ensemble is comprised of PigPen Theatre Co.'s Alex Falberg, Ben Ferguson, Curtis Gillen, Ryan Melia, Matt Nuernberger, Arya Shahi and Dan Weschler, all of whom are incredibly talented musicians, uninhibited actors, and playful movement experts with boundless energy that keeps the 90-minute show running at a breakneck pace while dazzling the eyes with its brilliant imagery. These incredible performers, who also co-direct the production with Stuart Carden, began creating their unique brand of theatre, music, and film as freshmen at the Carnegie Mellon School of Drama in 2007 and have since produced original plays in New York City and toured the country, earning critic's picks in every city they play thanks to PigPen Theatre Co.'s signature shadow puppetry, wonderfully melodic music, wildly imaginative staging, and ever-changing characters.
There are so many noteworthy moments in this production, it is difficult to select which to mention in this review, as each scene offers fascinating characters and staging to push the fable's tale along its path. There are pirates, flying machines, a legendary hero, journeys to the unknown, extraordinary shadow puppetry, a lifelong love story, and a wondrous full-arm dog puppet able to catch fish from the boat in which she is escaping with the Old Man on his journey to the City of Light. But once he gets there, will the Old Man find the person he seeks and be able to fulfill his mission to save the Old Moon? The joy is in the telling, making this production a visual celebration of all things creative!
Scenic, costume and puppet designer Lydia Fin has created a world of magical dreams on a multi-level wooden plank set with a wild assortment of everyday items used in incredibly inventive ways. Lighting designer Bart Cortright and sound designer Mikhail Fiksel add in attention-grabbing details which will keep you fascinated, as well as intrigued, with the show's overall wonderment.
"It's a joy to bring 'The Old Man and The Old Moon' to Los Angeles on the heels of its sold-out engagement at San Diego's Old Globe," says The Wallis' artistic director Paul Crewes. "With PigPen's inventive stagecraft, wonderful music and spellbinding storytelling, this production is sure to touch audiences of all ages."  I can tell you this is true, as there were many children at the performance I attended and not one of them acted up during the show, their eyes glued to the wonder in front of them thanks to this unique and incredibly creative production by PigPen Theatre Co.
"The Old Man And The Old Moon" continues through Sunday, March 17 on weekdays at 7:30 pm; Saturdays, at 2 p.m. and 7:30 p.m.; and Sundays at 2 p.m. and 7 p.m. There will be no performance on Tuesday, March 12. Run time is 90 minutes with no intermission. Tickets run from $25 to $85. To purchase tickets and for more information, please call 310-746-4000 or visit TheWallis.org/OldMan. The Wallis Annenberg Center for the Performing Arts is located at 9390 N. Santa Monica Blvd., Beverly Hills.