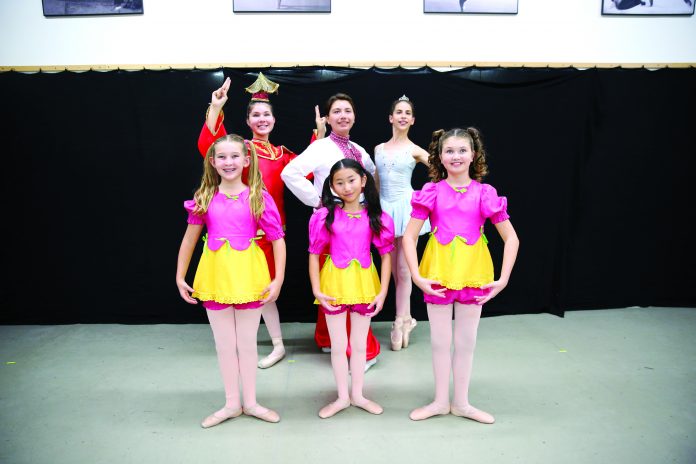 By Meredith Powers
Marius Chiang-Popa performs in memory of his late mother, an accomplished WB dancer.
Cast among twirling dancers, fighting mice and toy soldiers, the Nutcracker comes to life, set apart from its surroundings on stage by its towering head, unchanging face and stiff, rigid movements.
Westside Ballet's 46th annual performance of "The Nutcracker" will have all elements of the holiday favorite, but in addition to ballet finesse and expertise, this year's display includes a special role by one of the school's longtime students.
Marius Chiang-Popa, an eighth-grade student at Park Century School, will play the role of the Nutcracker in this year's production.
"In our particular production, it's an acting role," said Francine Kessler, an artistic director at Westside Ballet. "Marius has a very strong presence. This one's very demanding as far as telling the story and pushing the story along."
"The dance is really fun because I act like a soldier and a doll, in a way," Chiang-Popa said of playing the Nutcracker. "It can be difficult because of the (costume), but overall I'm really excited."
Chiang-Popa, 14, began formal ballet training at age 6, but his journey in ballet began earlier than he can remember. As a young child, he often visited Westside Ballet with his mother, Mimi Chiang, during her own ballet classes. Chiang was an accomplished dancer who trained at Westside Ballet for 30 years before she died nearly two years ago.
Chiang-Popa said his life changed when his mother passed away. Today, he says his continuance at Westside Ballet is a way to keep her near to his heart.
"When I'm dancing I feel really connected to her, and it's a really great feeling to have. It's how we bonded the most," he said. "I think it's really great to have friends who knew my mom is more of a ballet way, and (knew her) in ways how she was when she danced."
Those who knew both Chiang-Popa and his mother know the connection is meaningful.
"I know it meant a lot to her that he would get the experience and be here with us and be mentored," Kessler said.
When Chiang-Popa took his first ballet class, he was one of only a handful of boys enrolled in children's ballet classes at Westside. Since that time, Westside's boy ballet classes have grown to an attendance of more than 20.
"Typically people think it's more of a feminine activity. It's really not," said Chiang-Popa of ballet. "There's so much more to it. They think it's more girly, but there's a lot of flexibility and a lot of power and strength."
In ballet, boys and girls receive the same training until girls begin training to go on point. In choreography, male and female roles will often emphasize different elements, such as jumps and lifts, Kessler said.
"It looks so pretty, so you don't realize that we have to make it beautiful and graceful," she said. "It's like an iron man. You can't create grace without incredible strength and power."
As for now, Chiang-Popa is focused on the holiday production's title role.
"I try to pay attention to the music," Chiang-Popa said. "I also do hear a lot of the corrections and the tips of what to do — stand up straight, act cavalier, be a doll, don't bend your limbs or make them loose, keep your head back."
Chiang-Popa will be joined by other students, including six who live or attend school in Culver City, in Westside Ballet's 2018 Nutcracker season. Eight productions are scheduled from Nov. 24-Dec. 2 at 'The Broad Stage' in Santa Monica, 1310 11th St., Santa Monica.
Tickets are $45 and may be purchased online at https://westsideballet.com.